Press Releases

NEWS
MICO, Incorporated Opens New Facility For Dedicated Electrohydraulics Group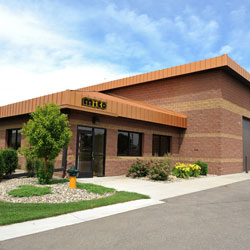 NORTH MANKATO, Minn. MICO, Incorporated, a leading designer and manufacturer of hydraulic components, controls and brake systems, has opened a new facility in Shakopee, Minn., to accommodate its recently created Electrohydraulics (EH) Group. The new group will focus on the growing market potential for electronic controls in combination with hydraulic brakes.

MICO has been actively designing and producing electrohydraulic systems for several years. With the EH Group, MICO is dedicating a team of engineers to the development of electrohydraulic technologies on an exclusive basis. The group is responsible for the design of ABS, traction control and electronic stability control systems for large commercial and military vehicles.

As more and more of our traditional brake customers are requesting electrohydraulic systems, we have recognized how critical this trend is to the future of off-highway vehicle design, said MICO EH Group director Manfred Maiers, a fluid power industry veteran with 27 years of experience with embedded controls. In addition to our expansion into complex innovations like regenerative braking, weell continue to enhance our existing electrohydraulic technology and provide the specific customer solutions for which weere best known.

The EH Group facility includes office, warehouse and laboratory space, allowing for on-site design, testing and verification. Manufacturing of MICO electrohydraulic components will continue to take place at the companyys headquarters in North Mankato, Minn.

Since 1946, MICO, Incorporated has been on the leading edge of technological innovation in hydraulic components, controls and brake systems primarily for heavy duty, off-road commercial and industrial applications. Today, the company is a completely integrated design, manufacturing and sales operation. Its knowledge of brake system design in conjunction with state-of-the-art machinery and manufacturing processes makes it an industry leader worldwide.

For more information, contact MICO, Incorporated, 1911 Lee Boulevard, North Mankato, MN 56003, call 507-625-6426, fax 507-625-3212, send e-mail to micomail@mico.com or visit the companyys website at www.mico.com.
---
<- Back to Press Releases