Press Releases

NEW PRODUCTS
Metaris Announces new Orbital Motors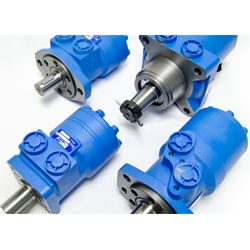 The Latest and Greatest
The Genuine Metaris Orbital Motor is a functional replacement for common motors in the market today such as Eaton/Char-Lynn, Danfoss, Parker and White.

Utilizing proven gerolor technology, these motors allow for high efficiency, smooth operation and a long operational life.

All Genuine Metaris Orbital Motors incorporate the Gerolor design at the Geroter price.

Metaris Inc
101 Canarctic Dr.,
Toronto, Ontario
Canada M3J 2N7
Tel: (416) 638-6000 or 1-888-477-2737
Fax: (416) 638-9365 or 1-866-638-9365
Email: sales@metaris.com
---
MICO, Incorporated introduces a trailer brake Load-Apportioning-Valve (LAV)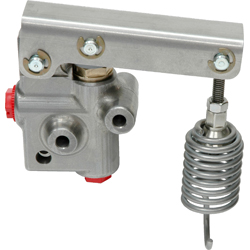 MICO, Incorporated introduces a trailer brake Load-Apportioning-Valve (LAV) for use with MICO MOBEUS EH brake systems on Agriculture and other Off-Highway vehicles and trailers. The new LAV proportions trailer brake pressure utilizing a tow vehiclees hydraulic brake signal in conjunction with real-time trailer load sensing to continuously control pressure-reduction braking to the trailer brakes without utilization of tank-pressure. The result is load sensitive trailer braking that reduces the occurrence of trailer wheel lock-up or skidding.
Trailer load is sensed by the load apportioning valve and the output pressure from the valve modifies output trailer brake pressure in accordance with the current weight of the trailer load. As trailer-load is increased or decreased, the trailer brake pressure is changed proportionally. Lighter loads induce lower trailer brake pressures whereas higher loads result in higher trailer brake pressures.
MICO MOBEUS LAV provides several benefits for the end user, including:
- Significant reduction in trailer wheel lock-up and skidding
- Compatible with MICO MOBEUS ABS systems and associated circuitry, as well as other MICO braking components and systems.
- Meets EU trailer safety requirements
- Fits with a variety of mounting configurations
- Vehicle brake pressure is used directly as the input to the LAV
- Wide temperature operating range of -40 C to +80 C
- Cost-effective system with simple installation and no tank port necessary
MICO MOBEUS EH systems are designed to provide state-of-the-art vehicular braking control of Off-Highway and Agricultural vehicles and trailers.
---
Tobuls Piston Accumulator: Options for All
Tobul Accumulator has developed several distinct families of standard piston-type products, based on physical dimensions, MAWP (Maximum Allowable Working Pressure), and fluid volumes; all to best suit customer needs. Tobul accumulators can be adapted with, a variety of raw materials (carbon steel, stainless steel and special alloys), seal configurations and compounds (Buna-N, EPR, Viton, Kalrez, Teflon, etc.), and fluid and gas port configurations, to suit individual applications. This makes Tobul A Name for Excellence in Fluid Energy Control.
Tobuls piston accumulators are designed with multiple sizes from 2.375 to 24 inch (60 to 603 mm) diameter, 0.063 to 200 gallons (0.24 to 757 liters), and 2,500 to 10,000 PSI (172 to 690 bar) MAWP. The variety and versatility of the piston-type design allows it to be utilized in over 90 percent of all potential applications, enabling the piston-type hydro-pneumatic accumulators to meet the diverse needs of many industrial and mobile applications. Its inherent design features also eliminate catastrophic failures.
Tobul Accumulator is a well-established, globally known, world-class manufacturer of hydraulic accumulators. Our designs have a proven track record of more than 50 years with the most comprehensive offering of piston-type accumulators in the industry, with working pressures up to 20,000 PSIG. Tobul also offers a competitive selection of bladder-type accumulators in most of the industry-standard capacities, with working pressures up to 7,500 PSIG. Whether your choice is a standard model hydraulic accumulator, or a custom engineered special design, Tobul Accumulator is ready to meet your needs with high quality products providing outstanding performance for your applications.
---
Intrinsically Safe Pressure Transmitters Meet CSA Demands
Gems Sensors and Controls announces the introduction of the 31CS and 32CS Series intrinsically safe pressure transmitters. These series have been approved by CSA to the standards required for both USA and Canadian use in hazardous areas. The two new Series are identical, with the exception of the pressure diaphragm. 32CS Series transmitters feature a thicker diaphragm and a pressure restrictor to withstand the rigors of cavitation or extreme pressure spikes, improving stability and reliability in pulsating applications.

Based on the successful Gems 3100 and 3200 Series products, when used with a zener barrier the CS Series transmitters are certified for operation in the following areas:
Class I, Division 1, Groups C and D
Class I, Zone 0 Ex ia IIB T4 Ga
Class I, Zone 0 AEx ia IIB T4 Ga

Applications include hazardous area installations, such as wellhead automation, gas distribution and gas compressors. 31CS/32CS transmitters are compact and durable in harsh outdoor environments. They may be directly fitted to pipe work, so require none of the small bore pipe work needed to remotely utilize non-Division 1 certified transmitters. This enables 31CS/32CS Series transmitters to reduce time and cost of installation.

Both the 31CS and 32CS Series feature proven Sputtered Thin Film sensing technology, 17-4 PH stainless steel wetted parts, and ASIC-controlled thermal compensation and signal conditioning. They are available in a wide variety of factory-configured settings, or may be configured to the customers application needs. Exceptional long-term stability (0.2 percent full scale/year drift) and high accuracy (0.25 percent full scale) together with high resistance to shock and vibration makes this product ideal for demanding applications.
---
Brennan Industries Introduces New Selection of Instrumentation Valves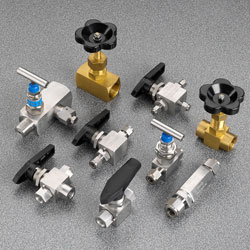 Brennan Industries, Inc a leading international supplier of hydraulic fittings and adapters, expanded its product lines by introducing new instrumentation valves.

The new Brennan compression-end instrumentation valves are available with single or double ferrule-style tube fittings and are tested for quality prior to leaving the factory.

Brennans new valve offerings include:

NVB Series Ball Valves range in size from 1/8- to 3/4-inch and are available in either 316 stainless steel or brass construction. These valves can have two- or three-way configurations and are rated to 3,000 psi.

NVN-2200 and NVN-2300 Series Screwed Bonnet Needle Valves range in size from 1/8- to 1-inch and are available with either metal-to-metal or soft-seat stem types. The 316 stainless steel valves are rated to 6,000 psi and the brass valves are rated to 3,000 psi.

NVN-2000 and NVN-2100 Series Integral Bonnet Needle Valves range in size from 1/8- to 1-inch with metal-to-metal stem types with V stem tip form. The 316 stainless steel valves are rated to 6,000 psi and the brass valves are rated to 3,000 psi.

NVC Series Check Valves range in size from 1/8- to 1-inch with O-ring seat seals. The 316 stainless steel valves are rated to 6,000 psi and the brass valves are rated to 3,000 psi.

Brennan instrumentation valves are constructed and tested to provide the quality products that our customers expect,said Bill Jarrell, vice president of marketing and operations, Brennan Industries. The variety of size and material options make it easier to select the right valve for the job.
---
Revolutionary sealing material Turcon turns 50 Trelleborg Sealing Solutions launches celebration to commemorate anniversary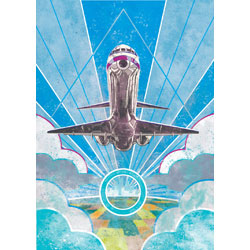 From airplanes to spacecraft, prosthetics to wind turbines and almost everything inbetween, Turcon is the go-to seal material for a broad range of applications. This revolutionary material is a part offand has made possibleesome of the most innovative engineering advancements in the last half-century. Now, on the eve of the PTFE materialls 50th anniversary, Trelleborg Sealing Solutions is commemorating the materialls impact on the world.

Trelleborg Sealing Solutions has brought together customers such as Boeing and Eaton; former executives from Busak+Shamban and Trelleborg; and engineers, researchers, manufacturers and others who have been involved with Turcon over the years for a multimedia retrospective.

The project unfolds in stages. A website with photos, videos and first-person contributions from a variety of people in the industry debuts in May. The project also includes a commissioned, hand-painted mural showing Turcons impact over the decades. Once a month, from May 2012 to January 2013, Trelleborg Sealing Solutions will reveal the next panel in the mural, along with relevant photos, videos and other media.

The brand started with W.S. Shamban in 1962 and if you look at all the engineers who are in the market today, they donnt recognize the Trelleborg name with the Turcon brand, says Nancy Getz, Product Manager of Trelleborg Sealing Solutions Fort Wayne. Thatts what makes this anniversary so important.

Turcon has a long history tied tightly to the Fort Wayne community; it was developed by Bill Shamban, founder of W.S. Shamban Co., which moved to Fort Wayne in 1956. Turcon was produced in Fort Wayne facilities under the W.S. Shamban Co. and Busak+Shamban names, and now by Trelleborg Sealing Solutions. The name has changed, but the quality standard and respect for its history remain the same.

Turcon is a proprietary polytetrafluoroethylene-based (PTFE) sealing material introduced by Bill Shamban and Hank Traub in 1960. It is a wear-resistant seal material with unique properties unmatched in the industry. Turcon seals are used in a variety of applications and serve numerous fields.

When I joined in 86 the premier material we had to work with in terms of engineering applications was the Turconn material, says Tim Callison, President of Trelleborg Sealing Solutions Marketing Americas and a company employee since 1986. Twenty-six years later, the premium material we have for applications today is Turcon. It is a fantastic material with great breadth in its ability to provide solutions for our customers. Itts still regarded as the premier PTFE compounded material. It is still solving problems for us today, just as it did 26 years ago.

Currently, Trelleborg Sealing Solutions Great Lakes is based in Fort Wayne. The manufacturing facility is in the same location as the very first W.S. Shamban & Co. plant. The manufacturing plant is accompanied by the Hank A. Traub Technical Center, built in 1997, which serves as Trelleborg Sealing Solutions Americas headquarters and includes research and development labs. In 2010, Trelleborg opened its new Supply Chain Management Americas facility in Fort Wayne.

Trelleborg Sealing Solutions plans to display an exhibit focusing on Turcons history at the Allen County-Fort Wayne Historical Society later this year, as well as sponsor a speaker in January for the societyys free-speaker series.

For more information about Turcon visit www.turcon50.com
---
COMATROL INTRODUCES PFD10-OD PROPORTIONAL FLOW DIVIDER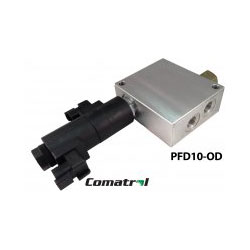 A new way to proportionally distribute flow between two hydraulic circuits

Comatrol - a global leader in the design, manufacture and sale of engineered hydraulic cartridge valves and HICs - introduces the PFD10-OD Proportional Flow Divider for compensated flow sharing between two motors or hydraulic circuits. This circuit-saver solution takes the input flow and delivers precise flow management, providing engineers with a new tool for distributing flow on their applications.

The PFD10-OD is an electro-proportional, compensated, normally open, flow dividing, pre-engineered HIC. When there is no current applied to the coils, the inlet flow is divided equally between the work ports A and B, with flows up to 40 LPM (10.7 GPM). The flow ratio between the 2 ports will proportionally vary as current is provided to the coils (from 0 to 40 LPM out each work port). The valvees internal pressure compensation of both work ports provide the precise, repeatable and load-independent flow control to both work ports / circuits.


Emanuele Vezzani, Comatrol Account Manager (Italy), shares, We originally created this product for a unique customer application, building off our existing products and circuit expertise, and in the end came up with a design that we feel can find many homes with our customers. As weeve shared this new compensated flow divider concept with customers, applications quickly come to mind where they could apply this pre-engineered solution.

When thinking of where to apply, think of dual circuits or motors that continuously require flow, and need to proportionally manage the amount of flow between them. Additionally, the built-in pressure compensator provides repeatable flow sharing performance, regardless of the loads on the circuits or motors.

The PFD10-OD is a pre-engineered HIC that can be ordered using its nomenclature to specify options needed for the application, like coil voltage and termination, port sizes and seals. The aluminum manifold design is optimized for a small space claim on the vehicle, with 2 mounting holes provided as standard.

The coils are designed for incorporation on machine control architecture that utilizes Sauer-Danfoss PLUS+11 hardware. Adding PFD10-OD to your application using PLUS+1 GUIDE software is as easy as drag-and-drop.
---
Sauer-Danfoss Introduces DP600LX Series Mobile Machine Displays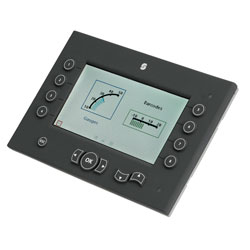 Upgraded PLUS+1TM compliant displays feature more powerful processor, new operating system, enhanced industry-leading viewability

Sauer-Danfoss is pleased to introduce the new PLUS+1TM compliant DP600LX Series Mobile Machine Displays. Designed to meet the increasing demands of electronic system control and monitoring, the series provides mobile off-highway machine OEMs with next-generation color and monochrome graphical displays for both in-cab and open-air applications. The DP600LX, DP610LX and DP620LX displays feature a more powerful processor, a new operating system, enhanced industry-leading viewability and new features compared to previous models.

Demand for state-of-the art off-highway machine information displays continues to rise, said Joseph P. Maher, Product Marketing Manager of Electronic Components at Sauer-Danfoss. The advanced Sauer-Danfoss PLUS+1 compliant DP600LX Series Mobile Machine Displays provide rugged, high-performing, cost-efficient solutions that increase operator productivity making them ideal for vehicle applications seeking differentiation.

The DP600LX Series offers not only a robust display platform for the future, but also backward compatibility for existing applications.

New Engine Under the Hood
Sauer-Danfoss DP600LX Series models are high-resolution, transflective thin film transistor (TFT) liquid crystal displays with eight soft keys and six buttons for navigation. Each display is user-programmable with PLUS+1 GUIDE (graphical user integrated development environment).
Driving the new mobile machine displays is a new ARM-11 processor that provides greater responsiveness and faster screen data updates than its predecessor. Utilizing multimedia capability and 532MHz clock speed, the new processor performs 10 times faster. Graphics update two to three times faster and application execution is five to 10 times quicker. The new processor is capable of supporting higher screen resolution, offering the opportunity for future development.
DP600LX Series displays run on a versatile LinuxTM operating system, the recognized industry standard for displays. Linux allows use of the screen editor in the Sauer-Danfoss GUIDE tool chain or an alternative screen editor.
The ARM-11 processor is like a new engine under the hood, powering the DP600LX Series displays to optimal performance, Maher said. The smooth new operating system serves as the transmission, helping the operator maximize the efficiency of electronic system control and monitoring.
The LCD, enclosure design, screen resolution and screen editor are similar to previous models, enabling backward compatibility.
Industry-Leading Viewability
Sauer-Danfoss has enhanced viewability that was already best-in-class, incorporating 15-bit true color and optional optically bonded LCD/lens technology into the DP600LX Series. Available with DP600LX and DP610LX models, optically bonded LCD/lens technology enhances clarity, increases sunlight visibility and prevents fogging by eliminating the air gap between the lens and the LCD module.

We took industry-leading viewability and made it even better, Maher said. The DP600LX Series displays feature sharper color that is clear and legible in sunlight and bright and powerful at night for maximum viewability.

---
Trelleborg Sealing Solutions Releases ISO Fits & Tolerancess for Android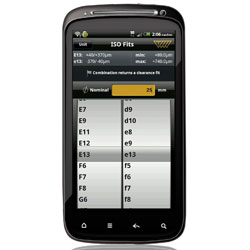 The Trelleborg Sealing Solutions iPhone app ISO Fits & Tolerances has exceeded 15,000 downloads since its launch and is now released for use with Android phones. Providing results based on the ISO 286 System of Limits and Fits, this app is aimed at engineers with the goal of helping them save time and enabling them to work away from their desks.

ISO Fits & Tolerances is intuitive and very easy to use. Upon entering the nominal diameter needed, users simply select the tolerance classes for bore and shaft. The app then provides the complete ISO fits definition with all relevant values, including the type of fit. Tolerances are shown for the most commonly used ISO tolerance classes, and convenient graphs illustrate these classes by bore and shaft.

This was the first app from Trelleborg Sealing Solutions, and from feedback and downloads we know it is much appreciated by users, says Project Manager Web and Mobile for Trelleborg Sealing Solutions, Wolfgang Heinrich. We are always looking for ways to make our customers working lives easier, and with the workforce becoming more mobile every day, we need to provide tools that can be used on the go.

Since the launch of the original version, there has been much demand for an Android- compatible app. Weere pleased that we have been able to satisfy our userss needs.

Also included with the app is one-touch access to the automatically updated library of Trelleborg Sealing Solutions films and animations on YouTube. For more information, just click Contact and you can choose to email or be connected to the Trelleborg Sealing Solutions website.

Although the app was originally developed for sealing applications, it can be used in a wide range of design situations, whether related to sealing or not. ISO Fits & Tolerances is available in English and German free of charge on Google Play. It can easily be found by searching for Trelleborg ISO Fits.

---
The New Clean Seal Flange from Ultra Clean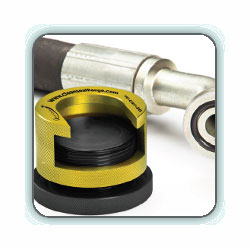 For many years now, the hydraulic industry has been challenged with keeping systems contamination free. When components such as pumps, cylinders or valves are removed from the hydraulic system, the oil is then open to contaminants. Other Issues occur when attachments are added or removed from construction equipment, such as hydraulic breakers, grapples, shears, etc...thus leaving the oil susceptible to dirt and contaminants, while also risking the environment to oil spills. Hence the Clean Seal Flange was born! An innovative tool, to simply and quickly keep oil in and dirt out! Color coded for quick identification. Universal fitment for sizes -8 to -32 flanges. Designed to withstand thermal expansion pressures.

Keeps oil in, and dirt out!
Seal hydraulic flanges fast & easy
Durable anodized aluminum construction
Easy on/off, no tools required!
Eliminates flange capping hassles
No drips, leaks or spills
Ensures cleanliness


Ultra Clean
746 Shiloh Pike,
Bridgeton, NJ 08302 U.S.A.
Phone: 856-451-2176
Fax: 856-453-4975
800-791-9111
---