Press Releases

NEW PRODUCTS
MICO, Incorporated To Complement Product Offering With Vimoter Braking Components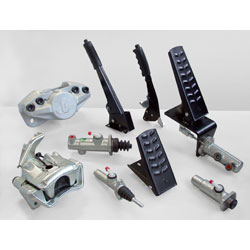 NORTH MANKATO, Minn. MICO, Incorporated, a leading designer and manufacturer of hydraulic components, controls and brake systems, has entered into an agreement with Vimoter S.p.A., an Italian-based manufacturer of braking system components. Under the agreement, MICO, Incorporated is able to expand its product offering to include Vimoter products for its North American and international customers.

Among the Vimoter products available through the new agreement with MICO are master cylinders, parking brake levers, brake and throttle controls, mechanical brake calipers, disc brakes, drum brakes and assorted fittings.


Vimoterrs product offering is a good complement to MICO,, said David Ringler, product development manager for MICO, Incorporated. This arrangement enables us to expand our opportunities and provide components for a wider range of vehicles and new applications..

MICO Europe and Vimoter reached a similar reciprocal agreement in April 2008, with Vimoter obtaining the rights to sell MICO products to their customers who reside in Italy.

For more than 30 years, Vimoter has partnered with its OEM customers to develop and manufacture braking components for agricultural, earthmoving, lift and industrial vehicles. For more information, go to www.vimoter.it.

MICO, Incorporated designs, manufactures and markets brake systems, hydraulic components and controls, primarily for off-road applications. For more information, contact MICO, Incorporated, 1911 Lee Boulevard, North Mankato, MN 56003, call

507-625-6426, fax 507-625-3212, send an e-mail to micomail@mico.com or visit the companyys Web site at www.mico.com.
---
MULTI OUTPUT ELECTRONIC PRESSURE SWITCH WITH DISPLAY FROM OMEGA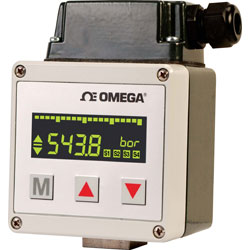 The PSW3000 is a high accuracy electronic pressure switch with 4 switching outputs plus a 0
to 10VDC or 4 to 20mADC analog output. Unit has an easy to read 4-digit display that shows
reading plus set-point. A user scalable bar graph is also standard. The switch is housed in
an IP65 rated aluminum casting designed for use in most industrial environments. Pressure
ranges are 0 to 150 psi to 0 to 9000 psi. Perfect for chemical and automotive industries.

Price starts at $715
OMEGA ENGINEERING, INC., One Omega Drive, Stamford, CT 06907
Tel: 203-359-1660
Fax: 203-359-7700
---
Starcyl NFPA Star 5 Medium Duty (1500 PSI) & Star 6 Heavy Duty (3000 PSI) Hydraulic Cylinders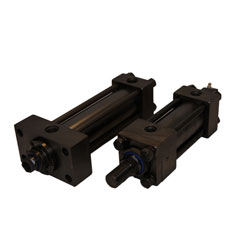 Starcyl Cylinder Inc., is pleased to announce the release of our Star 5 & 6 NFPA Tie-Rod Hydraulic Cylinder offering. The Starcyl hydraulic cylinder offering has the same excellent quality, workmanship and numerous benefits you have come to expect from the complete Starcyl Pneumatic offering.

Our superior Starnite process on the piston rod & rod gland, provide the best rod bearing support in the industry. The Starnite process produces a minimum hardness of (65 70 Rc) and a Corrosion Resistance Evaluation of approx 400 hours, in a salt spray environment. Starnite out performed 12 micron chrome plating by a ratio of 20:1 & nickel plating by 8:1. Starcyl will be introducing a 2nd generation Starnite process that exceeds a 1000 hour salt spray environment. (Note) This superior process is also available on steel components, head, cap, tie rods and tube as an option.

Starcyl hydraulic cylinders are assembled with low friction, Halite urethane seals as a standard, allowing for a temperature rating of (-50F 230F). We also offer 6 wrench flats on the rod end as a standard, for easy set up in confined machinery areas.

All Starcyl products are 100% manufactured, assembled and tested in Canada.

For additional information on a competitive quotation and/or product literature, please visit www.starcyl.com or call our head office at 877-STARCYL (782.7295)

Starcyl is also welcoming distribution partnerships in Ontario and Western Canada.

Isn't it time to take a serious look at the BEST cylinder offering in North America!
---
Accumulator Safety Block from Accumulators.com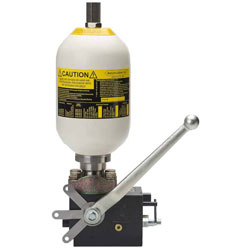 Safety. Quality. Flexibility.

The Accumulator Safety Block is a multifunctional valve placed
between the hydraulic accumulator and the operating system.
Its modular design permits versatility for mounting and a host
of connection options for all hydraulic accumulators. The safety
block allows for isolation of the accumulator during maintenance or system testing.
Additionally, it can function as an emergency shut-off device and pressure relief valve to protect fromover-pressurization and system failure. Accumulator pressure and volume can also be safely released through the safety blockks bleed valve.


Compatible with Bladder, Float, Diaphragm or Piston Accumulators

Available with manual or solenoid operated bleed valve

Fits any size accumulator from six cubic inches to 160 gallons

Rated for system working pressure up to 5800 psig

Optional bolt adapters accommodate a variety of connections for the inlet and outlet sides:
NPT, SAE, Split Flange or custom design

Suitable for hydraulic oil, mineral oil, high waterbased fluids or other hydraulic fluids

For more information, contact our Sales Department
at 713.465.0202 or info@accumulators.com
---
NOSHOK announces the availability of our 2-Valve Block and Bleed Needle Valves.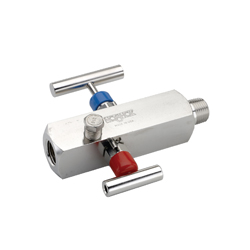 With a 10,000 psi pressure rating (@2000F maximum), NOSHOK 2070 Series 2-Valve block and bleed hard seat valves combine isolating and venting in a single valve, eliminating the need for tubing and fittings. The block valve isolates the downstream process fluids, and the bleed valve exhausts upstream fluids enabling instruments to be removed without disturbing the permanent piping installation.

Other features include:

1/44 NPT vent plug located 900 to the left, may be removed and replaced with exhaust piping to direct the fluids to a safe location

1/22 NPT connection, M-F, F-F configurations available, right venting optional

Blow-out proof stem provides a secondary stem seal in the full open position

Vitonn O-Ring and Teflonn back-up ring stem seals

All 316 stainless steel stems (even in steel valves) for extended service life

Stem and bonnet threads are rolled for strength and ease of operation

One-piece bonnet with a metal-to-metal seal to the valve body below the bonnet threads

Bonnet lock pin to prevent accidental loosening

Vinyl bonnet and stem dust cap

0.187 inch orifice size

4″standard and 5-3/8″ extended length available

Optional panel mount bonnet and panel nuts

All NOSHOK Valves are 100% Helium leak tested to 1 x 10-4 ml/s for guaranteed performance and reliability.

NOSHOK, Inc., 1010 West Bagley Road, Berea, OH 44017 440.243.0888
---
NEW Dual-Function Solenoid Valve for both Bypass Unloading and Pressure Relief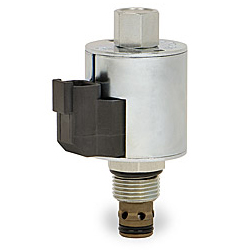 HydraForce SVRV10-26 dual-function cartridge valves combine the features of a normally-open solenoid valve with an integral non-adjustable relief valve. It is designed to be both cost-efficient and compact in hydraulic circuits incorporating both a bypass unloading function, as well as system pressure protection.

This valve can be used in a wide variety of system applications. An example motor control circuit is shown below. In the de-energized position, pump flow is bypassed to the tank, allowing the motors to remain in the neutral condition. When the SVRV valve is energized, flow is directed to the motor, while the maximum motor torque is regulated by the setting of the SVRVVs integral relief valve.

The SVRV relief setting is fixed and non-adjustable. There are five standard pressure setting options, ranging from 104 bar (1500 psi) to 240 bar (3500 psi). Others can be made available upon OEM request. The SVRV10-26 is rated for flow up to 75 lpm (20 gpm) and pressure to 310 bar (4500 psi). Standard HydraForce 10-size DD and EE Series coils are used on the cartridge.

The new SVRV multi-function valve was developed to allow a smaller and lighter valve package, while simultaneously reducing the cost of both manifold machining and assembly by combining two functions into a single valve.

HydraForce is committed to continuing innovation in the design, manufacture, and application of hydraulic and electro-hydraulic control components and systems for the material handling and heavy-duty mobile equipment OEM industries.

For more information visit our website at www.HydraForce.com

HYDRAFORCE INC.
500 Barclay Blvd.
Lincolnshire, IL 60069
Ph: 847 793 2300 Fx: 847 793 0086


HYDRAFORCE HYDRAULICS LTD
St. Stephens Street
Birmingham B6 4RG England
Tel: 0121 333 1800 Fax: 0121 333 1810
---
Webtec launches FlowHUB: the complete flow monitoring solution for hydraulic and lubrication systems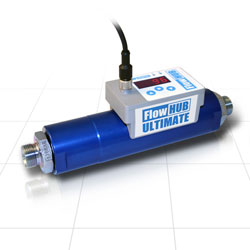 Webtec Products Ltd, parent company of Webster Instruments, has launched a new hydraulic flow monitoring solution, called the FlowHUB, at the Hannover Fair 2009. Aimed at hydraulic system designers and maintenance engineers, the compact FlowHUB can replace up to six
discreet hydraulic components saving both installation time and total component cost. Applications include condition monitoring, preventive maintenance, component testing, closedloop control as well as other industrial applications.

This innovative new product can measure, display, signal alarm conditions, and transmit flow readings to PLC or data acquisition systems as well as measure and display temperature in fluid
power or lubrication circuits. The FlowHUB utilizes unique (Patent Pending) sensing technology
ensuring excellent resolution and a novel, robust design minimizing energy loss due to pressure
drop even in heavy-duty applications.

The FlowHUB covers 5 flow ranges up to 100 gpm rated at up to 6000 psi. Custom and OEM
versions can be engineered to meet the requirements of special applications.

Further information can be found on company website: www.webster-inst.com
---
ELECTRONIC PRESSURE SWITCH WITH LED DISPLAY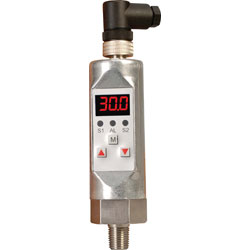 The PSW2000 is a high accuracy electronic pressure switch with a digital display. The switch is available with either 2 solid state relays or 1 solid state relay plus an analog output. SS wetted parts with a FKM (fluorelastomer) seal plus an IP65 enclosure and UL approved rating allow this rugged switch to be used in most industrial environments. Measurement ranges are available in both gage and absolute pressure references from 15 psia to 9000 psig.
Price starts at $380

OMEGA ENGINEERING, INC., One Omega Drive, Stamford, CT 06907 Tel: 203-359-1660 Fax: 203-359-7700
---
New High Torque Geared Motors from HANSA-TMP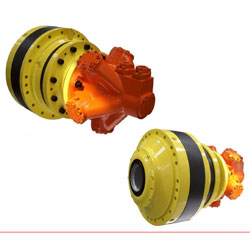 HANSA-TMP range of "GB" high torque Single or Multi-stages Reduction Planetary gear boxes combined with
Kawasaki / Staffa single, dual or variable displacement radial piston motors comprises 14 models offering ISO torque
from 70.000 up to 1.200.000 Nm (from 52.000 up to 885.000 lbf.ft).

The "GB" range of gear boxes is available from 1 up to 5 stages with ratio from 3,43:1 up to 3794:1. This versatile
range of gear boxes accepts standard Kawasaki / Staffa motors allowing the system designer to select the right motor
and gear box to optimise his circuit pressure and flow against the torque and speed requirements of his transmission.
The output shaft of the "GB" planetary gear boxes includes: splined male and female, parallel keyed and shrink disc.

Main Features
- Flexibility in service: modular concept enables drive to be uprated in service with minimum inconvenience.
- Constant torques: throughout the infinitely variable speed range.
- Lower maintenance costs: modular system enables motors to be overhauled without disturbing the system.
- Uniform running at low speeds: speeds at fractions of one R.P.M. can be achieved smoothly.
- Excellent gear life: materials used are aimed at maximum running hours.
- Modular design: plug in concept enables standard motors to be fitted from existing stock.
- Complete transmission: full range gives a balanced transmission package for both automotive and general
industrial drives.

HANSA-TMP S.r.l.
Innovation & Technology in Hydraulic Systems
Via M. L. King, 6 - 41122 - Modena (ITALY)
Tel: +39 059 415 711
Fax: +39 059 415 729 / +39 059 415 730
E-mail: hansatmp@hansatmp.it
Web: http://www.hansatmp.it
---
Eaton EPA-Certified Tubing And Hose Help Customers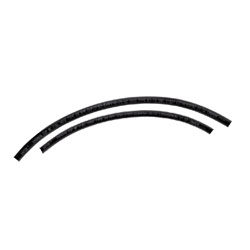 Eaton EPA-Certified Tubing And Hose Help Customers
Meet Sustainability Requirements For Reduced Evaporative Emissions

EDEN PRAIRIE, Minn. Diversified industrial manufacturer Eaton Corporation today announced that two hose and tubing products designed to help customers reduce evaporative emissions and meet mandated sustainability requirements have received Environmental Protection Agency (EPA) certification. The products, the EH049 ESPP
tubing and EH089 ESPP hose, are intended for use in marine, gas powered lawn care machines, gas and diesel powered turf equipment, and garden equipment fuel systems.

EH049 ESP tubing and EH089 ESP hose utilize a multi-layer
construction including a polyvinylidene fluoride (PVDV) barrier,
polyester reinforcement and a black melt-processible rubber (MPR)
cover to achieve hydrocarbon permeation rates of less than 5 g/m2 per
day while providing excellent strength and flexibility. Both products
can be used with gasoline, petroleum-based chemicals, and bio-diesel
fuel up to B100.


This EPA certification covers EPA-mandated evaporative emissions
requirements for fuel systems taking effect in 2010, 2011, and 2012,,
says Mike Henning, Eaton senior product manager. It also covers
California Air Resources Board (CARB) requirements, SAE J1527R1,
J30R6, R9, and R11 specifications, and the International Marine
Certification Institutees Recreational Craft Directive 94/25/EC..

EH049 ESP tubing and EH089 ESP hose are suitable for virtually any
tank-to-engine application on marine or turf equipment with an
operating temperature range of -25F to +150F (-32C to +66C). Both
are available in cut lengths, coils, reels, and custom colors.

Eatonns Hydraulics Group provides customer-driven solutions under
product names such as Aeroquipp, Bostonn, Char-Lynnn, Eatonn, Hydro-
Linee, Synflexx, Vickerss, Walterscheidd, and Weatherheadd. For more
information, visit www.eaton.com/hydraulics.
---