Press Releases

NEW PRODUCTS
Flo-Checkk USB Hydraulic System Analyzer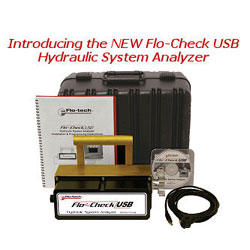 The Next Generation of Hydraulic Test Equipment

The Flo-Check USB represents the next generation of hydraulic test equipment. This technologically advanced device simultaneously measures flow, pressure, temperature and power within a hydraulic system. Data is displayed and logged through a custom Windowss-based software application; data is received from the Analyzer through a standard USB cable (both software and cable are included with the unit). The unit is bi-directional and includes a low-resistance load valve and internal pressure relief discs.

Features:


Accuracy: 1% of full scale

High and low set point alarms for flow, pressure, and temperature

Captures pressure spikes up to 10,000 PSI

Exports saved data to Microsoft Excell and other spreadsheet programs

USB powered

Select continuous monitoring or capture data manually

Logs up to 12 hours

Records alarm history


The Flo-Check USB Hydraulic System Analyzer can be used as a stationary or portable tester for both industrial and mobile hydraulic system diagnostics, and analysis of the prognostic health of a hydraulic system. It features flow, pressure, and temperature sensors that are monitored by a data acquisition module. This module records the operating parameters of the system and transfers them to the userrs laptop via the USB port.

Flo-Check is powered through the USB port of a PC, making it easy to setup and ideal for portable applications. Interfaced to the PC application, the device offers a straightforward method of monitoring system parameters complete with data acquisition.

Flo-tech is a leading manufacturer of flow meters, transmitters and portable hydraulic test equipment for a broad range of fluid power applications. For complete specifications on the Flo-Check USB call 1-800-433-5263, visit Hedlandds website at: www.flo-tech.com, or e-mail questions to: flotechsales@racinefed.com. Technically trained customer service representatives are available to assist in the selection process.

---
World Wide Metric offers CAST S.p.A. Hose and hose fittings.
The hydraulic hose range includes: SAE 100R1AT and R2AT (standard and high temperature are available), and SAE 100R16 with Multi-spiral capabilities in 4SP, 4SH and R13. We offer a thermoplastic hose range with hose to SAE 100R7 and Teflon hose to SAE 100R14.

The hose fitting range includes: Metric to DIN 2353, JIC to SAEJ514, NPTF, BSPT, BSPP to BSI 5200, ORFS to SAE J1453 and Code 61 & 62 SAE flanges to SAEJ518. Steel hose fittings are plated CR6Free (Tri-valiant white chromate) and feature resistance to corrosion in excess of 400 hours in a salt spray fog. Stainless steel fittings are also available for the complete range.

Contact us for more information.

World Wide Metric Inc.
67 Veronica Avenue
Somerset, NJ 08873
Tel. 732-247-2300
Fax 732-247-7258
Email: sales@worldwidemetric.com
www.worldwidemetric.com

---
INSERTA ICD D03 Check Valve Modules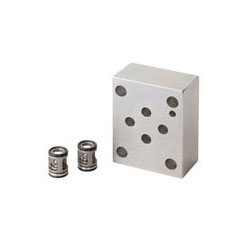 INSERTA ICD D03 Check Valve Modules are a compact means to provide check and fixed orifice flow control in a D03 stack assembly. Each module may be ordered with either one or two INSERTA ICS Check Valves, Slip-in type. The INSERTAA ICS Check Valves, Slip-in type, can be installed with the free flow in either direction. Steel construction allows operating pressures up to 5000 psi. In-line flow paths through the valve inserts minimize any additional pressure drops and wasted horsepower.



Adaconnn Products | 538 Township Line Rd, Blue Bell, PA. 19422 | (215) 643-1900
Insertaa Products | 538 Township Line Rd, Blue Bell, PA. 19422 | (215) 643-0192
---
Rota Engineering Announces New Linear Transducer Package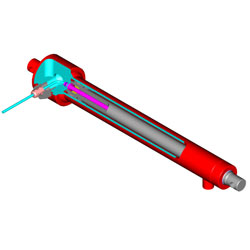 Rota Engineeringgs model LA is the latest release of Hall Effect technology linear transducer designed specifically for the mobile hydraulic cylinder market. The LA was designed to have the smallest footprint possible so that the critical pin to pin dimension of existing cylinders would not be required to change.

Rota Engineering is unique in the fact that they use Hall Effect sensors asone of their technologies for linear transducers, the other technology beingreed switches for unique applications. The brains of the linear transducerare the microprocessor which controls and receives signals to the surfacemounted Hall Effect chips, all of which are mounted on a PCB. The completedPCB with all the Hall Effect chips and microprocessor are then inserted intoa stainless steel or aluminum housing depending upon the customer'sapplication. A magnet, which is supplied with every linear transducer, causes a voltage drop when it passes over the Hall Effect chip. Themicroprocessor understands the position of the Hall Effect chip andcorrelates the voltage drop to a proportional voltage, current, PWM orCANBUS outputs.

Rota Engineering designs and manufactures linear transducers for tough applications where robustness is required. Transducers can be designed up to 54 feet in length, for use 20,000 feet below the surface of the ocean, for hazardous environments and has voltage, current, PWM and CANBUS output options.

Wherever cylinder position or monitoring is required, THINK ROTA!

Rota Engineering
Booth # S-15232
Mark Hoffman
972-359-1041
markhoffman@rota-eng.com
www.rota-eng.com

---
The new Simrit materials offer high temperature resistance.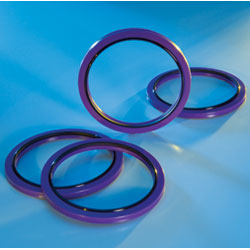 To address evolving industry challenges and requirements, Simrit the industrial sealing products division of Freudenberg-NOK and a global supplier of elastomeric seals and custom molded products will announce its latest material and design solutions during a technical paper presentation at the 2008 International Exposition for Power Transmission (IFPE).

Joel Johnson, vice president of technology for Simrit, will discuss the companyys proprietary material and design solutions in a presentation titled Wide Range Temperature, Pressure and Fluid Resistant Hydraulic Cylinder Sealing Systemss on Friday, March 14 at 2:30 p.m. in room S-229 located in the South Hall, Level Two, Bridge Meeting Complex.

Increasing industry challenges including temperature and hydrolysis resistance, and bio-friendly fluid compatibility continue to drive demands for better performing seal designs and materials. During his presentation, Johnson will describe Simritts new global materials including NOK U641 urethane, G928 HNBR and NOK UH05 urethane as well as a unique sealing design that offers high pressure system ability which meets industry and customer needs.

The new Simrit materials offer high temperature resistance (up to 120 degrees Celsius / 248 degrees Fahrenheit), are compatible with bio-fuels and resistant to hydrolysis and glycolysis. The new advancements presented by Johnson will help fluid power engineers design more robust cylinders for use in a variety of applications.

Interested parties who are unable to attend the technical paper presentation can visit the Simrit booth (#S-14005) at IFPE 2008 for information about the new materials and designs. The company is also hosting a media-only event on Wednesday, March 12 from 3 to 4 p.m. in room N249-251 to discuss its package of industry-specific sealing solutions.

The Simrit Division is based at Freudenberg-NOKKs headquarters in Plymouth, Mich. and is part of the Freudenberg and NOK Group, which has total annual sales of more than $12 billion. Simrit offers an extensive portfolio of sealing solutions for the industrial, aerospace, appliance, diesel engine, marine, off-highway equipment, oil and gas, recreational vehicle and semiconductor markets.

For more information, visit the Simrit website at www.simrit.com.
---
Universal Protection from Conduit Covers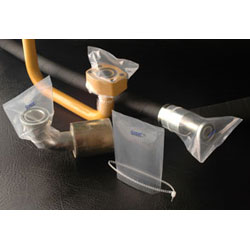 Introducing Conduit Covers A Universal Cover for Hoses, Pipes, Lines, Fittings and Connectors

Conduit Covers provide short-term alternative solutions to capping and plugging open lines. This innovative solution quickly and effectively covers the ends of all types and sizes of hoses, pipes, lines, fittings, and connectors to prevent contamination ingression and environmental damage.

Designed as an interim protection tool, Conduit Covers are often described as the universal cap and plug.

Conduit Covers are currently available in three sizes: 4"x5," 8"x8" and 12"x12." Each includes a built-in, lockable tie strap. Their proprietary polyethylene blend provides a high degree of pliability, durability, and protection.

1-800-513-1618
http://www.conduitcovers.com
---
Innas presents a powerful, efficient and clean hybrid hydraulic transmission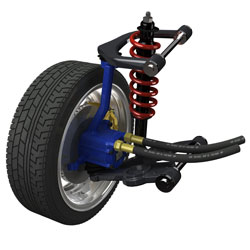 At the International Exposition for Power Transmission (IFPE 2008), March 11-15, 2008, Innas and NOAX will introduce the Hydrid', a hydraulic serial hybrid drive train in principle designed for passenger cars, but also applicable in off-road equipment. With this new design, the fuel consumption of a vehicle can be more than halved and a CO2 reduction of 50 % can be realised, without having to compromise on weight, size, traction or top speed.

We want our cars to be strong and fast. This requires large and powerful engines. The maximum performance of the engine is however seldom needed, and most of the time while driving in the city or cruising on the highwayy the engine is running at low loads. The high average fuel consumption of passenger cars is largely due to the low efficiency of combustion engines at these low loads. The Hydrid allows the engine to operate in its most efficient point reducing fuel consumption of a vehicle with 50%.

In a Hydrid, the complete mechanical drive train of a car is replaced by a full hydrostatic transmission, allowing energy recuperation and an efficient engine operation. The concept requires extremely efficient hydrostatic pumps, motors and transformers, based on the so-called Floating Cup principle, which have been developed recently.

The enabling Floating cup technology will be shown at the IFPE, in the Innas-NOAX booth nr. S-14738 (South Hall, second floor). Here you will see the Floating Cup technology, inlcuding the new variable Floating Cup pump.

Presentations
At the IFPE congress, Peter Achten of Innas will be giving a lecture explaining the Hydraulic hybrid drive train. This presentation will take place on Thursday, March 13 at 1:30 PM. It is scheduled for in the Hybrid Systems session. Earlier that day, Georges Vael of Innas is giving a lecture about the Innas Flexible Seat Valve in the Hydraulic Valves session, at 10:00 AM.
Innas BV/NOAX BV
Nikkelstraat 15
NL-4823 AE BREDA
t: +31 76 542 4080
f: +31 76 542 4090
e: avmalsen@innas.com
www.innas.com
KvK no. 2006 2018



---
New proportional flow control cartridge valves from Sauer-Danfoss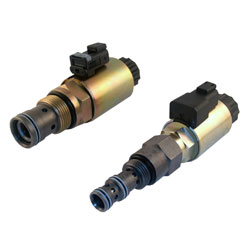 Sauer-Danfoss now offers a complete family of proportional flow control cartridge valves for mobile machinery.

AMES, IOWA, USA SAUER-DANFOSS INC. (NYSE:SHS) Sauer-Danfoss has expanded its family of proportional flow control cartridge valves to provide new sizes, including a smaller, more compact design that delivers higher pressure capabilities. The valves work in conjunction with hydraulic integrated circuits (HICs) to regulate the fluid flow that controls specific equipment operations. For mobile machinery OEMs, the new valves mean precise control and smooth manipulation of everything from combine headers to forklifts to lawnmowers.


We fully met our goals for this product expansion, which included cavity standardization, higher pressure capability and extended use of robust coils,, said Darren Magner, Product Portfolio Manager, Sauer-Danfoss, Ames, USA. With the addition of these new valves, Sauer-Danfoss now offers the most complete portfolio of proportional flow controls, and our maximum flow capacity is among the best available. The valves are also PLUS+1TM Compliant for easy electronic interface with Sauer-Danfosss growing PLUS+1 control network for mobile machinery..

Compact Size, Optimum Control, Higher Pressure and Flow
With this product extension, Sauer-Danfoss now offers proportional flow control cartridge valves in three standard cavity sizes 10, 12 and a new 16 series providing a broad range of new and modified flow rates. The proportional flow valves are available in eight different schemes, consisting of NOO (normally opened) and NCC (normally closed) options in the following valve types: 1) priority pressure compensated, 2) restrictive pressure compensated, 3) restrictive spool (non-compensated), and 4) restrictive poppet (non-compensated).

The proportional valves regulate equipment operations by controlling the flow entering or leaving circuits. For example, to keep a combine header in place, the restrictive poppet valve is used. This valve, which now includes new 12 series and 16 series options, minimizes slip to a negligible amount so a farmer can put a combine header in a raised position and can count on it to stay there.

Designed for Harsh Off-Highway Environments
All of Sauer-Danfosss proportional flow control cartridge valves come standard with robust coils (M19P and D14E), which are more tolerant of adverse conditions ranging from voltage extremes to high temperatures to water ingression. The coils have been rigorously tested and carry an IP69K environmental protection rating. The pressure capability of the proportional flow control cartridge valves is 260 bar, or 3770 psi; and maximum flow rates are 120 LPM, or 32 GPM.


Sauer-Danfosss portfolio of proportional flow control cartridge valves and robust coils meet the most stringent requirements of major OEMs. The valves provide precision control of machine operations, and the robust coils ultimately extend equipment life even in harsh off-highway environments,, said Magner.

Sauer-Danfoss Inc. is a worldwide leader in the design, manufacture and sale of engineered hydraulic, electric and electronic systems and components, for use primarily in applications of mobile equipment. Sauer-Danfoss, with approximately 9,000 employees worldwide and revenue of more than $1.7 billion, has sales, manufacturing and engineering capabilities in Europe, the Americas and the Asia-Pacific region. The Companyys executive offices are located near Chicago in Lincolnshire, Illinois and in Neummnster, Germany. More details online at www.sauer-danfoss.com.
---
The DiNova ring, for all hydraulic installations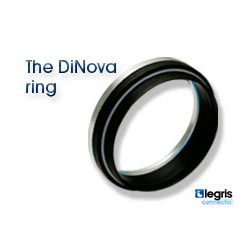 The DiNova ring meets all requirements for sealing and safety in hydraulic installations. Its performances rely on a double metal/metal sealing reinforced by 2 PTFE seals and a safe connection ensured by 3 bites.

Main advantages:
. Protection of seals: The geometry of the seal cavity prevents distortion and guarantees resistance to vibration.
. Reliable and easy assembly: a mechanical stop clearly indicates the crimp position.
. Safe connection: three bites ensure a more precise assembly and less tube distortion, thus reinforcing the safety of connection, even in extreme conditions of use.

LEGRIS INC. | 7205 E HAMPTON AVENUE - 85209 MESA, ARIZONA, UNITED STATES OF AMERICA
Tel. : (480) 830 0216 | Fax : (480) 830 7556 | E-mail : customerservice@legris.com
---
Bosch Rexroth Introduces Digital Controller Card for Electrohydraulic Drives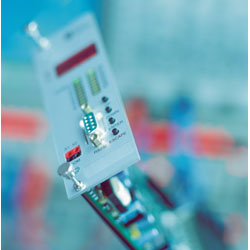 The VT-HACD-1 can be used as either a closed-loop control card or as a command-value generator.

For many closed-loop hydraulic-drive applications, it's now easier to programpressure, flow, and positional functions thanks to Rexroth's VT-HACD-1 digital amplifier. It accepts both analog voltage/current and digital SSI or incremental feedback, with algorithms optimized for controlling hydraulic axes. The card is pre-programmed for a variety of servo and proportional valves and includes 32 predefined function blocks to allow sophisticated control. It supports six software-switchable analog inputs, three switchable analog outputs (one switchable), eight programmable digital inputs, and seven configurable digital outputs. The VT-HACD-1 can also be used as a
command value generator for processing and scaling signals.

Packaged in a standard Eurocard format, the VT-HACD-1 offers an
alphanumeric display, pushbuttons for entering command values and for diagnostics, status LEDs, analog test jacks, and a serial interface for attaching a PC for programming with Rexrothhs Windows-based BODAC digital-axiscontrol software. The card also supports the CANopen fieldbus for simple
connectivity to controllers.

Bosch Rexroth Canada Corp.
Karen Park
3426 Mainway Drive
Burlington, ON L7M 1A8
Phone: (905) 335-5511 ext. 332
Fax: (905) 335-4184


---