Press Releases

NEW PRODUCTS
Meet FPTIs newest innovation...the MF500-HT Hydrostatic Transmission Training Simulator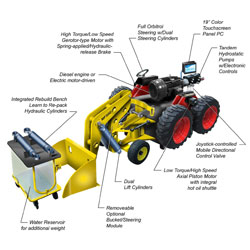 MAIN FEATURES:

Learn any type of transmission system Can be configured to teach any type of hydrostatic transmission, e.g.,
Sauer-Danfoss, Sundstrand, Rexroth, Eaton, Dennison, Linde, etc.

Standard unit equipped with the two most popular pumps in the industry Piggy-backed pumps are Rexroth
A4V and Sauer-Danfoss M46 The two most popular pumps in the skid-steer and agricultural industries.

Electronic joystick controllers Each pump is equipped with its own electronic displacement control joystick.

State-of-the-art electronics Pumps feature electronic displacement control.

Dual wheel motors Different types to increase learning capability - high torque/low speed with integral
spring-applied/ hydraulic release brake and axial piston with integral hot-oil shuttle valve. Wheel motors can
be connected in parallel or series to replicate any type of design configuration.

Panel PC with 199 color touch-screen Features simulator activities and comprehensive diagnostics programming.

Telephone: (801) 908-5456
FAX: (801) 908-5734
P.O. Box 711201, S.L.C., Utah 84171
Web: www.fpti.org
e-mail: info@fpti.org
---
Flo-tech PFM testers now offer internal pressure relief discs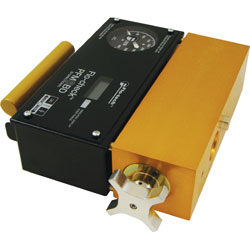 The rugged PFM Tester Series by Flo-tech now features an internal safety pressure relief disc, or burst disc. The PFM series has long been relied upon to measure flow, pressure, temperature and horsepower on mobile hydraulic equipment. Effective immediately, all PFM Testers will include an internal burst disc component. The new design ensures that in the event of an over pressurization, that the fluid is safely allowed to bypass the load valve and remain within the hydraulic system. No fluids will escape outside of the tester. Maintenance costs are thereby reduced, and potential harm to the environment from spills is eliminated with the internal design. As before, the internal burst disc is field-replaceable, should an over pressurization occur.

The PFM Tester utilizes a turbine rotor and a magnetic pick-up to measure flow rates by measuring the frequency pulse output from the rotor. Volumetric flow rate is displayed on an LCD or sent via digital output to a PC. The PFM Series provides reliable readings with an accuracy of 1% of full scale and a repeatability of 0.2%. Temperature is measured via internal sensor, and pressure is measured via analog gauge or high-sensitivity digital sensor. For ease of use and safety, all testers have loading valves with fingertip control and pressure surge protection.

About Flo-tech
Flo-tech is part of Racine Flow Meter Group and is a leading manufacturer of portable testers and turbine flow meters for hydraulic fluids. Racine Flow Meter Group is part of Racine Federated Inc., a private corporation celebrating 40 years of continuous operation in Racine, Wis., USA. Racine Flow Meter Group manufactures turbine, variable area, hydraulic testing, differential pressure, vortex shedding and ultrasonic flow measurement products. Brand names include Blancett, Dynasonics, Flo-tech, Hedland, Preso and Racine Vortex. The Racine Flow Meter Group serves industrial, oil & gas, municipal, irrigation and energy management markets worldwide.

Flo-tech, Racine Flow Meter Group
8635 Washington Avenue
Racine, WI 53406-3738 USA
262-639-6770
www.racinefed.com/flow
---
MICO Hydraulic-Over-Air Relay Valves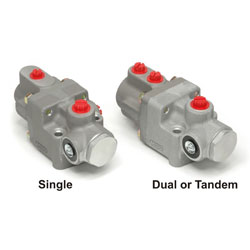 Convert Hydraulic Input To Air Pressure Output

NORTH MANKATO, Minn. MICO, Incorporated is introducing its hydraulic-over-air relay valves at the IFPE/ConExpo show in Las Vegas in booth #13653. The valves are designed to
convert hydraulic modulated input pressure to a proportional output air pressure. The new relay valves are ideal for various on- and off-highway applications, such as
controlling an air-braked trailer with a hydraulically braked towing vehicle that has an air power source.

The system originates with a hydraulic vehicle component, such as a master cylinder or hydraulic control valve, which delivers a given hydraulic input pressure. This input
pressure sends a pilot signal to the relay valve in order to modulate air brake pressure on the other end.

MICO offers three different hydraulic-over-air relay valve designs: single, dual and tandem. The single input design provides one hydraulic pilot port to control modulated air
braking pressure. The dual input features two independent ports, either of which can accept pilot pressure. When pressure is applied to both ports simultaneously, the controlled
air braking pressure ratio increases proportionally. The dual input ports can be set up for different pressure ratios, making the dual design a good fit for certain steering
assist applications. Functionally similar to the single design, the tandem input provides redundancy by utilizing two independent pilot pressure ports. This enables hydraulic
pilot pressure to be applied to either port while allowing the pressure ratio to remain the same.

The new relay valves can accommodate a maximum air pressure of 150 PSI and maximum hydraulic pressure of 2,000 PSI. The valves can be adjusted to operate at anywhere from a 3:1
to 21:1 hydraulic-to-air-pressure ratio. Maximum operating temperature for the valves is 250 degrees Fahrenheit.

MICO, Incorporated designs, manufactures and markets brake systems, hydraulic components and controls, primarily for off-road markets. For more information, contact MICO,
Incorporated, 1911 Lee Boulevard, North Mankato, MN 56003, call 507-625-6426, fax 507-625-3212, send an e-mail to micomail@mico.com or visit the companyys website at
www.mico.com
---
COMPACT, MOBILE HYDROSWAGE HEAT EXCHANGER TUBE EXPANSION SYSTEM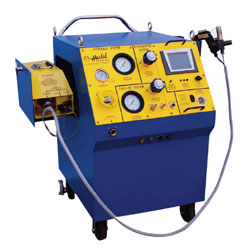 New Mark V HydroSwage from Haskel International supports rapid, accurate fabrication of heat exchangers for power generation, chemical processing, other applications
An updated HydroSwage Tube Expansion System featuring new ease of use and data collection features has been introduced by Haskel International. The compact Mark V system provides high accuracy, speed andrepeatability by expanding heat exchanger tubes into tube sheets through the direct application of high internalhydraulic pressure.

It is designed for use in fabricating heat exchangers for steam generation, condensation and evaporation. Applications include power generation, metalworking, air conditioning, chemical processing and paper mills. The New Mark V includes touch-screen electronic controls for set up of all process functions. Expansion history is stored and can be downloaded to an Excel spreadsheet through a USB port.

Heavy duty casters make it easy to roll the system up to the tube sheet face to perform expansion. The intensifier is mounted into a convenient drawer that slides out of the power unit. An optional (20 ft) long umbilical cordallows the intensifier to be used at a distance from the power unit (on a scaffold to access a very large sheet, for example).

Designed to provide one-step high pressure expansion regardless of the tube sheet thickness, HydroSwage expanding mandrels feature a patented segmented seal support system that holds high pressures with minimalseal extrusion.

Capable of expansion pressures to 50,000 PSI, the system accepts 100 to 240 VAC single-phase and requires airinlet pressure between 70 and 150 psi with a minimum of 70 scfm. Expansion pressures are applied uniformly, tube after tube, yielding consistent joints throughout the tube sheet. The method has been applied successfully to expand tubes into tube sheets as thin as 19 mm ((¾) up to as thick as 84 cm (333).

Haskel International Inc. is a world leader in high pressure technology with 40 years experience in hydraulic tube expansion. The company is part of United Technologiess Hamilton Sundstrand Corporation.
---
Trelleborg Sealing Solutions launches new iPhone app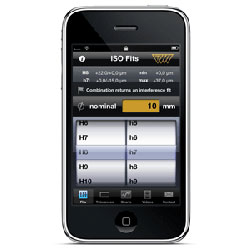 Providing results based on the ISO 286 System of Limits and Fits, this new app is aimed at engineers with the goal of helping them save time and enabling them to work away from their desks.


ISO Fits & Tolerancess is intuitive and very easy to use. Upon entering the nominal diameter needed, users simply select the tolerance classes for bore and shaft. The app then provides the complete ISO fits definition with all relevant values including the type of fit. Tolerances are shown for the most commonly used ISO tolerance classes, and convenient graphs illustrate these classes by bore and shaft.

The first of many apps to come


This is the first app from Trelleborg Sealing Solutions, with several more in the works,, says Wolfgang Heinrich, Website Specialist for Trelleborg Sealing Solutions. We are always looking for ways to make our customerss working lives easier, and with the workforce becoming more mobile every day, we need to provide tools that can be used on the go..


Also included with the app is one-touch access to the automatically updated library of Trelleborg Sealing Solutions films and animations on YouTube. For more information, just click Contactt and you can choose to email or be connected to the Trelleborg Sealing Solutions website.

Browse for the app now!


ISO Fits & Tolerancess is available in English and German free of charge from iTunes or via the Apple App Store on the iPhone and iPod Touch. It can easily be found by searching for Trelleborg ISO Fits..

Trelleborg Sealing Solutions Americas
2531 Bremer Road
Fort Wayne, Indiana 46803
P: +1 260-748-5895
F: +1 260-749-4844
---
Gardner Denver is pleased to present the Hydrapack.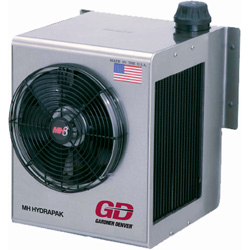 The hydrapak family is capable of heat rejection ranging from 20,400 81,500 BTU/hr.

Gardner Denver is an established market leader in hydraulic system cooling and a complete solutions provider for mobile blower and vacuum applications.

Gardner Denver Hydrapaks

Flow rate up to 60 gpm

Pressure rated to 3500 psi

Stainless Steel Construct

Reduces onboard reservoir weight by up to 400lbs


For more information visit www.GardnerDenverProducts.com or call 800.682.9868
---
LIGHTNING HYBRIDS INTRODUCES LIGHTWEIGHT HYDRAULIC ACCUMULATORS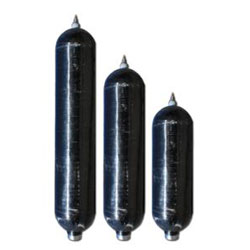 Colorado company produces tanks that are one-third the weight of standard tanks

Loveland, Colorado Lightning Hybrids Inc. (LHI) today introduced their lightweight high pressure composite bladder accumulators for hydraulic and other energy storage applications.

Prices for LHIIs compositetanks are comparable to prices on similarly-priced steel accumulators and are one- third the weight of standard steel accumulators and offer significant energy savings due to weight reduction, increased safety due to a higher than standard burst pressure factor, and cost savings because they are easier and less expensive to ship and install since weight and mounting hardware is minimized.

The patent-pending tanks were engineered by Lightning Hybrids specifically for use in the companyys HyPER Assistt hydraulic hybrid vehicle application. Though it quickly became evident that there are other uses for these lightweight energy storage tanks such as emergency vehicles, forestry, agricultural and mining mobile equipment, among others.


Our lightweight accumulators enhance the performance and efficiency of a variety of hydraulic systems,, stated Dan Johnson, LHIIs CEO, in addition they add a higher dimension of safety and reliability over standard steel accumulators for the same price..

Structural Composites Industries, a subsidiary of Worthington Cylinders, manufactures the accumulators for Lightning Hybrids. SCI is a world-recognized leader in high pressure tank manufacturing with an impeccable safety record and has managed the certifications required for these high-pressure tanks.

Lightning Hybridss accumulators are 6,000 PSI bladder accumulators and range in size from 10 to 30 gallons. They are a Type 3 tank and consist of an aluminum lining and a spun carbon fiber wrapped shell, encompassing a nitrogen gas compression bladder. LHIIs carbon fiber wrapped vessels are considerably lighter than their steel counterparts. For example, a 15 gallon accumulator weighs 115 pounds compared to 465 pounds for a steel accumulator. LHIIs accumulators are made and assembled in the U.S.A. Orders are currently being taken with delivery 60 days from receipt of order. For more information please call 1-800-223-0740 ext. 102
---
Sunnens new SHO-500 honing oil added to USDA BioPreferredSM online catalog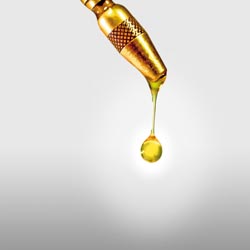 St. Louis, MO (November 2010) The U.S. Department of Agriculture's (USDA) BioPreferred program, a Federal purchasing program for biobased products, has recently added Sunnen's new SHO-500 vegetable-based honing oil to its online product catalog a searchable, user-friendly database used to find biobased products that meet BioPreferred program requirements.

Offering a breakthrough in oxidation stability, SHO-500 is formulated without additives that many find objectionable, such as sulfur, chlorine and fluorine. It is an ideal solution in honing applications where additives cannot be used, such as nuclear and some aerospace parts, or where company policies discourage use of fluids with such additives. SHO-500 is acceptable in all parts of the world and to all religions and cultures. It is suitable for use with conventional vitrified honing abrasives and metal-bond superabrasives. SHO-500 joins Sunnen's two other planet friendly oils, MAN-863 and KG3X, as BioPreferredd products. The new oil is available in 5-gallon (18.9 l) pails, 55-gallon (208.2 l) drums and 330-gallon (1,249 l) totes.

"We're pleased to qualify the SHO-500 vegetable-based honing oil for addition to the BioPreferred list," said Chuck Korn, product engineer at Sunnen. "These oils help reduce manufacturing's impact on the environment, and we're confident that customers willing to make the switch to a 'green' fluid will find its performance to be comparable to their conventional honing oils."

BioPreferred is a Federal program that seeks to increase the purchase and use of biobased goods products made from biological or renewable materials.

"Initially, the catalog was created to help Federal procurement officers identify biobased products that qualify for preferred purchasing," said Ron Buckhalt, BioPreferred's program manager. "But the BioPreferred online catalog is accessible to anyone who wants to search for biobased products. We are gratified so many find the catalog a useful tool."

Biopreferred's online product catalog is searchable by product category (i.e. construction and road
maintenance, housewares and cleaning products, etc.) and further by subcategory, manufacturer name or product name. Today, more than 1480 biobased products manufactured by more than 320 companies are in the online catalog, with new products continually being added. SHO-500 honing oil is listed in the catalog's Metalworking Fluids category under the Straight Oils subcategory.

Search the complete BioPreferred product catalog at www.biopreferred.gov/Catalog.aspx
---
Firesleeve Hose Protection from Tompkins.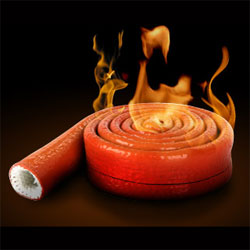 A silicone-coated fiberglass sleeving, Tompkins Fire Sleeve withstands continuous exposure to 5000F and short-term exposure up to 22000F. It allows the bundling of
cables, hoses and wires and sheds molten splash while providing excellent thermal and abrasion resistance.

Avoid downtime and costly repairs when you protect your equipment with Tompkins firesleeve.

Firesleeve is available in 50' rolls.

Contact Tompkins
Phone: 800-255-1008
Fax: 800-959-3333
---
MICO Introduces Check Valve Assembly For Full-Power Brake Systems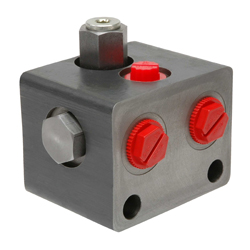 NORTH MANKATO, Minn. MICO, Incorporated introduces a Check Valve Assembly for Full Power Brake Systems. It is a compact manifold assembly that includes a check valve and an inverted shuttle valve. The assembly supplies fluid for two separate accumulator circuits while reducing the necessary number of system components and limiting plumbing and hardware requirements.

The Check Valve Assembly is ideal for full power hydraulic brake systems that must store energy in two separate accumulator circuits. It features high flow capacity up to 11 gallons per minute and a maximum operating pressure of 3,625 PSI, Among the potential applications are split systems with a pressure-compensated pump, and electrohydraulic accumulator charging controlled by a pressure transducer at the unitts switch port.

Pressure is supplied to two accumulators by the assemblyys inlet port. The inverted shuttle valve isolates the higher pressure of the two accumulator circuits, while directing the lower pressure to the switch port. A check valve prevents pressure at the switch port from leaking back to the inlet port.

By combining the functionality of multiple components into a single housing, the Check Valve Assembly decreases costs and time required for installation. Its design also reduces potential leak points and contains possible failure points for the hydraulic system. The assembly limits check valve leakage to a maximum of 0.25 cubic centimeters per minute at 3,500 PSI.
MICO, Incorporated designs, manufactures and markets brake systems, hydraulic components and controls, primarily for off-road markets. For more information, contact MICO, Incorporated, 1911 Lee Boulevard, North Mankato, MN 56003, call 507-625-6426, fax 507-625-3212, send an e-mail to micomail@mico.com or visit the companyys Web site at www.mico.com
---