Press Releases

NEW PRODUCTS
Universal Filter International has released the new range of pressure filters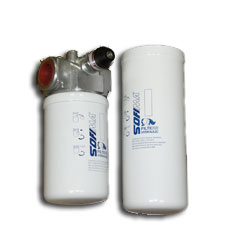 Universal Filter International has released the new range of HMF SERIES spin on pressure filters through their SOFIMA manufacturing group.

This new series offers aluminum heads and steel spin on elements incorporating all of the spin on filter convenience with pressure filter performance.

The three series of high pressure spin on filters have working pressures of 350 psi (301/302 sizes) , 500 psi (151/154 sizes) and 1000 psi (051/052

sizes) and rated flows of 50 GPM, 37 GPM and 25 GPM respectively.

While aimed primarily at the mobile replacement market, the SOFIMA units offer media performance equivalent to the high performance industrial filter range from UFI and SOFIMA.

Elements are available with cellulose media in 10 m and 25 m with a x > 2 and with glass fiber media in 3 m, 6 m, 12 m and 25 m rating with a x > 200 (as per ISO 4572)

These glass fiber elements convert to 5 m, 7 m, 12 m and 21 m rating with a x(c) > 1000 (as per ISO 16889)

Ports are standard with SAE threads and optional NPT units are available. Internal bypass valves are standard at 25 psi with an optional 50 psi version.

High collapse elements (300 psi) can also be supplied on special order.

Optional differential indicators in either visual or electrical configurations and be fitted to operate with both bypass options.

The UFI / SOFIMA HMF SERIESS pressure filters have been installed in many Mobile and Industrial applications including: Agricultural, Material

Handling equipment, stationary and industrial power packages and hydrostatic transmissions.

For more information on UFI / SOFIMA Hydraulic Division filters visit the UHI Limited continuously updated website at www.uhiltd.com or to request

additional information or application assistance contact:

UFI Filter Division
Universal Hydraulics International Ltd.
9337 Ravenna Rd., Unit G.
Twinsburg, OH 44087
Ph: 330.405.1800 Fax: 330.405.1801
Email: ufifilters@uhiltd.com

---
Continental Hydraulics Introduces the VSNG6 Valve Line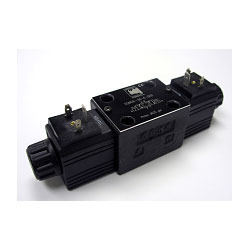 Savage, MN Continental Hydraulics has introduced the VSNG6 line of compact Solenoid Operated Directional Control Valves The VSNG6 compact design features reduced solenoid dimensions making it ideal for mini-power pack, mobile and agricultural applications.

VSNG6 valve bodies are high strength iron castings with wide internal passages to minimize flow pressure drop. The valves are supplied in 3-way or 4-way designs with interchangeable spools and different porting configurations. Flow rates are maximum 13.2 GPM with maximum pressure to 4060 PSI. VSNG6 valves feature DC or rectified current wet armature solenoids with interchangeable coils and five different types of electrical connections for maximum application flexibility.

VSGN6 valves are stocked for great deliveries and available through all Continental Hydraulics distributors throughout the US, Canada, Mexico, Central and South America.

Continental Hydraulics designs and manufactures high-performance, robust hydraulic pumps, valves and power units for a wide variety of mobile and industrial applications. Every Continental product is rigorously tested in the lab and in the field for normal and severe conditions to help ensure they meet or exceeds established performance and service life standards. The Company has over 40 years experience supplying standard and custom-order hydraulic components quickly and efficiently, helping shorten time-to-market cycles. Continental Hydraulics products are available globally through an independent distribution network. Continental Hydraulics is a division of the DoAll Company.

Continental Hydraulics

952.895.6400

info@continentalmachines.com
---
Scalable Motion Control with hydraulic expertise from Rexroth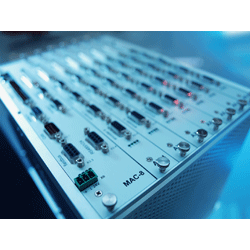 Motion Control MAC-8 for controlling up to 32 hydraulic and electromechanical axes
Rexroth opens up new degrees of freedom in the field of automation with a comprehensive portfolio of intelligent, electrohydraulic solutions. The product range comprises decentralized, intelligent Motion Controls with internal and external closed-loop control electronics as well as a high-end MAC-8 Motion Control for controlling up to 32 hydraulic and electromechanical axes in real time. The drive and control specialist took account of the special requirements of hydraulic drive technology in the associated software, thus simplifying the integration of field bus-capable hydraulics into modern control architectures.

Electrohydraulic axes by Rexroth reach new dimensions with acceleration rates of up to 80 G, rapid speeds up to 10 m/s and real-time control cycles. Depending on the measuring system used, the axes are positioning at a micron level accuracy. Both, external closed-loop control electronics for motion control applications for one to four axes in conjunction with the VT-HACD and the HNC1000 families, and IAC axis controllers integrated in the valve communicate with the higher-level control via common field buses. Rexrothhs Motion Control generation HNC100-3xx expands the fields of application of the electrohydraulic NC control family HNC100. This new, scalable controller format generation controls up to four electrohydraulic axes. The increased computing power significantly shortens scan rates. Users can simply transfer their know-how saved in previous HNC programs to the new generation, which offers numerous new functionalities.

The Motion Control software is provided with controller structures to compensate for non-linearities of the hydraulics by means of corresponding controller parameters and allows users without in-depth knowledge of hydraulics to commission hydraulic drive technology. In this way, Rexroth drastically simplifies the integration of electrohydraulic drives.

Apart from decentralized axis controls that can be finely scaled in terms of power and functionality, Rexroth offers the high-end Motion Control Rexroth MAC-8, a solution for particularly complex automation tasks. This control of modular design controls two to 32 axes or a correspondingly greater number by way of cross-communication and is ideal for use, for example in steelworks, presses, sawmills or special machinery. This control, too, can be hooked up to a control network via Profibus DP or Ethernet TCP-IP and UDP-Communication respectively.

For more information please visit: www.boschrexroth.ca



---
New Parker Piston Pumps Offer Efficient Operation in Hydraulic Fan Drive Systems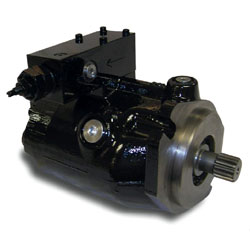 New Parker Piston Pumps Offer Efficient Operation in Hydraulic Fan Drive Systems, Further Reducing Fuel Consumption and Emissions Output for Off-Highway Vehicles
MARYSVILLE, OH - New 18 and 28cc P1/PD Series piston pumps are now available from Parker Hannifin, the global leader in motion and control technologies. Design optimized for open-circuit applications, P1/PD pumps can enhance the performance of hydraulic fan drive systems, helping reduce fuel consumption and emissions output for off-highway vehicles.

EPA Tier 4 emissions standards for off-highway diesel engines are forcing engineers to develop new solutions for cooling construction, agricultural and industrial equipment. Hydraulic fan drive systems - an alternative to traditional belt-driven fans - have received increasing attention in recent years. The ability to control fan speed independent of engine speed provides significantly improved cooling efficiency and fuel economy.

P1/PD pumps are engineered for continuous, reliable, efficient operation at the higher temperatures and pressures at work in today's emissions-compliant diesels. In a variable electro-hydraulically controlled fan system, a P1/PD pump can provide up to 5% fuel savings and reduce cooler size by up to 50% compared to a standard fixed displacement system.

Parker's new 18 and 28cc displacement pumps are best suited for improving the performance of fan drive, steering, accessory and load sensing systems on construction and material handling equipment including backhoes, excavators, skid steers, telehandlers and cranes. Including 45, 60, 75, 100 and 140cc displacement models, the P1/PD Series is now complete with a variable, axial piston pump solution for a wide range of medium-duty mobile (P1) and industrial (PD) applications.

Besides fuel savings and emissions reductions, customers will appreciate the P1/PD pumps' compact size, which allows considerable mounting flexibility. Their low noise output also helps companies comply with OSHA "Noise at Work" standards - particularly in industrial settings - while potentially reducing the expense of extra sound insulation for machines.

Worldwide, P1/PD pumps are used in a wide range of applications including concrete pumpers, oilfield power units, mining hauling trucks, horizontal drillers, marine bow thrusters, military transport vehicles, water jet cutters, plastic extrusion machines, head presses and injection molders, among many others.

Rated for continuous operation at pressures up to 280 bar, P1/PD pumps feature:


Compact, round housing (quieter than comparable "flat surface" designs)
Low flow ripple to further reduce noise
Simple hydraulic controls with "no leak" adjustments
Elastomer seals to eliminate gaskets and external leakage
SAE and ISO standard mounting flanges and ports
Tapered-roller shaft bearings
Low friction, hydrostatically balanced swash plate saddle bearings
Full power through-drive capability
End or side inlet and outlet ports
Case drain ports for horizontal or vertical shaft-up mounting
Optional maximum and minimum volume stops
Optional case-to-inlet check valve to extend shaft seal life

Several control options are also available:

Standard pressure limiter
Pressure limiter and torque control
Load sensing with pressure limiter
Load sensing with pressure limiter and torque control
Pilot operated pressure limiter with ISO4401 interface
Pilot operated pressure limiter with mechanical adjustment and vent port
Pilot operated pressure limiter with electrical adjustment
Precise proportional Digital Control Options

For more information about Parker Hannifin P1/PD piston pumps, visit www.phpump.com or www.parker.com.


---
Radial Piston Motors from Young PowerTech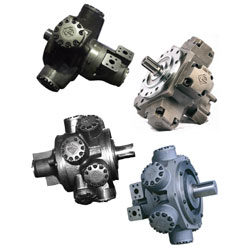 Coming Soon: Replacement for Staffa/
Kawasaki, KYB, and Intermot. Displacements
from 100cc-7000cc. Pressures to 4350 psi,
Single and 2 speed, Tapered and straight
keyed, internal and external splined Shafts,
metric and SAE porting. Call or email for
pricing and delivery.


Young Powertech Inc., Garnet Valley PA
Email: info@yptius.com,
www.yptius.com
Phone: 610-558-0760
---
Eatons Aeroquip MatchMate Hoses Offer Customers Higher Pressure Ratings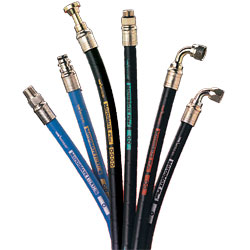 Eatonns Aeroquipp MatchMatee Hoses Offer Customers Higher Pressure Ratings, Higher Temperatures and Abrasion-Resistant Covers For Longer Life

EDEN PRAIRIE, Minn. Diversified industrial manufacturer Eaton Corporation today announced that its Aeroquipp MatchMate Global braided and spiral hydraulic hose products have been re-engineered to provide significantly higher working pressures and temperature ratings along with covers offering superior abrasion resistance. Included in the enhanced product offering are the popular Aeroquipp GH120, GH663, GH781, GH793, and GH493 hose products.

Eatonns Aeroquipp MatchMate Global GH120 hose exceeds Society of Automotive Engineers 100R16 specifications; GH663 hose exceeds European Norm 1SN standards; GH781 hose exceeds EN 2SC standards; GH793 hose exceeds EN 2SN standards; and GH493 hose exceeds 4SP pressures in sizes -6 through -16 plus it exceeds SAE 100R12 standards.


The new MatchMate Global products have an average 29 percent higher pressure rating than the most popular brands of directly comparable competitive hoses,, said Todd Pinkelman, Eaton senior product manager. Individual products outperform the competition by as much as 70 percent. And thatts with a 2600 F temperature rating as well.


The more abrasion-resistant cover technology offered on MatchMate Global hoses is also an important feature,, Pinkelman added. More than half of all hose failures we see can be attributed directly to cover abrasion.


Eaton has combined a number of different factors, including best practices from recent acquisitions, strategic supplier relationships, advanced engineering technologies, and state-of-the-art manufacturing and quality methodologies to achieve significant performance enhancements in these products,, Pinkelman added.

Eatonns Hydraulics Group is a segment of the companyys Industrial Sector. The business is a worldwide leader in the design, manufacture and marketing of a comprehensive line of reliable, high-efficiency hydraulic systems and components for use in mobile and industrial applications. Mobile and industrial markets include agriculture, construction, mining, forestry, utility, material handling, earthmoving, truck and bus, machine tools, molding, primary metals, automotive, power generation, port machinery and entertainment. Eatonns Hydraulics Group provides customer-driven solutions under product names such as Aeroquipp, Bostonn, Char-Lynnn, Eatonn, Hydro-Linee, Synflexx, Vickerss, Walterscheidd, and Aeroquipp. For more information, visit www.eaton.com/hydraulics.
---
Zero-Max Overhung Load Adaptors (OHLAA) provide load support to eliminate premature hydraulic motor or pump bearing failure.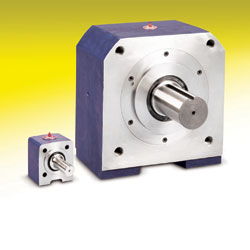 OHLAAs provide a solid mounting surface while sealing out dirt and contamination in harsh environments.

Zero-Max OHLAAs provide support for both radial and axial loads. Applications include forestry shredders, recycling systems, cold planers for road paving, industrial conveyor drives, and many others.

Manufactured to ISO 9001:2008 quality standards, Zero-Max OHLAAs are ruggedly built of premium materials. Housings are cast to Zero-Max specifications by our certified foundry. Shafts are precision machined from high quality 130,000 PSI stress-proofed steel.

Designed for either face or foot mounting, OHLAAs are available with many shaft options including splined, threaded, tapered and extended output shafts. Special input bores and housing modifications are also available.

Over 50 standard models are available for handling overhung loads (axial and radial) on most motor or pump shafts. Input bore sizes range from 5/8 inch to 3-1/2 inch. SAE mounts available include A, B, C, D, E, and F mounts with 2 or 4 bolt mounting flanges.

Over the years, Zero-Max has designed and manufactured over 1300 custom designs to meet new and unusual application requirements. Zero-Max Engineering staff is experienced in asking the right questions for custom applications and responds quickly with accurate technical details. All custom OHLA designs include a detailed approval drawing submitted prior to manufacture.

A NEW brochure is offered showing easy to follow sizing and selecting formulas including how to calculate estimated working life of a particular OHLA model in a system.

Call 1-800-533-1731 for FREE brochure or CD ROM with the sizing and selecting software included. Outside US and Canada call 763-546-4300.
See at www.zero-max.com
Email: zero-max@zero-max.com
Or write to Zero-Max,13200 Sixth Avenue North, Plymouth, Minnesota 55441-5509. Fax: 763-546-8260.
---
The Ultra Clean Auto Loader is a semiautomatic Projectile Launcher and Projectile
The main purpose of the UC-AL Auto Loader is to remove internal contamination from a hose, tube or pipe quickly and efficiently in a production type of environment. It automatically orientates and loads the projectiles for firing. It not only cleans out internal contamination but it verifies that the projectile that carries out the cleaning task has exited the hose, tube or pipe and has entered the Containment Barrel along with the
expelled contamination.

The Auto Loader is a semiautomatic Projectile Launcher and Projectile Verification System. It is capable of cleaning hose, tube and pipe with an internal diameter of 7mm (1/44 inch) thru 29mm (1 1/88 inch). The UC-AL Auto Loader can have up to 8 Cores and 5 Funnels for loading projectiles from 6mm through 36mm in diameter. The Auto Loader comes complete with the Firing Station Cabinet and Containment Barrel.
Ultra Clean
746 Shiloh Pike; Bridgeton, NJ 08302 U.S.A.
Phone: 856-451-2176
Fax: 856-453-4975
800-791-9111
http://www.ultracleantech.com


---
Parker TEMA Multi-Couplings Provide a Single Point Connection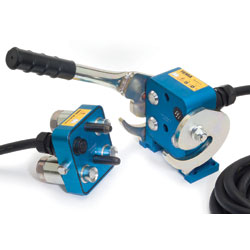 Parker, the global leader in motion and control technologies, offers multi-couplings for use in applications where a single simultaneous connection eliminates the need to mate each individual line.

Parker TEMA multi-couplings provide a single-point connection, saving time and simplifying the hookup. Lever-actuated motion brings the two mating plates together with minimal effort. Instantaneously, all hydraulic lines and electrical connections are mechanically joined.
---
New EDS 8000 Pressure switch from Hydac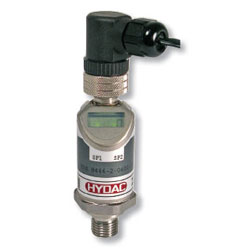 EDS 8000 is a compact, easy to program electronic pressure switch.

It is available with two PNP transistor switching outputs. All settings of the EDS 8000 are programmable
via two buttons and a four-digit digital display. The switch position is indicated by a red or green backlight LED of the display. The unit has many additional adjustment parameters, e.g. switching delay times, N/O / N/C function of the outputs, display in PSI, bar and MPa. EDS 8000 is available with pressure ranges from 0-500 psi up to 0-9000 psi. The main applications of EDS 8000 are pressure
indications in hydraulics and pneumatics; wherever constant switching activities and accuracy are highly in demand.

Hydac Corporation
Ph: (905)714-9322
Fax: (905)714-4664

---