Press Releases

NEW PRODUCTS
Parker Produces Custom Fluid Connector Products Quickly, Saving Customers Time and Money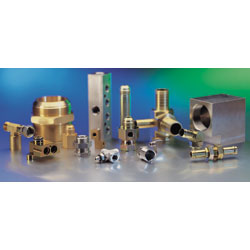 COLUMBUS, OH - When a one-of-a-kind tube fitting or adapter is needed, Parker Hannifin, the global leader in motion and control technologies, can design and deliver it in as few
as two days. By keeping lead times to a minimum, Parker affords customers greater project planning flexibility, saving them time and money.

Parker's Tube Fittings Division (TFD) can manufacture custom fittings and adapters - as well as manifolds and many other fluid conveyance products - to a customer's
specifications for prototypes, emergency repair or preproduction applications. Products are machined in steel, stainless steel, brass, aluminum or numerous other types of
market-specific materials such as nickel copper/copper nickel, VIM/VAR, duplex and Hastelloyy. All parts produced comply with applicable conformance standards including SAE,
ISO, DIN, JIS, ASTM/ASME and MIL/MS.

"Your supplier must have a full understanding of your market needs as well as design manufacturing processes required to produce high-end, nonconventional fittings," said Brian
Smith, Business Development Manager, Parker Hannifin Corporation, Tube Fittings Division. "Beyond fast turnaround, this is the real value we deliver. With more than 80 years in
fluid connector technology innovation and dedicated customer service, design and manufacturing resources for custom products, Parker holds a leadership position few others can
claim."

With ISO 900-certified facilities and resources dedicated to nonstandard parts production, TFD is one of a small number of suppliers that possess the necessary manufacturing
capabilities to work with customers throughout their full product life cycle (prototype, preproduction, full production and aftermarket support) while offering a complete
infrastructure of design, quality systems management and logistics support at the same time.

Furthermore, with its full complement of manufacturing resources - including rapid-response CNC capabilities - TFD can quickly and seamlessly transition from low- to high-volume
production of a specialty product. This means customers can rely on Parker as their sole custom parts supplier, whether a single piece or 50,000 are needed.

For more information, call Parker's Tube Fittings Division at 614.279.7070, e-mail customfittings@parker.com or visit www.parker.com/tfd to download the "Custom Products"
bulletin (#4300-CSTM/USA).
---
HYGROSCOPIC BREATHERS INCREASE OIL LIFE, REDUCE WEAR AND TEAR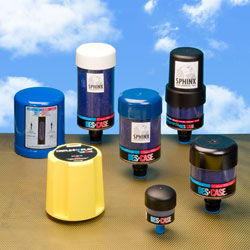 A full line of hygroscopic breathers that remove water and particulates from the air entering hydraulic reservoirs, gear boxes, and process tanks is available from Sphinx Adsorbents, Inc. of Springfield, Massachusetts.

Des-Casee Hygroscopic Breathers from Sphinx are offered in a wide range of styles for preventing lubricants and fluids used inside industrial machinery from becoming contaminated. Only allowing clean, dry air to enter a lubri-cation system or process tank, they help increase oil life, reduce abrasive wear caused by dirty fluids, and prevent chemical reactions or spoilage.

Featuring a desiccant for removing water vapor and a microfiberglass pleated filter that eliminates particulates down to one micron, Des-Casee Hygroscopic Breathers typically provide a window to show when the desiccant needs to be changed which will turn pink when 100% saturated. They are available in permanent and disposable models in a variety of sizes.

Des-Casee Hygroscopic Breathers from Sphinx are priced according to style, size, and quantity. Literature and pricing are available upon request.

For more information contact:

Sphinx Adsorbents, Inc.
53 Progress Ave.
Springfield, MA 01104
(413) 736-5020 FAX (413) 736-8257
e-mail: info@sphinxadsorbents.com
www.sphinxadsorbents.com
---
DSI Ventures, Inc. Rounds Out Biodegradable Lubricant Product Line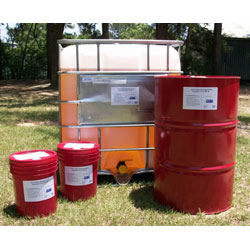 DSI Ventures, Inc. (www.DSIVentures.com), makers of specialty insulating fluids and biodegradable lubricants, today announced that they have introduced Eco Hydraulic Fluid into their biodegradable lubricant product line.

Company president, Dawn M. Allen, stated, We are very excited to offer Eco Hydraulic Fluid solutions to our customers worldwide. We have seen an increase in companies that are implementing sustainable business practices and environmental fluids into their operations. DSI Ventures is positioned to meet those needs with an evolving line of eco-friendly lubricants and is encouraging all of our customers to make the move to biodegradable products sooner rather than later..

Engineered to be over 98% biodegradable, DSIIs Eco Hydraulic Fluid is an excellent solution for hydraulic applications that require minimal environmental impact. This has proven to be especially useful to clients seeking a no-sheen solution in seawater applications. For more information on DSIIs entire family of products, please visit www.DSIVentures.com.

About DSI Ventures, Inc. DSI Ventures, Inc. is an ISO 9001:2000 certified manufacturer and marketer of biodegradable and synthetic lubricants; electronic cooling fluids; advanced heat transfer; dielectric; and industrial oils. Based in Tyler, Texas, the company sells to customers worldwide.

DSI Ventures, Inc.
T: 903-526-7577
F: 903-526-0021
www.DSIVentures.com
---
Oilgear Announces New Controls on PVWJ Pumps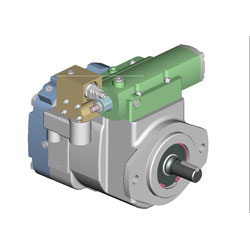 The Oilgear Company recently announced the addition of two new controls on their PVWJ open loop, axial piston pumps a proportional pressure control (P-A) and a dual pressure control (P-2). The new P-A control allows an infinite number of independent, remotely-adjustable pressure settings from one command. The P-2 control provides two independently-adjustable pressure compensated settings selected by one integral solenoid. Both controls will be available in normally-open and normally-closed configurations.

Oilgearrs PVWJ pumps are uniquely designed for enhanced stability in low- to medium-horsepower, industrial and mobile hydraulic applications. Now with ten different control types, the PVWJ pump permits easy field interchangeability without disconnecting from the drive or system piping.

PVWJ pumps are available in three frame sizes and ten displacements, allowing for greater flexibility to selectively match pressure and capacity. Each frame size effectively delivers low flow/high pressure to low pressure/high flow ranges with theoretical maximum displacements ranging from 0.66 in3/rev (10,8 ml/rev) to 7.94 in3/rev (130,2).

Since 1921, Oilgear has been a leading global supplier of high-performance fluid power equipment and systems for a variety of demanding applications. Founded on a tradition of bringing only the most advanced engineering to their customers, Oilgear continues to set the standard in industries requiring precise, high-performance systems, often operating in the harshest of environments.

For more information, please contact:
The Oilgear Company
Milwaukee, WI 53234
Phone: (414) 327-1700

---
WINTERS PTS SERIES TUBE STUB GAUGE NOW AVAILABLE IN HIGH PRESSURE RANGES INCLUDING 5,000 PSI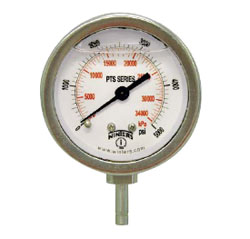 The PTS Series pressure gauge is specifically designed to be utilized with tube fitting applications. This gauge is now available in high pressure ranges up to and including
5,000 psi, in both bottom and back connections.

Winterss Tube Stub Gauges can be used with most double ferrule tube fittings, such as Parker A Lokk. It allows for installation where space is limited or where a Teflonn-free connection is required. Due to its 1/44 tube stub connection, the PTS Series allows for 3600 orientation so that pressure reading can be made easily accessible.

Tube Stub Gauges are widely used for measuring pressure in chemical processing and other
industrial environments where tube fitting is installed to prevent aggressive media from entering
the internals of the instrument. For applications where vibration exists, the Tube Stub Gauge is
liquid-filled to aid in stabilizing the pointer.

Winterss PST Series Tube Stub Gauge is offered in ranges from full vacuum to 5,000 psi. It is
heavy duty and constructed from stainless steel. The PTS Series is warrantied for 5 years.

Winters Instruments is a global manufacturer of pressure and temperature instrumentation, with
distribution in over 80 countries. Go to www.winters.com to view our extensive list of products and
distributors, or call 1-800-WINTERS for more information.

Winters Instruments
121 Railside Road, Toronto, ON M3A 1B2
416-444-2345 / 1-800-WINTERS / www.winters.com
---
Cofair Products, Inc announces the introduction of self-adhering Tite Seal Hydraulic Hose Protector.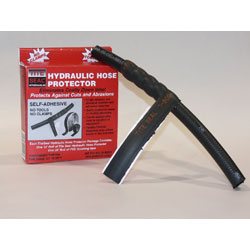 This revolutionary product provides a quick and easy solution to hose chafingg, the leading cause of hydraulic hose failure. Its unique abrasion-resistant neoprene protective barrier material was originally developed for use in the harsh environment of coal mines. Tite Seal Hydraulic Hose Protectorrs aggressive adhesive allows the protective wrap to be applied to the isolated specific areas of potential hose chafing, as opposed to covering the entire length of hose, thereby saving both time and money. Unlike traditional spiral hose protectors that require a different size protector for each hose diameter, with Tite Seal Hydraulic Hose Protector, one size fits all. The unique design of the neoprene wrap allows hoses to flex and bend, and also allows the material to be applied even after the hose has been installed on equipment.

Tite Seal Hydraulic Hose Protector is available in 122 and 500 rolls in retail packaging, and also in 3000 bulk rolls. It will be widely available throughout the U.S. and Canada.

Cofair Products Inc.
7301 N. St. Louis Ave. Skokie, IL 60076
Phone 847-626-1500 FAX 847-626-4900

---
Donaldson Company announces the introduction of a handheld filtration system to improve equipment reliability.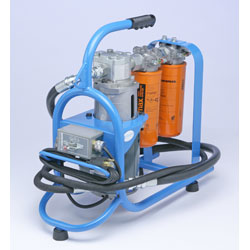 The Donaldson Filter Buddyy is a 2 gpm (7.6 l/min) handheld portable system that allows you to kidney loop reservoirs that you normally cannot with larger filter carts. Its small size and light weight (approx. 45 lbs.) allows carrying it up and down stairs and into tight or confined spaces. It also fits on top of a drum for convenient transferring and filtering from a drum to a reservoir.

The Filter Buddy features dual HMK04 filtration which utilizes Donaldsonns exclusive high efficiency Synteqq media. The filters are plumbed in series giving you the option of coarse/fine particle removal or install a water absorbing element for water/particle removal.

There are two models available: a standard (low viscosity) version for fluids up to 900 SUS and a high viscosity version for fluids up to 8000 SUS.

About Donaldson Company
Donaldson is a leading worldwide provider of filtration systems that improve peoplees lives, enhance our customerss equipment performance, and protect our environment. We are a technology-driven company committed to satisfying our customerss needs for filtration solutions through innovative research and development, application expertise, and global presence. Our employees contribute to the companyys success by supporting our customers at our more than 100 sales, manufacturing, and distribution locations around the world. Donaldson is a member of the S&P MidCap 400 and Russell 1000 Index, and our shares trade on the NYSE under the symbol DCI. Additional information is available at www.Donaldson.com.


For more information contact:
Donaldson Company, Inc
Industrial Hydraulics
1-800-846-1846
www.donaldson.com/en/ih

---
ULTIDRI Oil Conditioning for Wind Turbines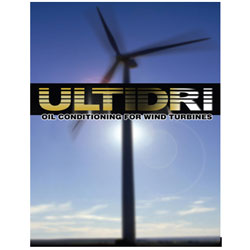 Reliability of the gearbox and hydraulic systems within a wind turbine are critical to the long term success of wind as a source of energy, and recent advances in oil conditioning technology are part of the solution. The UltiDrii from Porous Media provides slip stream conditioning that eliminates harmful water and improves particulate cleanliness, protecting additives and helping to extend oil life. UltiDrii systems operate automatically and require no routine maintenance - making them ideal for use in wind turbines. If you would like to learn more about how UltiDrii keeps fluids in optimum condition to help maximize turbine availability and service life maintaining water concentration at less than 100ppm without any consumable media - we would like to talk with you.

Porous Media Corp
Lubrication & Hydraulics Group
Tel: 651-653-2000
LHTech@porous.com
---
TechStrobe now available from Hydracheck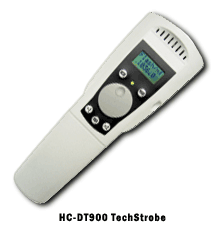 The HC-DT900 TechStrobe and HC-DT900-PR TechStrobe professional kit from Shimpoo Instruments is the perfect tool for slow motion, or stop action stroboscopic inspection. The Shimpoo TechStrobe is the only palm size unit to include a Phase shift feature. Phase shifting allows the TechStrobe operator to advance or retard the flash timing by degreess of angle, without changing the actual flash rate (FPM) of the TechStrobe.

Employing its unique Phase shifting feature, the TechStrobe freezess rotating or reciprocating machinery for visual inspection of covered gear teeth, shafts, oil/fuel/ink injector patterns, and print media; all without stopping production.

The TechStrobe is completely portable and operates up to 2.5 hours at 1600 FPM from its detachable, rechargeable battery. The ergonomically designed battery serves as the padded grip area. The battery is quickly detached and recharged while another battery is snapped into place.

Designed for right or left hand, all TechStrobe functions are intuitive and easy to use. Quality and Maintenance Professionals will appreciate the rotary and push button controls for internal flash (FPM/RPM) control, external triggering, tachometer mode and Phase shift control. The push buttons rapidly increase (x 2), or decrease ((2) the flashes per minute (FPM) and change by degreess the Flash phase.

Compact, impact resistant and rugged, with that balanced feeling for one-handed operation, the TechStrobe will quickly become one of the Quality and Maintenance Professionalss favorite tools.

Features:
Rechargeable replaceable battery
Ergonomic design
Intuitive control layout: Simple to operate
Rotary and push button flash control
Long battery charge life: Min. of 2.5 hrs at 1600 FPM (flash per minute)
Light weight with padded handle
Fast charge time - no long wait for recharge

Hydracheck
P.O. Box 711201
Salt Lake City, UTAH 84171
Toll Free: 1-800-316-5342
In Utah: 801-908-5717

---
NOSHOK 800/900 Series High Pressure Bleed Valves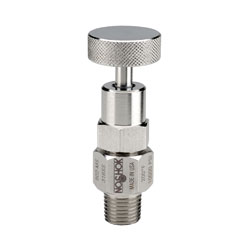 NOSHOK 800/900 Series Bleed Valves provide a convenient means to relieve process pressures trapped between a shut off valve and the instrument.

The 800/900 Bleed Valves use the same patented features as the NOSHOK 100/150 Series Mini Valves, with an integrated single threaded body for insertion in a vent port. The Bleed Valve provides shutoff to a small bleed hole located on the side the hex which vents to atmosphere.

These Valves are available in electroless nickel plated 12L14 steel, electropolished 316 stainless steel and 360 brass. All bleed valves are equipped with a Vitonn O-ring and Teflonn back up ring below the stem threads to protect against corrosion and galling. Teflonn or Grafoill packing are optional. Their stem threads are rolled for greater strength and ease of operation, and they have a maximum pressure rating of 10,000 psi for steel and stainless models, and 6000 psi for brass models. All NOSHOK valves are 100% Helium leak tested to 1 x 10-4 ml/s for guaranteed performance and reliability.

For more information on NOSHOKKs wide range of needle valves and manifold valves, visit our website at www.noshok.com, or contact our Customer Service Team at 440.243.0888
---