Press Releases

NEW PRODUCTS
Doosan Infracore America Expands Hybrid Development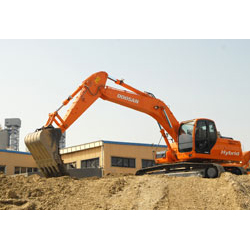 Doosan Infracore has expanded its development on its hybrid excavator with enhanced energy efficiency and lower exhaust emissions. The Doosan hybrid excavator, slated for launch by 2012 in North America, will provide significantly reduced fuel consumption and is designed to reduce the environmental impact of CO2. The innovative Doosan hybrid excavator will be equipped with a diesel engine, electric swing motor, electric converter and an ultra-capacitor that will store excess energy during turning and light-duty operations. The reserve electricity will then be used to assist the power of the engine during heavier work; allowing the engine to maintain low revolutions and high efficiency combustion during acceleration. Such a system will save fuel and reduce exhaust emissions; thus creating additional value for Doosan customers.

Doosan Infracorees first hybrid excavator will be a 22-ton model with an approximate 35% reduction in CO2 and fuel consumption when compared with the DX225 standard hydraulic excavator. The increase of fuel efficiency will save approximately $10,000 in fuel cost per machine each year*.


We are committed to bringing the most competitive and innovative technology to market, and Doosan is focused on developing a fast, fuel efficient and reliable hybrid for its customers,, said Michael Stanley, President/COO, Doosan Infracore America Construction Equipment. Our hybrid machine will provide best-in-class support with innovative technology..

Doosan Infracore has shown consistent commitment to its global presence in the construction industry through its acquisitions of Bobcat and Moxy Trucks in 2007 and 2008 respectively. The development of the 22-ton hybrid excavator is yet another step in offering the North American market a full solution for its construction equipment needs.


ABOUT DOOSAN INFRACORE AMERICA
Doosan Infracore America services a large network of Doosan dealers in North America from its headquarters in Suwanee, Georgia. Doosan Infracore America is responsible for all North American sales, service, and technical support for Doosan heavy construction equipment, compact equipment and lift trucks. The Suwanee facility features a state-of-the-art service, sales and parts training center, as well as a parts distribution center that services all of the U.S. and Canada. Doosan also has its own financing provider-Doosan Global Finance. Doosan Global Finance serves as a single global finance provider for Doosan Infracorees machine tool, forklift and construction equipment divisions. Doosan Global Finance is committed to offering Doosan dealers and their customers tailored attention and competitive finance programs with the same quality and level of service provided by Doosan Infracore. For more information, visit www.demoadoosan.com
---
New Hydac Ion Exchange Units ( IXU)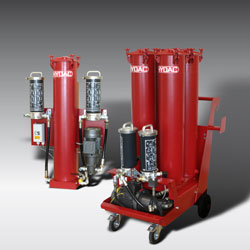 Description
Hydac Ion Exchange Units ( IXU) were developed for the conditioning of phosphate-ester fluids, which are vulnerable to acid formation, a very destructive contaminant.
They are designed for hydraulic and lubrication oil tanks of up to 20,000 liters.

Features
- Effective removal of acids resulting from hydrolysis and metals from previous treatment
with fuller's earth or active aluminum oxide.
- Improved resistivity of the fluid.
- Extended service life.
- Reduction in functional problems, e.g. with servo valves.
- Reduction in disposal costs.

We recommend operating the IXU units in conjunction with a Hydac Aqua Mobile
Dehydrator - FAM.

---
PETITE AND POWERFUL HYDRAULIC POWER PACK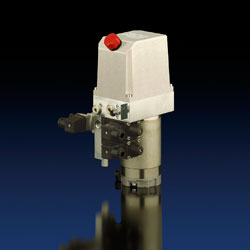 (CHARLOTTE, N.C.)- HAWE Hydraulics, a leading supplier of sophisticated controls to the mobile and industrial markets, introduces the youngest and smallest hydraulic power pack aggregate ever built by Munich-based, HAWE Hydraulik SE. The power pack is designed for use in all hydraulic consumers with low oil volume requirements on mobile applications such as, construction sites and other locations where energy is supplied by DC power sources. The operating modes have short activation times, including; riveting, crimping, embossing and releasing of winch brakes. The amount of operable oil volume is approximately 0.7 liters.

Tiny but mighty; the power pack can generate pressures up to 500 bar (7,250 psi). Its compact dimensions are approximately 122 x 44 x 44 it weighs about 18 lbs., depending on the valve configuration. Because of its size, it is easily installed in small spaces and comes available with a radial piston pump thus, ensuring long service life.

A hydraulic system is constructed by connecting valves to the NPC. A pressure limiting valve can be directly integrated into the intermediate flange. Directional seated valves type WN and WH, as well as the G-series from HAWE Hydraulics modular concept kit, can be mounted on the power pack. These types are built as ball seated valves and are also leak-free. They are designed as 2/2, 3/2 and 4 position, 3 way-directional valves and are capable of combining a number of valves on a valve bank. For more information on the NPC, please visit www.hawehydraulics.com.

---
MR Flow Transmitter from Hedland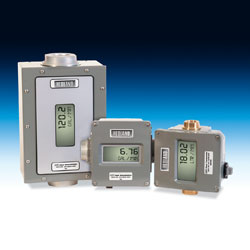 Racine, Wisconsin - The MR Flow Transmitter combines state-of-the-art digital signal processing technology with the rugged proven technology of a piston-type variable area flow meter. The solid state design electronically senses movement of the magnetic piston assembly and provides accurate, repeatable flow measurement. The device has NO mechanical linkages, which results in longer operating life.

All MR Flow Transmitters come pre-calibrated from the factory. However, the unit may also be configured by the User to meet specific application requirements. Calibration inputs are available for: specific gravity for all fluids; viscosity for petroleum-based fluids; as well as specific gravity, pressure and temperature for pneumatic systems. Combined with User-selectable units of measure, these configuration functions allow for precise measurement on unique applications.

Additional benefits and features include:

Non-contact sensor electronics

Digital flow rate and total flow indication

Proportional analog output

CE compliant exceeds US and meets European standards from EMI/EMC

Low power design allows for 2-wire loop powered operation

The MR Transmitters provide voltage (0-5 VDC and 0-10 VDC) and current loop (4-20 mA) outputs, allowing for easy electronic integration. Optional remote display and signal processors are also available from Hedland.

The F6700/F6750 Series Digital Display with integrated signal processor capabilities is offered to enhance the utility of the MR Flow Transmitters. In addition to remote flow monitoring, this unit can be configured to provide alarm processing and communication modes, including RS232, RS485, Modbus, Profibus and DeviceNet.

Hedland manufactures flow meters, flow switches and flow transmitters for a broad range of industrial applications. The Company offers products for use with oil, air, water, and many other liquids and compressed gases. For complete specifications on the MR Flow Transmitter call 1-800-
433-5263, visit Hedlandds website at: www.hedland.com, or e-mail questions to: hedlandinfo@racinefed.com. Technically trained Inside Sales
Representatives are available to assist in the selection process.

---
New D Series Gear Motor Excels in Demanding Off-Road Applications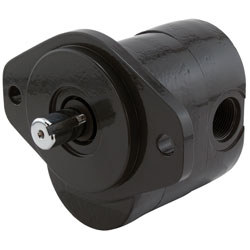 Sauer-Danfoss introduces cast iron motor for maximum performance, efficiency, extended life and installation flexibility.

AMES, Iowa, USA, Sauer-Danfoss Inc. (NYSE:SHS) Sauer-Danfoss new D Series cast iron gear motor provides a 276 bar [4000 psi] solution in a ductile, three piece housing, complete with an electrohydraulic proportional relief valve. Suited for heavy duty fan drives and powering work functions, from mining conveyors, road pavers and crushers to flail and side angle mowers, it perfectly complements the Sauer-Danfoss D Series cast iron gear pump.


Many off-road applications are known for extreme performance requirements like the ability to consistently perform under varying high load conditions and withstand dust, dirt and high temperatures. Enter Tier IV and Stage III B engine emission requirements,, says Jeff Brenner, Product Portfolio Manager, and you have engines running at even higher temperatures, with greater need for cooling..

The D Series motor is an excellent choice for variable speed fan drive systems. In addition to handling very high cooling demand, an EH proportional relief valve maximizes available machine horsepower by providing cooling only as needed. The electronic interface makes the D Series motor fully PLUS+11 Compliant to integrate with PLUS+11 microcontrollers and other compliant products including sensors and graphical displays.

Brenner continues, With D Series motors, our focus is on four key product attributes: increased performance, efficiency, extended life or durability and installation flexibility..

Increased Performance
The D Series motors exceed the capabilities of aluminum motors in applications requiring high pressure, 276 bar [4000 psi] vs. 207 bar [3000 psi], high temperatures and duty cycles. Fan speeds can be controlled to maintain optimum engine and hydraulic system temperatures. Fan reversing capability enables a radiator cleaning cycle. When used in conveyors, the D Series motors offer excellent starting torque to control the conveyor speed while optimizing feed rates and maintaining speed under varying load conditions.

Greater Efficiency/Extended Life
The use of the EH proportional relief valve makes fan drives up to 50 percent more efficient than direct or belt drives. In the remote possibility of valve failure, fan speed defaults to the highest setting to maintain cooling integrity. The D Series motors also incorporate high temperature seals and a dust resistant shaft seal which improve performance under extreme temperature and pressure conditions and extend operating life. The bronze sleeve bushings in the front flange are lined with Teflonn PTFE, and provide increased radial load capability before requiring the use of outrigger bearings.

Installation Flexibility
The D Series compact design is 20 percent smaller than a conventional motor. Shorter length and consequent higher power density help to ease installation in tighter places. The side or rear port options come in a variety of styles, and add to greater machine design flexibility.


Many benefits result from the D Series motorss modular configuration, such as multiple installation options. Our intent is to maximize ways for OEMs to meet their most demanding machine design and operation requirements,, concludes Eric Slocombe, Product Development Engineer.

About Sauer-Danfoss
Sauer-Danfoss Inc. is a worldwide leader in the design, manufacture, and sale of engineered hydraulic, electric and electronic systems and components for use primarily in applications of mobile equipment. Sauer-Danfoss had revenues of $2.1 billion in 2008 and has sales, manufacturing and engineering capabilities in Europe, the Americas and the Asia-Pacific region. The Companyys executive offices are located near Chicago in Lincolnshire, Illinois, USA.

More details online at www.sauer-danfoss.com.

---
New honing system for hydraulic actuators is first all-electric design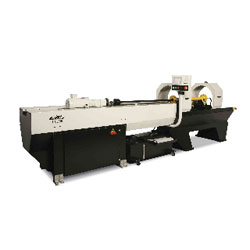 New honing system for hydraulic actuators is first all-electric design richly featured, lean in cost

Ideal for cylinder resurfacing, the HTA actuator hone is PLC controlled, handles parts up to 12 feet long, 21 inches diameter and 4000 pounds.
April 2009 The new HTA actuator hone introduces the first all-electric, lean design, engineered specifically for hydraulic service facilities doing resurfacing and repair of actuators for construction, mining, farming and forestry equipment. The machine is available for 6-foot (2 m) and 12-foot (4 m) part lengths, with bore ID of 2.5 to 21 inches (63.5 533 mm) and maximum part OD of 24 inches (610 mm), and part weights to 4000 pounds (1818 kg). It includes high-end features, such as Siemens drives and PLC-control with touch-screen HMI for setting all machine parameters, including stroke reversal point, spindle/stroking speeds, and crosshatch angle calculation. The control features a load meter to determine areas of bore tightness, with capability for dwelling the tool in multiple areas to correct part geometry. Other advanced capabilities include automatic tool tensioning, set through the PLC.

The HTA actuator hone is ideal for resurfacing and repair work where light-duty stock removal up to 0.030 inches (0.76 mm) is needed to oversize deeply scratched actuator bores. It is designed for optimum performance with Sunnen ANR275 tooling and abrasives, sold with matching coolants and gauging as part of the machine package. An electronically controlled, 3-hp (2.24 kW), AC gear motor powers the spindle at 0-300 rpm, while the servo-driven stroking system has a speed range of 0 90 ft/min (27.4 m/min). The all-electric machine eliminates the noise, leaks, valve adjustments and performance variability inherent to hydraulic systems.

Also suitable for reconditioning of die casting shot tubes, plastics extruder barrels and flow-tube weld cleanup, the HTA hone is ergonomically designed with a moveable operator station and a modular work holding system for rapid setups. It includes a 48-gallon (182 L) coolant reservoir and paper-media coolant filtration unit. Set on casters for easy maintenance, the coolant tank tucks under the machine frame to conserve floor space.

Sunnen is the world leader in the development of tube honing systems, with more than seven different model sizes in production, ranging up to a maximum 25 feet (7.62 m) in stroke length and 40-hp (30 kW) spindle power.

Additional information on the HTA actuator honing machine is available from Sunnen Products Company, 7910 Manchester Rd., St. Louis, MO 63143. Tel: 1-800-325-3670; fax: 314-781-2268 or email sales@sunnen.com.
---
Kavlico Pressure Sensors Suited for Pressure Measurements for Hydraulic Applications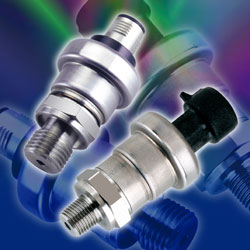 Moorpark, CA Kavlico, a global business unit of Custom Sensors & Technologies (CST) has a suite of sensors that have been designed to perform in a wide variety of hydraulic applications. Capable of operating for millions of pressure cycles, these low power consumption pressure sensors provide an accurate, reliable, and stable signal over many years of operation in the harshest environments. The high overpressure capability of our sensors for fluid power applications are designed to withstand the pressure fluctuations associated with these applications.

These rugged devices have stainless steel housings and can be configured with a broad selection of process and electrical connectors to fit the specification criteria for each application. Operating on 5 Vdc, the sensors provide a 0.5 to 4.5 linear amplified output proportional to pressure. Pressure ranges are available up to 6,000 PSI.

Typical pressure sensor applications include:

On & off-highway and vocational vehicle hydraulic systems

Trenching machines

Pressurized tools

Adaptive suspension systems

Material testing

Lifts

Cargo loading systems

Transmissions

Hydraulic applications for heavy equipment

Kavlico sensors for Hydraulic applications include:

P4000 Sealed High Pressure Sensor

P250/P251 Sealed Industrial Pressure Sensor


About Kavlico
Kavlico is an operation of Custom Sensors & Technologies (CST). Kavlico is a leading manufacturer of pressure, position (LVDT & RVDT), force, level, tilt, media quality, and other specialty sensors, and transducers for the transportation, industrial and aerospace & defense markets. www.kavlico.com

About Custom Sensors & Technologies
Headquartered in Moorpark, CA, Custom Sensors & Technologies (CST) unit is comprised of the industry-leading brands of Crouzet, Kavlico, Crydom, as well as the former divisions of BEI Technologies, including Newall and Systron Donner. CST provides sensors, controls, and actuation products for the transportation, industrial and aerospace & defense markets. www.cstsensors.com
---
HEAVY DUTY HYDRAULIC CYLINDER from STARCYL.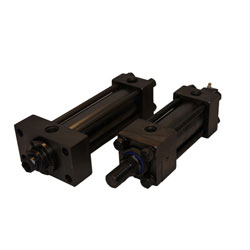 The first corrosion resistant hydraulic cylinder available with all Starnite Process parts (optional).

Star 6 Series Heavy duty Hydraulic Cylinders

-Externelly removable gland with std tools (hex flats).
-Cast iron Starnite gland for wear and friction. (Starnite Process)
-Rod seal is a double lip soft urethane for low friction and long life.
-Rod wiper to wipes dirt out and clean any oil film from the rod.
-Piston Rod (chrome shaft also available)
-High strenght aloy steel (SAE4140)
-Better lubrication retention.
-Starnite process, hardness of min 70Rc (Out-performs chrome shaft for corrosion resistant by 20:1).
-Head and Cap Machined from medium carbon steel to provide concentricity for the tubing and other parts (available in Starnite).
-Heavy wall steel tubing honed.
-Starnite (available upon request) to resist wear on the inside of the tubing (70 rc). Corrosion resistant
-High strength tie rods made from 100 ksi min. Steel.
-Starnite (available upon request). Corrosion resistant (no paint)
-Stepped Cushion and Adjusment Valve
-Machine from steel with steps for maximum performance for reducing shock.
-End Tube Seals are Pressure actuated o rings.
-S.A.E. ports are standard.
-Cast iron piston with wear ring and 2 lip seal u-cup in soft urethane.

STARCYL USA CORP.
348 Route 11, PO BOX 771
Champlain, NY, 12919
877-STARCYL (782-7295)
Fax: 630-282-7142

---
Fork Lift Transmission Hydraulic Directional Control Valve from Northman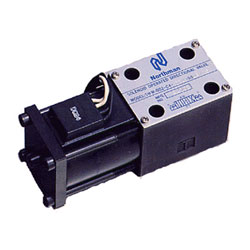 Carol Stream, IL Northman Fluid Power announces the availability in the North American market of a hydraulic valve specially designed for the fork lift transmission.

This valve is mounted on the gearbox of many forklifts to shift gears between Forwardd and Reverse.. As a key component in a potentially severe environment, the valve is designed to high quality standards to be a durable product.

The configuration is a 4-way, 3-position, spring-centered directional control valve. The center position is the floatt or motor spooll; i.e., pressure port blocked with ports A, B and tank connected. The available voltages are 12 VDC and 24 VDC.

For more information contact: Walt Lukitsh, Sales Manager 630-588-8488 x101

Northman Fluid Power
739 Kimberly Drive
Carol Stream, IL 60188
630-588-8488
www.northmanfp.com

---
New Series 53 Axial Piston Pump from Rexroth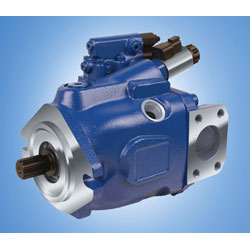 The new Rexroth A10VO Series 53 medium-duty axial piston variable pump (250/315 bar) combines innovative functionality using electro-proportional controllers with robust control electronics. The new series 53, with its extremely favorable power/weight ratio, is used as a pump for working hydraulics in open circuits.

In an electrohydraulic system, the swivel angle can be adjusted and the differential pressure can be controlled electroproportionally. For the first time a pump of this power category can also be used for hydraulic-mechanical power control. The power controller prevents overloading the combustion engine. This frees up the operator from the task of power control to focus on the actual operating functions of the machine.

The electroproportional swivel angle adjustment allows precise flow control and electronic limit load control. This makes it very easy for manufacturers to design pump control systems for speed control of individual consumers. The electrically-adjustable differential pressure control improves the resolution for fine control, such as for cylinder end-position damping.

The new A10VO series 53 variable pump provides a starting point for developing intelligent, fully electrohydraulic system solutions such as Electrohydraulic Flow Matching (EFM). The Rexroth control electronics ensure a total volume flow determined by the requirements of the individual consumers. This improves response characteristics and decreases the sensitivity to changes in disturbance variables. The implemented hydraulics are more agile and less sensitive to vibration.

---