Press Releases

NEW PRODUCTS
New Accumulator Safety Block from Accumulators Inc.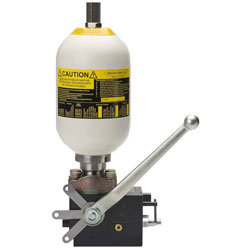 Accumulators, Inc. now offers a full line of accumulator safety blocks, used to safely isolate and discharge accumulator pressure. Many design and safety codes require safety blocks on all accumulators in order to qualify for certification; our safety blocks will surpass those requirements.

Our safety blocks will fit any size accumulator up to 40 gallons, with any oil port thread. The blocks are rated to 5800 psi working pressure and will accommodate bladder, piston, diaphragm and float type accumulators, among others. Contact the factory for pricing and engineering details.

For more information, contact our Sales Department
at 713.465.0202 or info@accumulators.com.
---
Silent Hydraulics: Stricter Noise Limit Values also for Existing Systems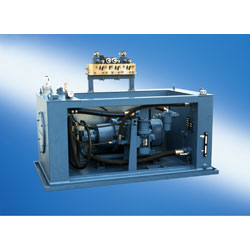 In a complete series of whispering power units Rexroth reduces noise emissions by up to 20 dB(A) when compared with non-encapsulated power units. Thus, the hydraulics specialists offers an efficient solution for complying with the stricter EU noise emission limit values, which have been in force also for existing systems in Germany since 2007. Indicator and operating elements fitted outside the encapsulation of the whispering power units simplify operation and increase the machine availability.

These whispering power units are optimized specifically in terms of noise emissions and are available with electric motors ranging from 7.5 to 90 kW. They cover a wide performance spectrum and are based on large-series standard components from Rexrothhs comprehensive hydraulic product range. This opens up a high degree of freedom in the selection of pump types, through to the combination of several pumps in one power unit. The power units of vertical or horizontal design can also be extended later by fitting additional modules.


The extremely effective noise insulation is based on a U-shaped tank that encloses the motor-pump group on anti-vibration mounts on three sides. In this way, the tank walls also serve as noise insulation panel. Operators and service personnel can easily access the drive unit via noise insulation panels, which can be opened upwards and towards the front without any tools. Whispering power units therefore significantly reduce machine downtimes during maintenance and repair.

In contrast to power units, to which insulation panels are retrofit, on whispering power units all of the indicators and operator elements are mounted freely accessible. This increases the availability of machines and systems, because the operator can adjust the control to changed conditions during operation.

By offering whispering power units Rexroth helps users and machine manufacturers adhere to maximum noise emission values, which were reduced by 5 dB(A) to 80 dB(A). Even in the most powerful variant, the assembliess noise values of only 75 dB(A) are considerably lower than the permitted new limit values.


Company Information:
Bosch Rexroth Canada
Ontario, CANADA
www.boschrexroth.ca
info@boschrexroth.ca
---
TELESCOPIC CYLINDERS from Hercules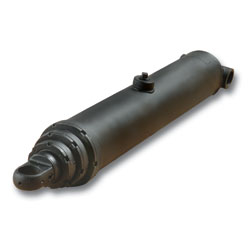 Single and Double Acting Cylinders

Replacement telescopic cylinders for Custom Hoists, Commercial,
Hyco and SHC applications. Largest in-stock inventory in the U.S.
Found on many dump truck, garbage trucks and dump trailer applications.


Hercules Sealing Products
Clearwater, Florida 33765
Phone: 877-806-2905 Fax: 800-759-6391
www.HerculesUS.com

---
New Thermal Flow Switches from Omega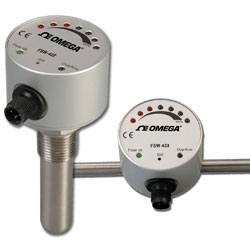 The easy to install, FSW-420/30 series of thermal flow switches has no moving parts and monitors your relative flow rate for applications where the actual flow rate is not important. This CE compliant product features automatic scaling and set-point with pushbutton re-scaling. Perfect for industries involving flow and temperature control or alarm and applications involving automation and process cooling.

Price starts at $295

OMEGA ENGINEERING, INC.,
One Omega Drive,
Stamford, CT 06907
Tel: 203-359-1660
Fax: 203-359-7700
---
Major Development in Air Driven Liquid Pumps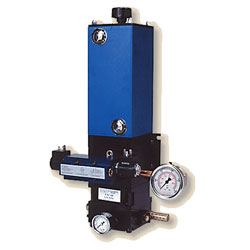 New Intensifier Pump is Tough and Affordable

Milford, Conn., Hydraulic pressures from 100 to 5,000 psi with only 60 psi air drive pressure can be achieved with a newly improved air driven liquid intensifier pump.

Designed and built in the USA by Interface Devices, Inc. (IDI), the TASQQ LINE pumps incorporate robust design features such as aerospace PTFE based dynamic seals and aircraft quality aluminum components in a compact package. The company reports the TASQ LINE design objective was to offer increased value through a simple, robust and affordable air driven pump with significantly longer service life.

TASQ LINE air driven liquid pumps are well suited for intermittent flow and pressure applications such as clamping, crimping, roll tensioning, static pressure testing and power work holding. The pumps consume little or no energy upon achieving the desired hydraulic pressure. In this way, no heat is generated while maintaining pressure, eliminating the need for larger than required oil reservoirs and heat exchangers required with electric driven hydraulic units.

TASQ LINE pumps are all built to a standard specification including an NFPA DO3 (CETOP 3) valve pad and a self-contained oil reservoir sized from 40 to 120 cubic inches. The pumps come in hydraulic ratios from 5:1 to 60:1 of inlet air pressure.

IDI reports they will inventory all ratios to facilitate prompt deliveries.
For applications requiring complex hydraulic circuitry, IDI also offers E, H & P Series air driven liquid pumps. These come in double acting and multi-ratio configurations for optimal efficiency. Multi-ratio pumps use a patented design to deliver high flow at low pressure and switch to high pressure mode on demand so minimum compressed air is used for each pressure cycle. The hydraulic pump bodies can be configured like a custom manifold for multi-faceted hydraulic functions in a compact package.

Interface Devices, Inc. has been designing and manufacturing custom fluid-power components for more than 30 years. Other products include air and gas boosters, air to fluid boosters, air amplifiers and zero-leak directional valves. Additional information can be retrieved from http://www.interfacedevices.com/ or by phoning 1-800-539-0885.

---
Eatons WALRing Metric Profile Ring-Type Flareless Tube Fittings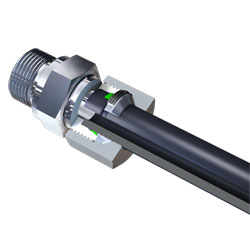 Eatonns WALRing Metric Profile Ring-Type Flareless Tube Fittings Provide Walterscheidd Two-Edge Cutting Ring Technology

EDEN PRAIRIE, Minn. Diversified industrial manufacturer Eaton Corporation today announced the expanded North American availability of the WALRingg line of 24? profile ring metric flareless tube fittings to its Walterscheidd product line. WALRing fittings combine proven Walterscheid two-edge cutting ring technology with an additional elastomeric seal to provide exceptional sealing performance.

Eatonns new Walterscheid WALRing fittings deliver best in class performance for pressures up to 800 bar (11,600 psi) plus ease of assembly by using a captive two-edge cutting ring and support ring assembly in the nut.

The elastomeric seal is placed on the tube prior to final assembly. This eliminates the possibility of soft seal damage during assembly while the cutting ring is engaging the tube. Once assembled, WALRing fittings provide both elastomeric and metal-to-metal seal to provide a superior connection.

WALRing fittings exceed both DIN 2353 and ISO 8431-1 requirements to provide connections that are compliant with industry standards. They are available to fit standard metric tube sizes from 6mm to 42mm and are suitable for use with all common tube materials.

Eatonns Hydraulics Business is a segment of the Eaton Fluid Power Group. The business is a worldwide leader in the design, manufacture and marketing of a comprehensive line of reliable, high-efficiency hydraulic systems and components for use in mobile and industrial applications. Mobile and industrial markets include agriculture, construction, mining, forestry, utility, material handling, earthmoving, truck and bus, machine tools, molding, primary metals, automotive, power generation, port machinery and entertainment. Eatonns Hydraulics Business provides customer-driven solutions under product names such as Aeroquipp, Bostonn, Char-Lynnn, Eatonn, Hydro-Linee, Synflexx, Vickerss, Walterscheidd, and Weatherheadd. For more information, visit www.eaton.com/hydraulics.

---
NEW UNISPEED USFL 90/37 from OP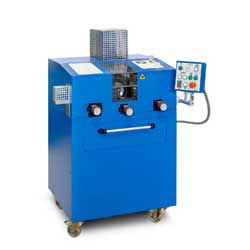 NEW UNISPEED USFL 90/37 from OP S.r.l. 900 and 377 orbital flaring in one machine.

UNISPEED USFL 90/37 is the new machine for 377 and 900 orbital flaring of hydraulic rigid pipe ends with ISO 8434-2 and ISO 8434-3 fitting systems.

Practical and easy to use: these are the main features of this machine which requires only one tool change to carry out the flaring operations. This way, processing time is reduced to the minimum since it is carried out easily without the need of additional equipment.

The machine uses a cold orbital forming process to create a flat and smooth sealing surface at 900 and 377 with a suitable rugosity for the O-Ring seal. By doing so, it avoids the formation of processing signs which, on the other hand, can occasionally occur with common axial deformation processes.

This system is compliant with the pipe flaring requirements regulated by SAE and ISO standards. The various possibilities of adjustment and configuration of USFL9037 allow obtaining any flaring diameter and thickness.

The semi-automatic processing cycle allows the flaring process to be very fast, thus reducing costs and avoiding welding or soldering the clamping ring to the pipe end.

Moreover, the final cycle lay-up ensures optimal flaring and finishing results.

OP S.r.l. - Hydraulic Tubing Processing Machines
Via Serpente, 97 - 25131 Brescia - Italy
Phone +39 030 3580401
Fax +39 030 3580838
Web-site: http://www.op-srl.it
---
HERCULES BRAND WELDED CYLINDERS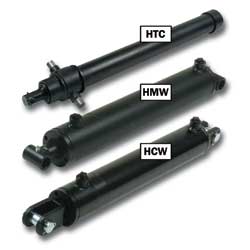 2500 AND 3000 PSI Double Acting Cylinders
(44 Bore = 3000 PSI, 55 Bore = 2500 PSI)
Well suited for mobile, agriculture and trailer applications
Features:

Honed tubing

Heavy duty welded construction

High tensile, hard chrome plated rod

Cast iron piston & gland

Clevis or cross tube mounting on both ends

Loaded u-seal & urethane wiper in gland

Double urethane u-seals in piston

Threaded gland retainer

Standard color is black

88 sizes available in HMW cross tube models

90 sizes available in HCW clevis models

7 sizes available in HTC telescopics


Hercules Sealing Products
Clearwater, Florida 33765
Phone: 877-806-2905 Fax: 800-759-6391
www.HerculesUS.com
---
Absolute PTFE Membrane Filter Cartridges Meet Needs of High-Purity Applications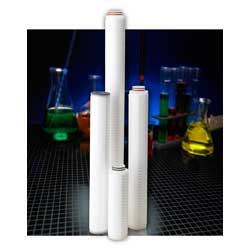 Pentair Industrial introduces Teflexx Series Absolute* PTFE Membrane Filter Cartridges, featuring a combination of polypropylene and polytetrafluoroethylene (PTFE). The cartridges' endcaps, center cores and outer support cages are constructed of polypropylene for increased durability, while the PTFE membrane provides full particle retention. Delivering 0.1 to 0.8 Absolute* micron ratings, Teflex cartridges provide a durable filtration solution for electronics, food and beverages, and high-purity chemicals, as well as general-purpose filtration applications.

Teflex cartridges deliver long cartridge life and are rated to withstand temperatures of up to 1766F (800C) as well as a maximum differential pressure of 50 PSID (forward) and 40 PSID (reverse). These robust cartridges are individually tested to meet industry requirements and ensure reliable and effective filtration. They can be sterilized or autoclaved.

Teflex cartridges are available in 10-, 20-, 30-, and 40-inch lengths, with a nominal outside diameter of 2.75-inch. Custom configurations are available for unique application requirements.

Pentair Industrial manufactures and markets a broad range of industrial filtration products including filter cartridges, filter bags, cartridge housings and bag housings plus numerous related filtration accessories. Long known for quality filtration products and patented technologies, Pentair engineers key filtration solutions for oil & gas, food & beverage, power generation, petrochemical, paint & ink, municipal, medical, pharmaceutical and other industrial market sectors. For more information, contact Pentair Industrial, 502 Indiana Avenue, Sheboygan, WI 53081. Phone: 800-869-0325. Email: support@pentairindustrial.com. Web: www.pentairindustrial.com.

---
DESCHNER CORPORATION OFFERS THE CUSHION-START SHOCK ABSORBER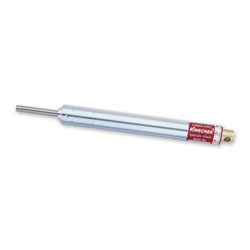 DESCHNER CORPORATION OFFERS THE CUSHION-STARTT SHOCK ABSORBER/SPEED REGULATOR COMBINATION UNIT TO CONTROL FAST MOVING LOADS MORE EFFICIENTLY

Responding to customer feedback, Deschner Corporation has combined the shock absorbing feature of their popular Cushioneer shock absorber with their speed regulator model Kinechek to offer a hybrid model called the Cushion-Start Kinechek.

The impact absorbing feature called CUSHION-STARTT is a safeguard for those applications where a fast moving load exerts an impact force beyond the capacity of the Kinechek. Approximately 25% of the beginning of the stroke is used for cushioning, then the remaining portion of the stroke will control the load with the same constant uniformness as a regular Kinechek.


Leak proof and fully adjustable, Cushion-Start model Kinecheks are available in inch,1 inch, 2 inch and 3 inch, with a maximum capacity of 1200 lbs. (Including impact when load strikes plunger) Cushion-Starts are part of an extensive line of Kinechek model speed regulators and offer the same patented, leak proof performance as the original SLIMLINE Kinecheks.

Down loadable PDF files containing Cushion-Start specifications can also be accessed from the Deschner website. Deschner Corporation is the originator of the Cushioneerr brand patented leak-proof shock absorber and Kinechek brand leak-proof speed regulator and related products. For further information please visit WWW.DESCHNER.COM or Email: INFO@DESCHNER.COM.

Cushioneers, Skipcheks and Kinecheks Cushion-Starts are registered trademarks of Deschner Corporation.

---