Press Releases

NEW PRODUCTS
Next Generation Ceramic Sensor from Kavlico Ideal Fit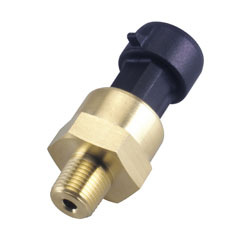 Next Generation Ceramic Sensor Ideal Fit for High Volume OEM Construction and Agricultural Vehicle Applications

Moorpark, CA Kavlico is an operation of Schneider Electric and a global business unit of Custom
Sensors & Technologies (CST). At the ConExpo/IFPE show, Kavlico is rolling out their latest family of ceramic capacitive pressure sensors that are perfectly suited for high volume, OEM applications in the construction and agricultural vehicle market sector. The newly designed, cost-effective sensor package is small in size, lightweight (40 grams) and robust enough to offer superior reliability and value for each application.

These rugged devices feature a brass housing and have an accuracy specification of 1% of full scale including linearity, repeatability and hysteresis over the normal operating temperature range of -300 to +1000C. These sensors are capable of withstanding the high shock, EMC and vibration environments found in vehicle applications. Available in pressure ranges of 0-15 to 0-500 PSIA, these high performance sensors are powered by a regulated 5.0 Vdc power supply and provide an output proportional to pressure with the customer specific output rails. Overpressure capability is 3x pressure ranges of 0 to 15 through 0 to 300 PSI and 2x pressure for the 0 to 500 PSI range.
Fully temperature compensated, the sensors have excellent EMI/EMC performance and have superior output stability. A wide selection of pressure ports and electrical connector options are available to suit each application specific requirement.

Typical vehicle applications include:

Crankcase Overpressure

Engine Oil Pressure

HVAC

Automatic Transmission Pressure

Kavlico
14501 Princeton Avenue
Moorpark, CA 93021
Tel: (805) 523-2000
Fax: (805) 523-8475
E-Mail: autoinfo@kavlico.com
Web: www.kavlico.com
---
Gates new Full-Torque Nut coupling eliminates leaks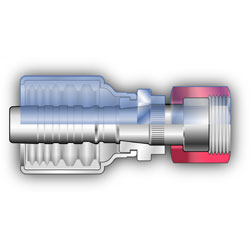 Gates Corporations new Full-Torque Nut coupling is designed to increase productivity and uptime by eliminating nut cracking that can occur during installation of high-pressure, wire-braid hydraulic hose assemblies.

The Full-Torque Nut design is standard on Gates MegaCrimp couplings for wire-braid hoses and GlobalSpiral couplings for spiral-wire hoses.
The coupling is stronger and more durable than traditional staked-nut couplings that are prone to cracking when over-torqued while being attached to hydraulic ports on mobile-construction equipment.

Gates Full-Torque Nut coupling features a large, smooth holding shoulder that evenly distributes stress forces at the nut. This patented design eliminates nut cracking, seat damage, fluid leaks and premature coupling failure.

For additional information, go to www.gates.com/FTN.
---
Muscle-Mate introduces its new line of hydraulic powered magnets.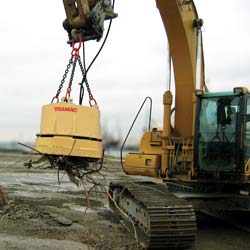 Muscle-Mate, a Tramac Corporation brand, introduces its new line of hydraulic powered magnets.

The TMAG series of magnets are available in four (4) sizes ranging from 770 lbs.to 6,600 lbs. with flow ranges of 4 12 gpm. The TMAG can be installed on any type of carrier that has a hydraulic source available. The generator is housed in the assembly and requires no
additional plumbing. Mounting is fast and easy using a chain or bracket.

The TMAG is an excellent tool for concrete recycling, removal of metals at wood grinders, rebar removal on bridge deck demolition and general site clean-up. Lifting capacities are a function of the carrierss specifications.

The TMAG offers an efficient and economical alternative for sorting and separating. The TMAG magnet can be activated by a breaker button or foot pedal.Demagnetizing occurs when the flow is stopped. Simple, no nonsense process that is quick and efficient. The TMAG
has built-in protection to avoid overheating and excessive flow. The sturdy construction of the housing provides protection to the internal mechanisms, reducing downtime and maintenance.

For more information, contact Muscle-Mate at 1-800-526-3837 or at muscle-mate.com.
---
2-in-1 filter design provides more dirt-holding capacity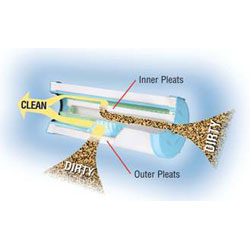 DONALDSON TRIBOGUARD DX2 FILTER RAISES INDUSTRIAL HYDRAULICS FILTRATION TO A NEW LEVEL

Unlike traditional filters, this high-performance filtration solution features an innovative 2-in-1 filter design that increases dirt-holding capacity by 91% compared to traditional filters which extends the filter life and reduces maintenance costs.

The Donaldson Triboguard DX2 filter is manufactured with up to 43% percent more pleats than other leading filters, includes all the features of a coreless design without the expense of housing modifications, and reduces waste and disposal costs with its environmentally-friendly, fully disposable design. DX2 is ideal for demanding industrial hydraulics filtration applications.

Donaldson develops, manufactures, and markets a full line of industrial hydraulic filters and contamination control products and services to protect machinery and components in hundreds of applications - in the factory and on heavy-duty mobile equipment. When you need filter housings, filter heads, replacement cartridges, spin-ons or hydraulic accessories, turn to Donaldson.

For more information about Donaldson products for Industrial Hydraulic applications, visit www.donaldson.com/en/ih.

---
Sensata Introduces a New Pressure Sensor for Construction Equipment Hydraulic Systems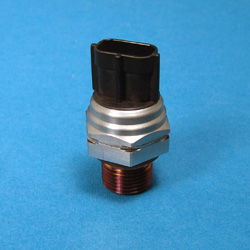 New Ruggedizedd 8PP3 Pressure Sensor is much more tolerant to the
high-torque stress of field repair and mechanical impact

Sensata Technologies (www.sensata.com) will introduce a new ruggedd version of their 8PP3 Silicon MEMS Strain Gage pressure sensor at the International Fluid Power Exposition 2008. Shown for the first time at IFPE and designed for use on construction and earth-moving equipment operating in harsh work-site environments, the new 8PP3 sensor features a redesigned and strengthened hex mounting feature that enables quick, easy and damage-free installation during onsite equipment assembly or field repairs.

When hydraulic arms and joints operating on cranes, extensions, lifts, buckets or shovels are not performing properly, checking the pressure sensor on a hydraulic line is often the first troubleshooting step. Frequently sensors are damaged in the field by the use of open ended wrenches that donnt have the benefit of torque limiterss said Gregg Pestana, Sensata Construction Equipment Market Segment Manager. Our new 8PP3 has a significantly strengthened case that is extremely robust with respect to open-end wrench installation and removall.


The hydraulics on construction equipment require pressure sensors that operate at pressure levels as high as 20,000 psi. Sensataas 8PP3 silicon MEMS pressure sensor has an operating pressure of up to 30,000 psi and is an important component in the construction industryys trend towards more efficient electro-hydraulic operated machinery. In these systems, pressure sensors -- mounted at the hydraulic manifold -- monitor the fluid pressure and load on each line and provide input for advanced on-board equipment electro-hydraulic controls.

The 8PP3 sensor features a one-piece stainless steel port that requires no internal fluid seals and is available in a variety of threaded connection styles. Built-in self-diagnostic capabilities can interface directly with equipment control systems.

Sensata Technologiess pressure sensors and switches are used in a wide range of applications and are available in a variety of fittings, packaging materials, pressure ratings and electrical inputs/outputs. For more information about the company or their full line of technologies for the construction, agriculture, automotive or HVAC/R industries, please call (888) 438-2214, or visit www.sensata.com/pressure

---
Brennan Industries Offers Custom-Made Fittings To Meet Users Exact Needs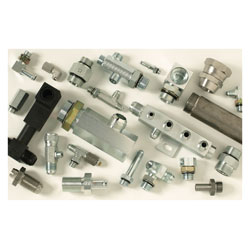 CLEVELAND March 2008 Brennan Industries Inc. has the capability to manufacture custom designed fittings, solving userss unique design problems where standard fittings are not feasible.

OEM designers simply provide Brennan Industries specs of the desired custom fitting. Per the customerrs concept or request, Brennan can provide a drawing, prototype or production run of the unique fitting. Brennan can also manufacture one custom fitting if only one is needed.

Brennan quickly turns around all requests, which include different thread combinations for steel, stainless steel or brass fittings, often within two weeks.


If designers can think of it, we can make it. We can manufacture any kind of fitting to help users with their special design needs,, said Bill Jarrell, vice president of sales, Brennan Industries.

About Brennan Industries
Supplying a wide range of industries throughout the world, Brennan offers more than 20,000 standard and special products in sizes ranging from 1/8 inches to 2-1/2 inches. These include pipe and straight-thread fittings, O-ring face-seal fittings, 37-degree flare tube fittings, bite-type fittings, metric fittings, international fittings, and a double ferrule instrumentation tube fitting line. Most products are available in carbon steel, stainless steel and brass, and meet or exceed J.I.C., S.A.E. and other specifications.

Brennan products are stocked at five strategically located, full-service distribution centers in Atlanta, Cleveland, Dallas, Los Angeles and Seattle.

For more information on Brennan custom-made fittings, contact: Brennan Industries Inc., 6701 Cochran Road, Cleveland, OH 44139. Phone: (440) 248-1880. Toll free: (888) 331-1523. E-mail: sales@brennaninc.com. Fax: (440) 248-7282. www.brennaninc.com.

---
New ZAKO Flange Couplings from VOSS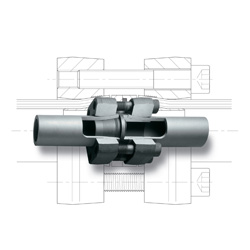 ZAKO is a non-welded system for SAE Code 61, 62 and square flange connections to tube.

Particularly suitable for extreme loading.

Notching and incision-free tube holding with the 100 flared cone principle.

Use of standard coupling bores.

Easy assembly, even with thick-walled tubes.

Minimization of assembly errors, as the ZAKO ring must be pre-assembled in an assembly aid.

Suitable for stainless steel tubes with tolerances according to DIN 2391-C.

VOSS Fluid GmbH
Tel.: + 1 330 948 1641
Fax: + 1 330 948 1644
fluid@us.voss.net

---
Eaton Introduces Competitively Priced Variable Crimp Machine
Designed To Deliver Precision And Simplicity

EDEN PRAIRIE, Minn. Diversified industrial manufacturer Eaton Corporationns Hydraulics Operations has introduced a new two-inch capacity hose crimping machine that offers broad crimp capability and simplicity at a competitive price point. The new ET1290 variable crimp machine will handle virtually all Aeroquipp hose styles through 32 SAE100R15 hose and fittings. A dial indicator is used to control crimp diameter, providing a high degree of precision while maintaining the ability to adjust finished crimp diameter to meet application requirements.


The ET1290 is a rugged, all-mechanical design with no delicate electronics,, said Product Manager Mike Henning. We incorporated design features like a moving crimp ring and quick-change crimp cages to simplify the operatorrs task and make the machine easy to use..

The ET1290 incorporates the same method of setting target crimp diameter used in Eatonns popular ET1280 crimp machine. It also uses the ET1295 master die cage and insert sets, as well as traditional ProCrimpp die cages.

Eaton offers the ET1290 in two configurations: a stand-mounted model that can be equipped with Eaton ET1295 insert set holders and a bench-mounted model intended for installation in Aeroquip Express Vans. A choice of 110-volt, 1.5 HP or 220-volt, 3 HP electric power units is offered for both models.

Eatonns Hydraulics Operations is a business segment of Eatonns Fluid Power Group. The business is a worldwide leader in the design, manufacture and marketing of a comprehensive line of reliable, high-efficiency hydraulic systems and components for use in mobile and industrial applications. Mobile and industrial markets include agriculture, construction, mining, forestry, utility, material handling, earthmoving, truck and bus, machine tools, molding, primary metals, automotive, power generation, port machinery and entertainment. Eatonns Hydraulics Operations provides customer-driven solutions under brand names such as Aeroquipp, Bostonn, Char-Lynnn, Eatonn, Hydro-Linee, Vickerss and Weatherheadd. For more information, visit www.hydraulics.eaton.com.

Eaton Corporation is a diversified industrial manufacturer with 2007 sales of $13.0 billion. Eaton is a global leader in electrical systems and components for power quality, distribution and control; fluid power systems and services for industrial, mobile and aircraft equipment; intelligent truck drivetrain systems for safety and fuel economy; and automotive engine air management systems, powertrain solutions and specialty controls for performance, fuel economy and safety. Eaton has 70,000 employees and sells products to customers in more than 150 countries. For more information, visit www.eaton.com.

---
New VG35EH Open-Center Directional Control Valve from Parker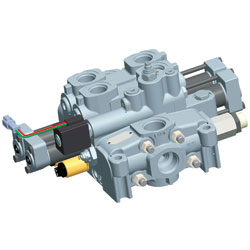 VG35EH Open-Center Directional Control Valve Features Electrohydraulic Operation, Allowing Users to Take Machine Control to the Next Level

Parker, the global leader in motion and control technologies, has added electrohydraulic functionality to its popular VG35 mobile hydraulic valve.

The new VG35EH open-center directional control valve features a global solenoid (pwm) that can be used for proportional or on/off control. A pilot-generating /regulating section positioned adjacent to the inlett the utility section generates and regulates pilot pressure in an open-center circuit. An outlet can accept an external regulated signal, providing an option when the utility section is not required.

The valvees work sections are rated to 275 Bar (4000 PSI) and come in 4-way/3- position and 3-way/3-position.

The new electrohydraulic offering optimizes machine control with these benefits:

The pressure required to move the spools is generated and regulated internally, eliminating the need for any in-line devices and the associated plumbing, which saves on installation costs.

There is no impact on open-center pressure drops when the main spools are in neutral because pressure generation is triggeredd to activate only when a spool is selected. This yields less heat generation and reduces fuel consumption.

No impact on loop pressure drops P-A/B and A/B-T maximizes horsepower utilization.

The utility section maintains pilot pressure to the solenoids with over-running loads, ensuring that productivity is not adversely affected during pump over-demand condition.

A dedicated solenoid drain to the reservoir optimizes solenoid performance, translating into consistent metering and machine controllability.

The pressure generating/regulating section has a selective solenoid dumpp option. In the normal position, the de-energized solenoid routes the regulated signal to the reservoir. To operate the main control valve, the solenoid must be energized. This provides selectivee operation of the VG35 control valve.

---
TUTHILL COUPLING GROUP INTRODUCES NEW HYDRAULIC COUPLING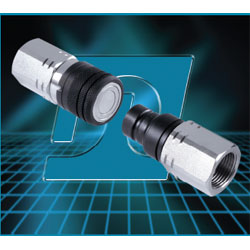 Tuthill Coupling Group, which manufactures Hansen & Coupleurs Gromelle quick connect couplings and QUICKSEAL leak testing connectors, has introduced a newly designed line of flat face, hydraulic, quick connect couplings. The new product line meets or exceeds the ISO 16028 standard for this classification of quick connect coupling. ISO (International Standards Organization) is an international quality standards body.

Flat face couplings are primarily used for applications where there is a risk of contamination of hydraulic circuits. The double shut-off valve configuration provides for a -dry break- connection where fluid loss is eliminated and the entry of air into the hydraulic circuit is minimized. This design also promotes a clean work area and protects the environment from fluid spillage. Applications include construction equipment, skid steer loaders, mining equipment, public utilities, hydraulic tools & accessories, agricultural equipment, railway maintenance, overhead bucket hoists and injection molding machinery.

Unique features of the new design include:
- Interchanges with all other ISO 16028 manufacturers
- 5075 PSI (350 BAR) maximum operating pressure for all sizes
- Automatic connection and sleeve lock
- Available in NPT, BS and SAE threads
- Deeper knurling for an improved grip
- Excellent mechanical performance (pressure/flow)
- RoHS Compliant (environmental standard)
- Optional colored rings for quick identification


We are driven by the voice of our customers and this is an excellent example of how well we listen and develop products that meet the needs of the global marketplace, said Brett Jaffe, Tuthill Coupling Group president. This new coupling design reflects our brand values of dependability, value and quality which promise our customers peace of mind & a sense of pride.

Tuthill Coupling Group, comprised of the Hansen Couplings, Coupleurs Gromelle and QUICKSEAL brands, manufactures a comprehensive range of quick couplings & quick testing connectors at its Berea, OH and Annemasse, France locations. Tuthillls precision products are widely marketed through a strong network of global distributorships. Tuthill Coupling Group is part of Tuthill Corporation, which is headquartered in Burr Ridge, IL. Tuthill Corporation is a dedicated lean manufacturing organization, which provides a wide variety of industrial products and services through its eight business units. For additional information visit www.tuthill.com.
---