Press Releases

NEW PRODUCTS
Duplomatic Oleodinamica has released a new and upgraded NFPA size 5 (NG10) proportional directional control valve series.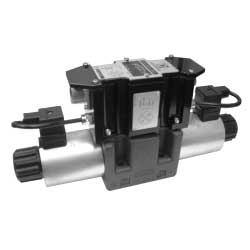 With improved performance this new series offers a 20% increase in flow capability and an increase of over 25% in maximum operating pressure.

The DSE5 is based on the successful DS5 series standard valve, and offers a variety of spool configurations with flows to 16 GPM (60 l/min) to ensure maximum control capability. Spools also include a 2:1 cylinder operating option.

The DSE5 series is also available with on board integrated digital electronic amplifier. The DSE5G version with the same operating characteristics with input signals of 10 Volts or 4 -20 mA. The digital driver provides improved hysterisis and repeatability and reduced response times.

An optional CAN-Open network connection allows functional parameters to be set and a diagnostic program to be used via available software and any personal computer.

Unique to the DSE5G is a ZZ option that offers a zero overlap configuration that is achieved electronically. With this option the traditional proportional overlap is eliminated providing spool movement as soon as any input signal is provided.

All Duplomatic Oleodinamica products are European manufactured to ISO 14002 standards and are available from the UHI Limited in Twinsburg, Ohio warehouse.

For more information on this and other Duplomatic products visit the UHI Limited continuously updated website at http://www.uhiltd.com or to request additional information or application assistance.

Universal Hydraulics International, Ltd
Phone: 330-405-1800 Fax: 330-405-1801
9337 Ravenna Rd, Unit G
Twinsburg, OH 44087


---
New Hydraulic Motor Series from White Drive Products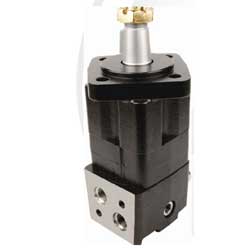 White Drive Products (Hopkinsville, KY) has released its latest new family of low speed high torque hydraulic motors. Designated the WS series, these motors feature flow rates up to 76 LPM [20 GPM] continuous, torque to 824 Nm [7295 lb-in] continuous, and pressures up to 207 bar [3000 PSI] continuous.

Intended applications include use with agricultural equipment, skid steer attachments, augers, mowers, and others requiring greater torque under demanding conditions.

WS motors are designed with a three zone commutator valve for higher flow capacity, heavy duty tapered roller bearings for handling increased side loads, and an extra large drive link enabling these motors to withstand pressure and torque spikes.

9 displacements are available ranging from 100 cc [6.1 in3] / revolution to 508 cc [30.3 in3] / revolution. Nine (9) shaft options, seven (7) mounting options, and a wide variety of porting options are available to meet all application needs.
More information is available at www.whitedriveproducts.com/ws.html

White Drive Products
110 Bill Bryan Blvd.
Hopkinsville, KY 42241
Phone: 270-885-1110
Fax: 270-886-8462
---
NG 6 intermediate plates with pressure control valves and bypass valves from HAWE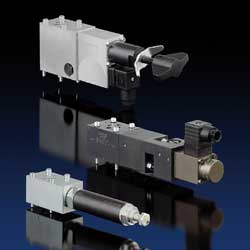 HAWE Hydraulik SE, Munich, has developed additional versions of its intermediate plate, type NZP, with the hole pattern NG 6, thereby pursuing its strategy of offering components with tried and tested HAWE technology and hole patterns that conform with industry standards.

Newly added are versions for pressure control valves of the types CDK and CLK. Both these types are built as directional seated valves, which means that they are leakproof when closed. The CLK pressure control valve has an additional safety valve function so it can be integrated into clamping circuits that are pressurized for an extended period of time and subjected to the unwanted pressure increases due to temperature oscillations. The valve is equally well suited for systems in which processing forces or other external factors can trigger inadmissible high pressure peaks. The combination of the NZP intermediate plate with pressure control valves was devised to withstand operating pressures of up to 500 bar and a volume flow of up to 22 l/min.

Further new versions are realized by combining the intermediate plate with directional seated bypass valves. These arrangements connect the hydro consumer and/or the return at volume flows of up to 20 l/min and operating pressure of up to 400 bar, depending on the dimension of the solenoid. Other versions with energy-saving 8-Watt solenoids are also available.

The combination of intermediate plates and drain valves can be used to relieve consumers that are shut with zero-leakage directional seated valves.

Intermediate plates enable the flexible and straightforward assembly of hydraulic controls. Already existing intermediate plate versions can be combined with throttle valves and restrictor check valves as well as proportional pressure valves.


---
New Eaton Direct-Acting Relief Valves Are Rated for Industrial Applications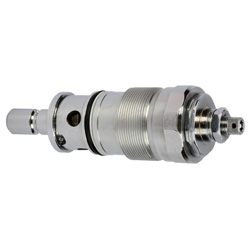 EDEN PRAIRIE, Minn. Diversified industrial manufacturer Eaton Corporation today announced availability of its new Vickerss direct-acting relief valves that provide a compact and cost-effective solution for handling high pressure and flow requirements in primary metal, press (metal and nonmetal), marine, offshore, civil engineering, and general market applications.


Unlike competitive styles, our new direct-acting relief valves are rated for industrial applications, which typically have a much higher duty cycle,, said Wayne Wang, product manager.

Direct replacements for competitive styles, Vickers direct-acting relief valves are an economical solution for safety circuits. They offer a rated pressure of 400 bar and flow up to 350 LPM. The valves are available in cartridge, subplate, and inline mounting styles in sizes 6, 8, 10, 12, 16, 20, 25 and 30.

For detailed information on Eatonns new industrial valve family, download catalog #V-VLRE-MC003-E at: http://hydraulics.eaton.com/products/valves_industrial_pressure_controls.htm
.
Eatonns Hydraulics Group is a segment of the companyys Industrial Sector. The business is a worldwide leader in the design, manufacture and marketing of a comprehensive line of reliable, high-efficiency hydraulic systems and components for use in mobile and industrial applications. Mobile and industrial markets include agriculture, construction, mining, forestry, utility, material handling, earthmoving, truck and bus, machine tools, molding, primary metals, automotive, power generation, port machinery and entertainment. Eatonns Hydraulics Group provides customer-driven solutions under product names such as Aeroquipp, Bostonn, Char-Lynnn, Eatonn, Hydro-Linee, Synflexx, Vickerss, Walterscheidd, and Weatherheadd. For more information, visit www.eaton.com/hydraulics.

---
Canfield Connectors Provide Solenoid Valve Surge Suppression Protection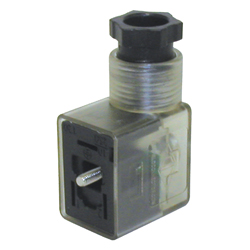 Canfield Connectorrs Series P5600 Micro Protective Connectors provide electrical controllers with surge protection against voltage spikes that are caused by the solenoids used on hydraulic and pneumatic solenoid valves. These MPCs are available in standard MINI, ISO, and Sub-Micro 8mm and 9.4mm. The P5600 connectors provide the advantages of suppression such as reduced contact burnoff which increases switch life and reduced high frequency interference pulses which lowers electronic noise. They are ideal for use with reed switch proximity sensors and will protect programmable controllers and other types of electronic devices from inductive spikes. The Series P5600 connectors are NEMA 4 and IP 65 dust tight and water resistant and do not require additional modules or hardware. Consult the manufacturer for available CSA versions.

The Series P5600 and all Canfield Connector products are manufactured to ISO 9001 with design specifications to the highest quality standards. Complete specifications can be found at www.canfieldconnector.com or by calling Bob Howard at 330-758-8299 x 122.

Canfield Connector
8510 Foxwood Court
Youngstown, Ohio 44514
Tel: (330) 758-8299
Fax: (330) 758-8912
---
NOSHOK 800/850 Series Bleed Valves provide a convenient means to relieve process pressures trapped between a shut off valve and the instrument.
The 800/850 Bleed Valves use the same patented features as the NOSHOK 100/150 Series Mini Valves, with an integrated single threaded body for insertion in a vent port. These Bleed Valves provide shutoff to a small bleed hole located on the side of the hex which vents the process media to the atmosphere. They also feature a patent pending body-to-bonnet, metal-to-metal seat below the bonnet threads isolating them from the process media. The patent pending design incorporates a unique dovetail feature that supplements the body-to-bonnet metal-to-metal seat, which extends the pressure range of the valve without restricting the flow.

These valves are available in electroless nickel plated 12L14 steel, electropolished 316 stainless steel and 360 brass. All bleed valves are equipped with a Vitonn O-ring and Teflon back up ring below the stem threads to protect against corrosion and galling. Teflonn or Grafoill packing are optional.

Their stem threads are rolled for greater strength and ease of operation, and they have a maximum pressure rating of 10,000 psi for steel and stainless models, and 6,000 psi for brass models. All NOSHOK valves are 100% Helium leak tested to 1 x 10-4 ml/s for guaranteed performance and reliability.
---
Sauer-Danfoss launches H1 Bent Axis Motor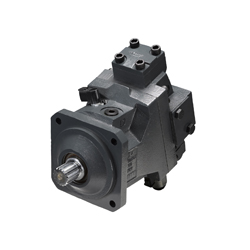 Sauer-Danfoss launches H1 Bent Axis Motor

The new H1 bent axis motor joins the successful H1 family, providing further improvements in efficiency, reliability, and flexibility.

NORDBORG, Denmark, Sauernfoss Inc. (NYSE:SHS) Sauer-Danfoss has released its new H1 60cm3 bent axis motor, the next size in a series of motors designed to complement the growing range of H1 axial piston pumps. With the introduction of the H1 bent axis motors, Sauer-Danfoss offers a complete H1 transmission system, optimized around electrical control. The H1 motors not only provide OEMs with improvements in reliability and flexibility, but also provide higher overall efficiency, resulting in lower fuel consumption and reduced life cycle costs. Typical applications that will benefit from the new H1 bent axis 60cmm motor are rough terrain forklifts, combines, sprayers, road rollers, wheel loaders and road building equipment.

The new H1 bent axis variable displacement motors have been designed to ensure outstanding reliability and high quality. Optimized for electrical control, they are fully PLUS+1TM Compliant, enabling seamless integration with Sauer-Danfosss electronic machine control architecture. To withstand the harshest working environments, the electrical controls are designed with an IP67 and IP69K rating. The H1 60cmm bent axis motor is an evolution of proven technologies centered on a high displacement ratio of 32 degrees, zero degree capability, and higher overall efficiency. This combination provides a unique range of benefits that fit any OEMMs requirements for machine design.

High Efficiency
An extensive simulation and testing program for the H1 bent axis motors has resulted in significant improvements in overall efficiency and an extremely low pressure drop within the fluid galleries of the motor. The H1 bent axis motors have a 6 percent efficiency gain at maximum displacement (high torque working cycle), compared to the nearest competitor.


Zero Degree Capability
A key feature of the new H1 motors is their zero degree capability. It provides for seamless 'on the go' shifting from 32 to zero degrees, such as in wheel assist applications, providing for a smooth transition with little or no torque interruptions or sudden speed changes. This enhanced control is not only more precise, but also improves the feel of the system during operation. The H1 motor will also shift seamlessly between two speed ranges, for example, work mode and travel mode, regardless of displacement settings. The value that zero degree capability brings to the customer is the flexibility in design to meet many machine operating conditions,, says Horvat. It enables OEMs to offer additional features, such as anti-slip functionality and torque control, which optimize the use of available power and improve productivity..

Optimized for Electrical Control
Energy conservation and functional safety (Safety Integrity Level SIL) is driving the demand for electronic engine management and vehicle control for off-road mobile machinery. As such, H1 bent axis motors have been designed around electrical controls, which allow a range of vehicle control concepts to be produced using the same motor hardware. With electronic control, the H1 system can be optimized to match the requirements of specific vehicle functions by adjusting the software parameters.

Designed for Quality and Reliability
H1 motors have been developed around a common design concept, in order to ensure outstanding motor performance. This design commonality provides improvements in quality and reliability at the factory level and leads to benefits of uniformity and familiarity at the OEM level, supporting standardized machine design.

The H1 motors have the shortest length of any motor available on the market today, and at least one clean sidee, increasing vehicle design flexibility and facilitating installation. The higher speed capability of the motors also results in a high corner power and power density. This provides more power without increasing the size of the motors, which not only saves additional space, but also enables OEMs to design more compact system solutions.
---
Eaton releases new 420 Series Piston Pumps with Hydro-mechanical Torque Control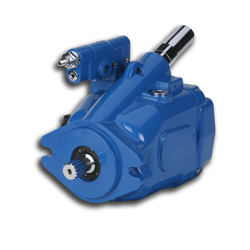 Eatonns 420 Series Piston Pumps with Hydro-mechanical Torque Control
Help Compact Equipment Users Meet Emissions, Fuel Economy Standards

EDEN PRAIRIE, Minn. . . . Diversified industrial manufacturer Eaton Corporation has added a hydro-mechanical torque control option and several performance upgrades to its 420 open circuit piston pump product line. The 420 pump with hydro-mechanical torque control automatically senses heavy loads and adjusts hydraulic fluid flow accordingly.

It is intended for moderate-flow, high-pressure mobile applications such as compact wheel loaders, telehandlers, rough terrain forklifts, telescopic booms, sweepers, backhoe loaders, and garbage trucks.

To accommodate the new torque control, the pump housing was designed to decrease airborne noise to 76 dBA at 1,800 rpm and 207 bar. A case-to-inlet check valve \ was added to improve cold weather operation and provide added protection to the seals and rotating group. The new torque control works in parallel with the standard compensator, using a special mechanism to replace the control piston.


In compact and mid-size equipment, torque almost always needs to be controlled,, said Eaton Product Manager Todd McIntyre. Limiting the torque at the pump shaft across a wide range of engine speeds provides operators with the benefits of increased productivity, greater efficiency and fewer engine stalls. The result is lower engine emissions and improved fuel economy.


Productivity is enhanced by increasing the speed with which the vehicle function is performed due to flow rate changes made by the torque control system. For example, raising a heavy load with a set of forks on a telehandler places a significant amount of pressure on the hydraulic pump and system. To prevent engine stalls without limiting the telehandlerrs lifting capacity, manufacturers not using torque control would be forced to use a smaller displacement pump that significantly slows the operation of the forks. Torque control automatically senses heavy loads and adjusts flow accordingly. Limiting the flow in high pressure situations limits the torque the pump can apply to the engine and, as a result, avoids the corner horsepower point and prevents the engine from stalling. It also allows for higher flow and quicker operation when the set of forks is empty, which means higher productivity..

Eatonns 420 pumps offer outstanding power density that is not compromised by the use of torque control.

Eatonns Hydraulics Group is a segment of the companyys Industrial Sector. The business is a worldwide leader in the design, manufacture and marketing of a comprehensive line of reliable, high-efficiency hydraulic systems and components for use in mobile and industrial applications. Mobile and industrial markets include agriculture, construction, mining, forestry, utility, material handling, earthmoving, truck and bus, machine tools, molding, primary metals, automotive, power generation, port machinery and entertainment. Eatonns Hydraulics Group provides customer-driven solutions under product names such as Aeroquipp, Bostonn, Char-Lynnn, Eatonn, Hydro-Linee, Synflexx, Vickerss, Walterscheidd, and Weatherheadd. For more information, visit www.eaton.com/hydraulics.

---
Parker Restructures Stainless Steel Tube Fitting Operations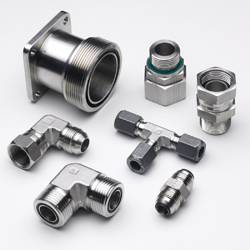 Parker Restructures Stainless Steel Tube Fitting Operations to Benefit Customers with Expanded Standard Offering, Regionalized Inventory and Quicker Delivery

COLUMBUS, OH -- Parker Hannifin, the global leader in motion and control technologies, has strengthened its commitment to supplying customers the stainless steel tube fittings and adapters they need in the shortest time possible.

Parker's Tube Fittings Division recently instituted improvements to operations, logistics and standard product offering to benefit customers in terms of more readily available inventory and unparalleled speed of order fulfillment. To date, the company has:


Established two primary stainless steel stocking warehouses, each servicing half the United States and fully backed with inventory at the factory

Added 600 parts to the regional stocking warehouses, of which most had been factory stock parts

Added 50 new products to standard offering

Implemented quick-response recovery protocols to ensure coverage of spike demands common among stainless steel fitting customers

"The Tube Fittings Division maintains unrivaled manufacturing capabilities in the U.S., and our distributor network and Parker Service Centers continue to be the envy of the industry," said Brian Smith, Business Development Manager, Parker Hannifin Corporation, Tube Fittings Division. "Our pledge is to remain the market leader in stainless steel by fulfilling orders with the speed our customers demand and to have the product available at multiple stocking locations."

Smith noted that Parker is one of only a few manufacturers who can supply a complete line of stainless steel SAE/NPT and Metric fittings and adapters, including custom-manufactured products. More than 1,500 line items are currently available.

For more information, contact Parker's Tube Fittings Division at 614.279.7070 or visit www.parker.com/tfd.
---
NEW H-Series HYPERFORMANCE High Pressure Valves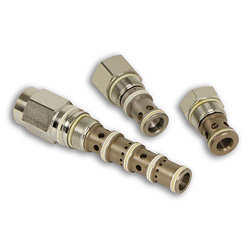 Up to 350 bar / 5075 psi continuous operating pressure

HydraForce is pleased to announce the release of the new HYPERFORMANCE,
High Pressure valve product line. These valves are designed to offer the industryys
highest level of valve performance, enabling the most reliable application of cartridge
technology in high duty cycle, high horsepower, and high pressure machine applications.

FEATURES:

350 bar/5075 psi continuous operating pressure.

420 bar/6090 psi intermittent 10% duty cycle tested.

Fatigue tested to 450 bar/6525 psi

Flows up to 379 lpm/100 gpm

1000 hour salt spray tested.

IP69K rated solenoid coils.

Single-piece, high endurance seals. No backup rings.

Vibration Tested (3-axis) to 20G RMS

HYDRAFORCE, INC.
500 Barclay Blvd.
Lincolnshire, IL 60069 USA
Ph: 847 793 2300 Fx: 847 793 0086
---