Press Releases

NEWS
MICO, Incorporated Opens New Facility For Dedicated Electrohydraulics Group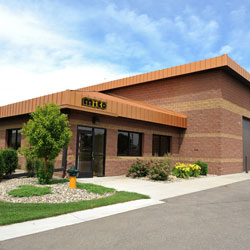 NORTH MANKATO, Minn. MICO, Incorporated, a leading designer and manufacturer of hydraulic components, controls and brake systems, has opened a new facility in Shakopee, Minn., to accommodate its recently created Electrohydraulics (EH) Group. The new group will focus on the growing market potential for electronic controls in combination with hydraulic brakes.

MICO has been actively designing and producing electrohydraulic systems for several years. With the EH Group, MICO is dedicating a team of engineers to the development of electrohydraulic technologies on an exclusive basis. The group is responsible for the design of ABS, traction control and electronic stability control systems for large commercial and military vehicles.

As more and more of our traditional brake customers are requesting electrohydraulic systems, we have recognized how critical this trend is to the future of off-highway vehicle design, said MICO EH Group director Manfred Maiers, a fluid power industry veteran with 27 years of experience with embedded controls. In addition to our expansion into complex innovations like regenerative braking, weell continue to enhance our existing electrohydraulic technology and provide the specific customer solutions for which weere best known.

The EH Group facility includes office, warehouse and laboratory space, allowing for on-site design, testing and verification. Manufacturing of MICO electrohydraulic components will continue to take place at the companyys headquarters in North Mankato, Minn.

Since 1946, MICO, Incorporated has been on the leading edge of technological innovation in hydraulic components, controls and brake systems primarily for heavy duty, off-road commercial and industrial applications. Today, the company is a completely integrated design, manufacturing and sales operation. Its knowledge of brake system design in conjunction with state-of-the-art machinery and manufacturing processes makes it an industry leader worldwide.

For more information, contact MICO, Incorporated, 1911 Lee Boulevard, North Mankato, MN 56003, call 507-625-6426, fax 507-625-3212, send e-mail to micomail@mico.com or visit the companyys website at www.mico.com.
---
New AEM online "job board" targets industry workers and employers Job posts are free through June 30, 2011
A new online "job board" focused on the off-road equipment industry is now available from the Association of Equipment Manufacturers (AEM), created specifically to connect qualified job seekers with employers in the agriculture, construction, forestry, mining and utility sectors. Visit the AEM Career Center at www.aem.org for more details.

Employers: post jobs for free through June 30, 2011 with code AEMJOBS11; thereafter a modest fee applies that is very competitive compared to traditional broad-based job boards. Job listings can be posted in multiple areas in the job board network to increase visibility and attract the most qualified candidates.

For job seekers, the AEM job board offers free personalized "job alert" emails of new postings that match candidates' search preferences. There are 40 job categories from A (accounting) to almost-Z (welder) and include positions in both manufacturing and service-related, office and in-the-field, private and public sector, from entry-level to executive positions, and located in the U.S., Canada and worldwide.
The AEM job board includes a career resource center with an online library of helpful job-search information and links to related sites. The career resource area also features a "career coaching" option with the site's career experts available for personalized coaching sessions, and they respond to individual questions in an "ask the experts" section.

"While there have been significant job losses in the recession, there are still skilled positions available that need to be filled as our industries continue to fight back. This specialized service helps match up the companies and workers that 'make' America and the world," stated Al Cervero, AEM senior vice president.

For more information, contact AEMMs David Bannister (dbannister@aem.org, phone 414-274-0657).
---
IFPE 2011 will feature new and expanded education programs
IFPE 2011 has added half-day college-level courses and special keynote presentations to its extensive line-up of educational programming at the show. Engineers and other industry professionals in design and manufacturing can conveniently get up to speed on the latest best practices, research and developments in fluid power, power transmission and motion control technologies.

IFPE will be held March 22-26, 2011 at the Las Vegas Convention Center in Las Vegas USA, co-located with the CONEXPO-CON/AGG international exposition for the construction and construction materials industries.

The new IFPE college-level courses offer hands-on technical knowledge on fluid power and hydraulics with a focus on hydraulic fluids and their applications; design, modeling and control of hybrid vehicles; noise in hydraulic fluid power systems; and basic lubrication. The sessions will benefit practicing engineers and others involved in design and manufacturing processes. Continuing education units (CEUs) are available. The Society of Tribologists and Lubrication Engineers partnered with IFPE on the college-level courses.

Opening keynote addresses on pumps and hydraulic hybrids are a new addition to the 52nd National Conference on Fluid Power, hosted by IFPE. The conference will also feature presentations from researchers in the Center for Compact and Efficient Fluid Power (CCEFP). The CCEFP is a National Science Foundation Research Center conducting pioneering research in emerging technologies.

More than 120 presentations a record will be included in the conference, which targets mobile and industrial markets and emphasizes new technologies and methods for improved analysis, design, manufacture and performance of fluid power components and systems.

The Innovations Theater will again be on the show floor at IFPE, with 15 sessions on real-world solutions for current and future design applications. The sessions are free to all registered IFPE and CONEXPO-CON/AGG attendees.

"We have raised the level of education offered at the show with prominent researchers and academia who will share the latest technological advancements. Itts more important than ever for industry professionals to be looking ahead. The robust learning theyyll find at IFPE will help them gain a competitive advantage in the marketplace," stated IFPE Show Director Melissa Magestro.

For more information on attending or exhibiting at IFPE 2011, visit www.ifpe.com.
---
Ditch Witch signs on as major sponsor of AEM's 2011 Construction Challenge -
Support of student competition emphasizes commitment to workforce development
The Association of Equipment Manufacturers (AEM) announces that Ditch Witch (The Charles Machine Works) has signed on as a major sponsor of the 2011 AEM Construction Challenge presented by Volvo Construction Equipment. As part of its commitment to engage young people in construction careers, Ditch Witch will sponsor one of the two "finals" challenges of the student competition taking place at CONEXPO-CON/AGG 2011.

The top 50 student teams chosen from regional rallies held across the United States and in Canada in early 2011 will compete in the "Road Rumble sponsored by Ditch Witch" in front of the estimated 100,000-plus audience at the CONEXPO-CON/AGG exposition, to be held March 2011 in Las Vegas USA. Road Rumble sponsored by Ditch Witch will focus on the principal that to successfully construct a new building, you need efficient infrastructure supply routes. This challenge will feature teams competing head-to-head as they build a piece of equipment that can repair and traverse obstacles. After they overcome these obstacles and deliver their building supplies, the race is on to construct a new building.

AEM initiated the Construction Challenge as an opportunity for students, teachers, parents and community leaders to learn more about rewarding construction careers and the vital role the industry plays in creating and maintaining a high quality of life around the world.

"The 2011 Construction Challenge is shaping up to be the best yet, and we are looking forward to its return to CONEXPO-CON/AGG. There is not a better place for these students to learn about the scope and importance of construction," stated Dennis Slater, AEM president. "Ditch Witch's sponsorship helps ensure that the Challenge program will continue to provide thousands more young people with fun, educational experiences that introduce them to construction career opportunities."

Ditch Witch CEO Tiffany Sewell-Howard states, "The Construction Challenge provides a setting for young people to develop the kind of creative problem-solving Ditch Witch needs to innovate new solutions to everyday challenges in the construction industry. We are pleased to help make this experience possible."

Ditch Witch has been a team sponsor since the inaugural AEM Construction Challenge competition was held in 2008, and the teams they have sponsored captured first place overall for 2008 and second place overall for 2009.
Despite recent job losses, the construction sector still faces a severe shortage of qualified workers to meet future needs, including massive infrastructure repair and maintenance. The U.S. Bureau of Labor Statistics estimates that the construction industry needs to attract 240,000 workers each year to replace those leaving the industry and to allow for growth. By 2020 manufacturing overall faces a skilled worker shortage of 13-15 million with no growth in the 18-26-year-old age group.

Since its inception, the AEM Construction Challenge has directly engaged over 10,000 middle and high school students across North America, and the program and its messages have made an impression on more than 18 million students on a global level. Nearly 70 percent of Challenge participants said they are now considering a construction career.

For the Challenge, AEM partners with the global creativity organization Destination ImagiNation, known for programs that foster creative problem solving through hands-on teamwork. A construction-themed program is an integral part of DI's core program, culminating in a yearly global finals competition. The triennial CONEXPO-CON/AGG exposition hosts a special edition of the AEM Construction Challenge in show years, to provide students with even more exposure to the construction industry. AEM is show producer and a show owner.

To get involved in the AEM Construction Challenge, including sponsorship opportunities, contact AEM's David Bannister at dbannister@aem.org or 414-274-0657.

---
IFPE 2011 exposition announces co-location of CCEFP Annual Meeting
IFPE 2011 is pleased to announce the co-location of the Center for Compact and Efficient Fluid Powerrs (CCEFP) Annual Meeting in conjunction with the exposition. CCEFP will also present research papers at the 52nd National Conference on Fluid Power (NCFP) being held at the show.

CCEFP is a National Science Foundation (NSF) Engineering Research Center charged with conducting pioneering research in emerging technologies and training the next generation of engineers to be leaders in innovation. It is one of only 15 such research centers in the United States.

IFPE 2011 will be held March 22-26, 2011 at the Las Vegas Convention Center in Las Vegas, USA and is the leading international exposition and technical conference dedicated to the integration of fluid power with other technologies for power transmission and motion control applications.

Since its inception in 2006, CCEFP has served as a catalyst to foster collaboration between academia and industry, with the goal of accelerating fluid power technology advancement and transforming results into real-world applications.


The participation of CCEFP offers IFPE attendees a higher level of information sharing than ever before with direct access to some of the best and the brightestt minds involved in hydraulic and pneumatic technology research,, stated IFPE Show Director Melissa Magestro.

"CCEFP participants will benefit by learning the latest research from CCEFP and overseas researchers and from exposure to the full range of fluid power technology solutions from all over the world,, stated CCEFP Director Kim Stelson.

CCEFPPs Annual Meeting will bring together researchers, educators, students and industry leaders to listen to and discuss research and education project presentations. Right after the meeting, posters describing CCEFP research will also be presented by Center students.

For more information on attending or exhibiting at IFPE 2011, visit www.ifpe.com.

---
INNOVATION + POWER = YOUNG POWERTECH
How Young PowerTech is using Top Level Expertise and Un-Matched Customer Service to become the industries Next Big Thing!

Young PowerTech Inc. is quickly becoming the Manufacturer of choice among many distributors and companies within the Hydraulic Industry. The reason for this increase in popularity is not Product Selection (Even though Young Provides just about everything), it is not Price (Even though Young happens to be one of the most competitively priced solutions), it is not even about Experience (even though between the Executive team there is over 100 years of experience) Young PowerTech Inc. is gaining a foothold in this market with a secret weapon!
Customer Care and Availability.

Unlike most Manufacturers in the Hydraulic World, Young PowerTech has fully accepted the importance of technology and has adopted many practices to help improve both connectivity with customers and communication with its Shipping and Receiving Departments. Both adjustments have helped improve the overall infrastructure of the Young PowerTech system.

Along with the acceptance of technology, Young PowerTech has centered its philosophy around one key component. ITS CUSTOMERS. Regardless of Time, Location, Product or Issue Young PowerTech makes it a point to become your friend rather than a robotic employee. Vice President Carlo Pecorari was quoted as saying When you put yourself in the customerrs shoes you gain a new perspective on the situation which in turn allows you to become a more helpful and understanding associatee.

Please send all questions regarding this release and anything Young PowerTech to 610-558-0760 or email us at Tom@Youngpowertech.com.

WWW.YPTIUS.COM

---
Enthusiastic crowds at record-breaking 2010 World of Asphalt and AGG1 shows
The co-located 2010 World of Asphalt Show & Conference and AGG1 Aggregates Forum & Expo have just concluded a record-breaking run despite the lingering downturn, with packed exhibit aisles and education sessions.

The shows, which were held February 15-18, 2010 at the Duke Energy Center in downtown Cincinnati, Ohio, posted record numbers for registrants, amount of exhibit space taken and number of education session tickets purchased.

Final registration numbers topped a record-breaking 6,200 for the two shows compared to 5,795 for the 2009 events, and included registrants from all 50 states, all 10 Canadian provinces, and more than 30 other countries worldwide. More than 25 percent were company presidents/owners, vice presidents, general managers or chief financial officers. All together, 80 percent of registrants were in managerial roles.

The show floor covered a record 87,000-plus net square feet of exhibit space, compared to the 2009 total of 85,900 net square feet. More than 340 exhibitors showcased the latest technologies, equipment and products for aggregates, asphalt, pavement maintenance, and traffic safety professionals.

A record 6,600 education session tickets were purchased for the conferences, training programs and seminars held with the two shows, compared to the 2009 total of 5,730.

"This was truly an industry gathering place with a positive buzz throughout the convention center. Participants connected to share experiences and get up to speed on the latest technologies and 'best practices' that will drive growth in tomorrow's economy," stated Show Director Melissa Magestro.

"Our industry has been hit hard by this recession but there is some optimism looking ahead. We received very favorable feedback about the shows' value in fostering these industry connections to help participants succeed," Magestro added.

AGG1 and World of Asphalt are industry-run shows, and industry support has been key to their success, explained Magestro. "We understand that attendees and exhibitors need to carefully evaluate their budgets and time and make choices. Our industry partnerships and co-located events broaden the depth of the show experience for all participants and provide maximum return on investment," she stated.
Co-locating with AGG1 and World of Asphalt in 2010 were the Flexible Pavements of Ohio annual meeting and the Plantmix Asphalt Industry of Kentucky (PAIKY) Winter Training School.

Several educational gatherings were also held in conjunction with the shows. These included the AGG1 Academy, the People, Plants and Paving Program, and the Asphalt Pavement Alliance's Asphalt Pavement Conference.

Attendees also had access to the co-located National Traffic Management and Work Zone Safety Power Workshop, sponsored by the American Road and Transportation Builders Association (ARTBA); a NIOSH Seminar on Major Hazard Risk Assessment; a Project Management Essentials workshop; and an OSHA 10-hour course for construction workers certification program.

The shows are not held during CONEXPO-CON/AGG show years so in 2011, World of Asphalt and AGG1 exhibitors and products will be spotlighted at CONEXPO-CON/AGG, in March 2011 in Las Vegas. The co-located shows return in 2012 - March 12-15 in Charlotte, North Carolina.

AGG1 is owned by the National Stone, Sand and Gravel Association (NSSGA); World of Asphalt is owned by the National Asphalt Pavement Association (NAPA) and Association of Equipment Manufacturers (AEM). AEM is show producer.

---
Northman Fluid Power Announces the Re-Design of Their Web Site
Northman Fluid Power Announces the Re-Design of Their Web Site: www.northmanfp.com

Carol Stream, IL. Northman Fluid Power completely re-designed their web site in structure and content. Information is now organized for ease-of-use in locating and using product data and technical assistance. Product series and model codes now present all available product offerings and support data. Structural changes in the web site enable updates to be timely enacted to keep the site current.


Our goals in the redesign were to create a web site where the user can immediately find the desired information,, said Jim Cubberly, Product Manager, and to consolidate the support materials for our current product offerings. We also want to present the message that we carry a large inventory and ship at least 98% of all daily orders the same day..

Northman Co., Ltd, founded in 1971, has grown into a global manufacturer of hydraulic directional control valves, control valves and vane pumps. Northman Fluid Power is located in Carol Stream, IL, a suburb of Chicago, serving North American customers in the USA, Canada and Mexico.

For more information, contact:
Northman Fluid Power
739 Kimberly Drive
Carol Stream, IL 60188
630-588-8488
inquiry@northmanfp.com
---
IronPlanet continues to expand its presence in Canada.
PLEASANTON, Calif. IronPlanett (www.ironplanet.com), the worldds leading online auction company for used construction and agricultural equipment, continues to expand its presence in Canada, with the addition of a new managing director and a growing Canadian sales force. Ken Wallett has been appointed managing director for IronPlanet Canada and has assembled a veteran sales team of territory managers, including four new additions, to continue the growth of IronPlanetts Canadian business.


We are excited that Ken is now leading our Canadian business initiatives and working to broaden business relationships with our customers,, said Jeff Jeter, IronPlanet executive vice president. Ken brings a true global perspective through his business management expertise on strategic, tactical and operational levels. His vast experience in supply chain management and business development are added strengths that benefit IronPlanet growth initiatives..

Before joining IronPlanet, Wallett was Senior Executive Director of Supply Chain for CEMEX, based in Monterrey, Mexico. Prior to that, Wallett held executive level roles in business development and supply chain management for several companies, including Manugistics where he was President Asia Pacific, as well as Accenture as Regional Managing Partner for Accenture's Latin America supply chain practice.


IIm very excited to build on IronPlanetts momentum in Canada at a time when their weekly auctions attract more than 15,000 visitors worldwide,, said Wallett. IronPlanetts online marketplace for buying and selling used equipment offers tremendous benefits to our buyers and sellers in the Canadian market..


Ken has built a strong and experienced sales team in Canada,, said Jeter. The local representatives are now in place to provide Canadian customers with a high level of trust and value through better price realization, guaranteed inspection reports and a lower cost to sell versus traditional auctions..

New territory managers appointed

Scott McIntosh joins IronPlanet as territory manager for British Columbia. He has significant experience with more than 15 years in heavy construction equipment sales. Most recently, McIntosh was a territory manager for Toromont Caterpillar in Ontario for the last ten years.

Steve Snow has been appointed territory manager for Alberta. He brings more than 15 years of extensive experience in both construction and agricultural equipment sales and management to IronPlanet Canada. Most recently he was dealer principal and vice president of Hi-Way Service (High River) Inc. for three years prior to the dealership merging with Rocky Mountain Dealerships Inc. From 1994 to 2004, Steve worked as service manager, then as a salesman, sales manager and branch manager with Hammer Equipment Sales Ltd. in Calgary and Red Deer, Alberta.
Jean-Paul Aube has been appointed IronPlanet territory manager for Quebec. Aubees background includes more than 28 years of construction experience, most recently working as general manager for Kubota Montreal. Aube began his career in construction, working for a contractor and then moved into sales 24 years ago. He has also held sales and management positions with Hertz Equipment Rental and the former Les Equipement Skyway.

Richard Perzan has been appointed IronPlanet area manager for Ontario. Perzanns expertise spans more than fifteen years and he brings with him comprehensive forestry knowledge and used equipment sales experience from years spent building the family business where he served as general manager and vice president of Perzan Resources. Perzan oversaw the union/non-union labor force of more than 170 workers and daily forest-harvesting operations. Perzan then traveled to Russia to study at Moscow State University where he became fluent in Russian and later opened up the Russian market for Ritchie Bros Auctioneers (RBA). Following his time in spent in Russia, Perzan moved back to Canada where he spearheaded RBAAs entry into Torontoos downtown financial services sector.

About IronPlanet
IronPlanet is the worldds leading online auction company for used construction and agricultural equipment. Our sellers achieve more profitable sales through low transaction costs and better price realizations through a global audience of buyers. Our guaranteed inspection reports and exclusive IronClad Assurance enable buyers to bid with a high degree of confidence. IronPlanet is backed by Accel Partners, Kleiner Perkins Caufield and Byers, Caterpillar, Komatsu and Volvo. For more information, visit www.ironplanet.com.


---
Eatonite Laser Coating for Piston Rods is the First Anti-Corrosion Technology To Earn JIP Certification from DNV for use on Offshore Platforms
EDEN PRAIRIE, Minn. Diversified industrial manufacturer Eaton Corporation today announced that its proprietary Eatonitee Laser Clad coating technology was certified by independent test services company DNV after fulfilling requirements stated in the Guideline for qualification of wear and corrosion protection surface materials for piston rodss developed as part of a Joint Industry Project (JIP).


Eaton is the first, and to date the only, cylinder manufacturing company that has passed the JIP test requirements,, said Dr. Luis F. Garfias, director of Testing & Qualification for DNVVs Materials & Corrosion Technology Center in Columbus, Ohio.


DNV-certified Eatonite laser coating technology is a significant breakthrough for upstream, offshore applications in the oil and gas industry,, said Astrid Mozes, vice president and general manager of Eatonns Controls Division. It will also provide new solutions in key industries like Hydropower and virtually anywhere else piston rods are exposed to severe environmental corrosion..

Piston rod samples made of SAE 4130 steel coated with Eatonite were tested at DNV laboratories in HHvik, Norway, and Columbus, Ohio, for a wide range of physical, mechanical, and electrochemical properties to evaluate the performance of the Eatonite coating against the JIP standard.


Controlling corrosion is an ongoing challenge for the offshore oil industry,, said Dr. Alexander Bogicevic, senior technology manager of Eatonns Innovation Center in Southfield, Mich. We developed the Eatonite laser coating technology to extend the life of piston rods used in hydraulic riser tensioning systems on offshore platforms. Many materials and processes were tested and the result of this multi-year development program was the Eatonite technology.


After proprietary processing, the Eatonite material is twice as hard as conventional Inconel 625, a well known corrosion resistant alloy (CRA), but also has good cladding homogeneity due to the novel laser technology developed to deposit the Eatonite. As confirmed by the DNV certification testing, Eatonite-clad rods deliver the mechanical performance of traditional SAE 4130 steel piston rods, along with the corrosion resistance expected for CRA materials like Inconel 625. It really does give customers the best of both worldss

Eatonite testing is the subject of a technical paper being prepared for the 2010 Offshore Technology Conference (OTC).

DNV is a global provider of services for managing risk, helping customers to safely and responsibly improve their business performance. DNV is an independent foundation with presence in more than 100 countries. The DNV Columbus office (formerly CC Technologies) provides expertise in materials testing, corrosion, fitness for service, structural and pipeline integrity, as well as materials, certification and new technology qualification for industry. For more information on DNV's services, visit www.dnvcolumbus.com.

Eatonns Hydraulics Group is a segment of the companyys Industrial Sector. The business is a worldwide leader in the design, manufacture and marketing of a comprehensive line of reliable, high-efficiency hydraulic systems and components for use in mobile and industrial applications. Mobile and industrial markets include agriculture, construction, mining, forestry, utility, material handling, earthmoving, truck and bus, machine tools, molding, primary metals, automotive, power generation, port machinery and entertainment. Eatonns Hydraulics Group provides customer-driven solutions under product names such as Aeroquipp, Bostonn, Char-Lynnn, Eatonn, Hydro-Linee, Synflexx, Vickerss, Walterscheidd, and Weatherheadd. For more information, visit www.eaton.com/hydraulics.

---