Press Releases

NEWS
SAUER-DANFOSS INC. AND TOPCON POSITIONING SYSTEMS, INC. ENTER INTO NEW PHASE OF RELATIONSHIP
MINNEAPOLIS, Minnesota, USA,- TSD Integrated Controls, a joint venture of Sauer-
Danfoss Inc. (NYSE:SHS) and Topcon Positioning Systems, Inc., has operated successfully in the Road Building and Agricultural markets since 2001, enjoying unprecedented market growth and product leadership. Market dynamics in Road Building and Agriculture continue to evolve and as a result, it has been decided jointly by the parent companies to transition the relationship from a joint venture operation to one of Strategic Partnering. The companies believe that this is the best way to serve the future interests of the TSD customer base.


We have had a very successful joint venture partnership, developing industry-leading solutions like
3DmmGPS-based controls for the asphalt and concrete paving markets, and the TruPathh automated
guidance system for the Ag market,, commented Bill Welscher, TSD general manager. This updated
arrangement will continue the positive cooperation, but will also allow the parent companies to more fully focus on their individual strengths within their respective technologies..

Beginning on September 1, 2009, all TSD original equipment manufacturer (OEM) customers in the Road Building market will be transferred to Sauer-Danfoss for their commercial relationship and sales support.Topcon will continue to exclusively supply Sauer-Danfoss with various products for this market segment. For the Ag market, the TruPath autosteer product and other Ag specific products will be supplied directly by Topcon to the current TSD OEM customers.
---
Bosch Rexroth Canada becomes Master Distributor for Rineer Hydraulic Motors
As part of the newly formed relationship with HHgglunds Drives,
Bosch Rexroth Canada has been appointed Master Distributor for
Rineer Motors effective June 1, 2009.

Rineerrs unique bi-rotational vane motor (75-400HP up to 2000 RPM) for
hydraulic applications including drilling, timber harvesting, and winches
ideally complements Bosch Rexrothhs product portfolio. With master
distribution status for Canada, Rexroth will supply and service all of Rineerrs
hydraulic motors through their 9 offices across the country.

Rineer Hydraulics, Inc.. was formed in 1967 and has been supplying
hydraulic motors to North American industrial, marine, and mobile industries
ever since. Rineer Hydraulics is a member of the NFPA (National Fluid
Power Association). All major components of a Rineer Motor, like housings,
valve plates and shafts, are produced at Rineerrs headquarters in San
Antonio, Texas. Current production motors include 6 through 250 cubic inch
displacement, with a variety of shaft and bearing arrangements.

For more information please visit: www.boschrexroth.ca
---
PACKEX Toronto 2009 confirms its status of a Canadian must attend
TORONTO, May 14, 2009 The 34th edition of PACKEX Toronto which ended on May 7th,
2009 was a huge success. In spite of difficult economic times, both exhibitors and visitors
communicated positive feedback with comments focusing on the quality of PACKEX
Toronto as an essential show for the Canadian industry.

Canadaas largest industrial trade show for the packaging, material handling & logistics
industries, PACKEX Toronto welcomed over 354 exhibitors from Canada, the United States,
and overseas. This edition presented a wider selection of exhibits represented by 143 new
companies. Furthermore, PACKEX Toronto was co-located for the first time ever with IPA
Canada, the National Food Process Exhibition. These two co-located events provided
technologies and solutions under one roof, from food production to its shipment.
PACKEX Toronto 2009 welcomed 7,034 attendees, showing a thriving 17% increase from
the previous edition. The show has drawn visitors from major Canadian provinces
including, Ontario, Quebec and Alberta

Bringing forward new sectors and new trends
The show presented for the first time in this 2009 edition, a new sector based layout to
give exhibitors an equal opportunity to connect with buyers. This layout featured; material
handling, packaging machinery & machinery components, materials, converting, pre-press
& printing and food processing with IPA Canada.

Keeping industry professionals on top of new market challenges and trends
This editionns conference program marked a huge success, with a remarkable quality of
speakers, featuring presentations with three main topics: Youth and Trends,
Sustainability and Safety, Security and Traceability. PACKEX Toronto was also host to
the Wal-Mart conference on Sustainable Strategiess organized in partnership with the
Packaging Association of Canada.

This 2009 edition marks an important success for PACKEX Toronto as well as for IPA
Canada, the new brand for the National Food Process Exhibition. PACKEX Toronto wishes to
thank the Packaging Association of Canada as well as all our other partners, exhibitors and
visitors who contributed to the success of this biennial event
About PACKEX Toronto

PACKEX Toronto is Canadaas national packaging, food process, material handling &
logistics exhibition. With a 50-year plus legacy of success, the show ranks among
Canadaas largest industrial trade exhibitions drawing visitors and exhibitors from
across North America, Europe and Asia. Operated by PAC-Exhibition Inc., the show
is jointly owned by Comexposium and the Packaging Association of Canada.
Looking forward to see you at PACKEX Toronto / IPA Canada 2011! For more
information visit www.PACKEXtoronto.com
---
CIM-TEK FILTRATION LAUNCHES NEW WEBSITE!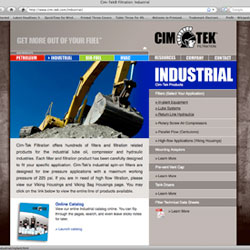 Central Illinois Manufacturing Company has launched a new state-of-the-art website to help customers find information regarding their filtration needs more easily and supply more resources to aid in their efforts for purchasing, marketing, engineering and sales. Some of the exciting new features of Cim-Tekks website are the online petroleum and hydraulic catalogs. Users can access information faster by using the search features that will automatically turn pages to find a specific part number or model. Also, Cim-Tekks website will remember a visitorrs computer storing any digital information they write on the catalog sticky notes instantly for reference the next time the visitor opens the catalog. Cim-Tekks website offers downloadable cim-tek graphics, filter technical data sheets, logos, literature and informative YouTube videos on various situations regarding filtration. Visit www.cim-tek.com today to see for yourself!

For literature and technical information, call 888.898.7187.
www.cim-tek.com

---
Northman Fluid Power Products Now Stocked in Canada
Northman Fluid Power, Carol Stream, IL is pleased to announce its new association with ITM in Canada.

ITM now fills a vital role in the supply channel of product to Northmanns Canadian distributors. The stocking program in place at ITMMs Mississaugua, Ontario facility means that Northmanns hydraulic valves and pumps will be readily available to Canadian users.

ITM has been serving its customers in Ontario and across Canada for fifteen years with a range of hydraulic services. The warehouse addition of the Northman line broadens ITMMs efforts in fluid power, and strengthens the presence of Northman in Canada.

For more information, contact Northman Fluid Power in the USA at 630-588-8488, or ITM in Canada at 905-612-0400.
---
Bosch Rexroth Canada Receives ISO 14001:2004 Registration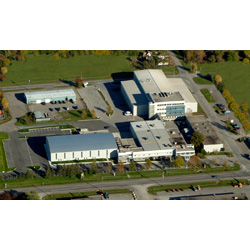 Rexroth confirms commitment to developing and executing environmental management standards for today and tomorrow.

Bosch Rexroth Canada (BRCA), a leading supplier for industrial, mobile and automation applications, announced that its Welland, Ontario facility recently received ISO 14001:2004 registration.

The ISO registration signifies that BRCA has committed to conform and comply with the ISO 14001:2004 standards as well as the applicable environmental legislation and regulations required. The registration also indicates that BRCA has developed a plan for continually improving its environmental performance well into the future.


Obtaining an ISO 14001:2004 registration shows our customers that we hold ourselves to the highest environmental standards in the world,, said Boyd de Waard, president of BRCA. We examined our environmental system closely and developed a plan that met each of ISOOs benchmarks. As a result, weere confident that weere environmentally compliant on the local, regional, national and international levels,, he said.

The company assigned resources as needed to satisfy the ISO requirements. Achieving the ISO 14001:2004 registration required that Bosch Rexroth Canada deploy a team to develop an implementation plan and participate in an environmental compliance audit monitored by a capable third party overseer. The entire process included completion of internal audits and a stage-one third party readinesss audit prior to the registration audit.

Marco Gervasio, project manager for the Bosch Rexroth implementation, stated that while principal organizations in Europe and developed areas of Asia tend to be more aggressive in obtaining ISO 14001:2004 registration, North America is now coming on board as well.


Bosch Rexroth Canada is one of about 3,000 Canadian companies that have received this registration,, said Gervasio. That number is relatively low considering the number of companies and notable organizations operating nationwide. Bosch Rexroth has made this registration mandatory for all its sites globally. Being good stewards of the environment is a responsibility the company takes seriously,, he said.


Bosch Rexroth Canada is the Canadian partner company of Bosch Rexroth AG, one of the worldds leading specialists in the field of drive and control technologies. Under the brand name of Rexroth the company supplies more than 500,000 customers with tailored solutions for driving, controlling and moving machinery used in industrial and factory automation as well as in mobile applications. As The Drive & Control Company, Bosch Rexroth develops, produces and sells components and systems in more than 80 countries. In 2007 Bosch Rexroth AG, part of the Bosch Group, achieved sales of about 5.4 billion Euro with approximately 33,000 employees.


Company Information:
Bosch Rexroth Canada
Ontario, CANADA
www.boschrexroth.ca
info@boschrexroth.ca

---
Simrit Facility Wins Schlumberger Award for Service and Product Quality
PLYMOUTH, Mich., May 15, 2008 In recognition of its outstanding performance in service and product quality, Simritts Nisku, Alberta, Canada facility recently received the first performance award ever given by the Edmonton Product Center of Schlumberger Limited. Part of the Simrit Division of Freudenberg-NOK, the Nisku facility was unanimously selected as the only recipient for this award.


Itts a great honor to be recognized by Schlumberger, a leading oilfield services provider, for our dedication to providing superior service and products,, said Carla Bugler, product manager, Simrit. At the Nisku facility, we strive to offer exceptional customer service, as well as quality products that impeccably fit our customerss needs..

According to Bugler, in recent years, the oil and gas industry has evolved from the faster is betterr mindset to placing a greater emphasis on service and product quality. Simrit has been on the forefront of driving and maintaining outstanding quality controls processes and engineering standards for sealing products that surpass customer expectations.

Simritts Nisku facility, which manufactures elastomer products for the oil and gas industry, has supplied bonded seals and elements to Schlumberger for 23 years. These products are used by Schlumberger in down hole completion tools in the production of oil and gas. With 65 employees located in the heart of the oil and gas industry, Simritts Nisku facility also designs and manufactures safety products (blow out preventers), cement products (cement plugs) and well service products (swab cups).

Certified to the ISO 9001:2000 standards, Simritts Nisku facility ensures product quality and customer satisfaction are top priorities and is dedicated to finding and addressing any issues prior to delivery. Extensive raw material testing (to ASTM standards) is performed on all rubber products and Certificates of Analysis are available upon request with results from rubber testing. Additionally, Simrit engineers conduct rigorous final inspections, which include a test for physical defects and a dimension check to drawings.

The Simrit Division is based at Freudenberg-NOKKs headquarters in Plymouth, Mich. and is part of the Freudenberg and NOK Group, which has total annual sales of more than $12 billion. Simrit offers an extensive portfolio of sealing solutions for the aerospace, appliance, diesel engine, industrial, marine, off-highway equipment, oil and gas, recreational vehicle and semiconductor markets.

For more information, visit the Simrit website at www.simrit.com.
---
$499,974 State Grant Supports Application Of Eatonns Hydraulic Launch Assist
EDEN PRAIRIE, Minn. Diversified industrial manufacturer Eaton Corporationns fuel-saving Hydraulic Launch Assist (HLA) technology will be used on a south Texas fleet of urban shuttle busses to reduce greenhouse gas emissions.

The shuttle bus emissions initiative was made possible by a $499,974 New Technology Research and Development (NTRD) Grant awarded by the Houston Advanced Research Center (HARC). The grant, announced by HARC Program Director Rudy Smaling, builds on a highly successful 2006 project in which Eatonns HLA systems were installed on 12 refuse trucks under a State of Texas New Technology Research and Development Grant.


This is an important technology,, Smaling said. It cuts exhaust emissions and fuel costs, making it possible for both operators and the environment to come out ahead. The refuse trucks delivered fuel savings of 25 to 28 percent, and we fully expect similar savings from the shuttle bus application. Eaton is a leader in developing and applying hybrid technologies that cut greenhouse gas emissions, as well as those of nitrous oxide..


We collaborated with HARC on the refuse truck project and look forward to building on that experience in rolling out HLA technology into the shuttle bus market,, said Bradley Bohlmann, business development manager for Eaton Fluid Power Groupps Advanced Technology Team. HARC is a very forward-looking organization, and we could not ask for a better collaborator for the expansion of the HLA system and follow-on emission-reducing technologies..

Eatonns HLA system is a regenerative braking system that captures and stores the vehiclees kinetic energy rather than dissipating it as heat. Braking energy is stored in pressurized accumulators and then used to help accelerate the vehicle. The HLA system is an ideal hybrid technology for vehicles with duty cycles including many starts and stops because it efficiently captures and re-cycles energy using relatively simple, highly-durable components that are easily integrated into conventional drivetrains.

Eatonns Hydraulics Operation is a business segment of the Eaton Fluid Power Group. The business is a worldwide leader in the design, manufacture and marketing of a comprehensive line of reliable, high-efficiency hydraulic systems and components for use in mobile and industrial applications. Mobile and industrial markets include agriculture, construction, mining, forestry, utility, material handling, earthmoving, truck and bus, machine tools, molding, primary metals, automotive, power generation, port machinery and entertainment. Eatonns Hydraulics Operation provides customer-driven solutions under brand names such as Aeroquip, Boston, Char-Lynn, Eaton, Hydro-Line, Synflex, Vickers, Walterscheid, and Weatherhead. For more information, visit www.hydraulics.eaton.com.

---
Parker Hannifin Corporation announces the release of the Critical Hydraulic and Pneumatic Maintenance & Repair Components Catalog
Parker Hannifin Corporation, the world leader in motion and control technologies, announces the release of the Critical Hydraulic and Pneumatic Maintenance & Repair Components Catalog

Parker Hannifin Corporation, the world leader in motion and control technologies, announces the release of the Critical Hydraulic and Pneumatic Maintenance & Repair Components Catalog (PH001/NA), or, more simply, The Parker Book." Now available through Parker authorized full line distributors, the new catalog provides the maintenance, repair and overhaul (MRO) market with the most complete range of hydraulic and pneumatic components available from any single source.

Parker authorized full line distributors already provide local engineering, system support and inventories to serve MRO customers," said Mark Kugelman, Vice President, Business Development. The Parker Book is another powerful tool that exposes these customers to the full range of products our distributors can offer them."

With 800 pages and over 8,000 parts, The Parker Book features major sections on valves, hoses, fittings, filters, cylinders and much more. Three indexes assist the user in locating parts: the product category listing (by category grouping); the alpha numeric index (by part number); and the product index (by product name). Durable tabs and a heavy stock cover ensure that The Parker Book will survive the most demanding MRO environments.

To get a copy of The Parker Book", call toll free at 1-800-C-Parker. The catalog is also available from your local, full line authorized Parker distributors.

---
SSP Pump by Alfa Laval Pump Ltd. Now offers a unique handbook
SSP Pump by Alfa Laval Pump Ltd. Now offers a unique handbook called Problem Solving Positive Displacement Pumps. This helpful document addresses many of the commonly overlooked and misunderstood operating issues that adversely affect a positive displacement pumpps service life. Topics such as poor piping practices, seal failure, wet-end wear, cavitation, shaft breakage, and many others topics are thoroughly explained and well illustrated for easy reference. If you have experienced less than optimal service life on your pump you will find the handbook invaluable.
---