Press Releases

NEW PRODUCTS
VOSS Zink-Nickel Plating system...>>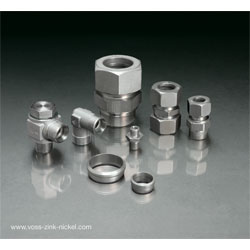 -The chromium VI-free solution that offers perfect corrosion protection!

- Utmost corrosion resistance against red rust, also, after handling and fitting.

- White rust occurs only by way of a slight grey haze, no white voluminous corrosion decomposition of products (zinc oxide): efflorescencee.

- Proven standard at European vehicle manufacturers for many years.

- Occurrence of red rust (in accordance with DIN EN ISO 9227) > 720 hours.

- Installation torque values remain unchanged with respect to yellow chromation (A3C).

- The VOSS Zink-Nickel surface complies with the EU End of Life Vehicle Directive 2000/53 EG.
---
Hydraulic Cylinders with a Variety of Sealing Systems Available from Bosch Rexroth...>>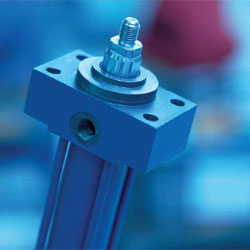 Polyurethane, NBR, PTFE and fluorocarbon among options for sealing systems covering machine tool, automotive, plastics machinery and other applications.

The Bosch Rexroth CDT1 and CDT4 series of NFPA tie-rod hydraulic cylinders come with options for sealing systems including fluorocarbon, NBR, PTFE, and wear-resistant polyurethane seals.

Designed for applications such as machine tool, automotive, press, plastics machinery, civil engineering, material handling and wood / paper equipment, the CDT4 series operates at a nominal pressure rating up to 3,000 psi. The CDT1 nominal rating is 1,500 psi, depending on bore size.

The cylinders feature a single removable extra-long bearing made of ductile iron for longer service life. Reduced guide clearance provides uniform load distribution while a spiral groove in the rod bearing keeps it lubricated and compensates for pressure change.

Rexroth uses a case-hardened chrome-plated piston rod to extend seal life and lower susceptibility to damage. Seal extrusion and tube seal leakage is eliminated by precisely centering the tube to the head end cap.

The piston is mechanically secured to the rod to avoid piston / rod separation. High-tensile steel tie rods with rolled threads add strength and corrosion resistance.

The CDT cylinders contain an ISO 11926-1 SAE straight thread connection port and patented air bleed secured against unscrewing. Piston rod diameters range from inch to 5 inches on the on the CDT1 Series, and from 5/8 inch to 5 inches on the CDT4 Series. Bore diameters range from 1 inch to 8 inches, while stroke lengths are available up to 120 inches.

Company Information:
Bosch Rexroth Canada
Ontario, CANADA
www.boschrexroth.ca
info@boschrexroth.ca


---
Complete Line of Kurt Spiral Hydraulic Hose & Couplings Systems...>>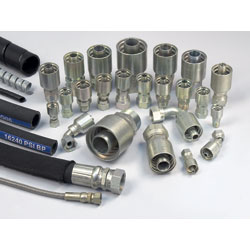 Complete Line of Kurt Spiral Hydraulic Hose & Couplings Systems Handle Pressures To 6000 PSI with Rugged Corrosion Resistance

Lyman, Nebraska: Now get the complete system of Spiral Hose and Couplings that handle pressures to 6000 with the tightest crimp seal and rugged corrosion resistance, all from Kurt Hydraulics.

These couplings feature a precision machined internal ferrule that crimps and tightly locks into any type of spiral hose for a secure, leak-proof fit. Designed to eliminate leaks in hydraulic systems, these Kurt Spiral Hose and Couplings are ideal for industrial and commercial applications including construction machinery, agriculture, mining and plant maintenance equipment. Field proven for both shock and vibration conditions, these hose and coupling systems are designed to handle sub-zero through high temperature applications.

Finished with RoHS compliant trivalent Chromium-6 Free process, Kurt Hydraulics Spiral Hose Couplings and Adaptors have a highly durable finish. Exceeding the industry SAE standard by 4X hours of salt spray testing, Kurtts new RoHS compliant finish withstands over 400 hours salt spray testing. Tested under ISO 9227 and ASTMB117 salt spray conditions, the new finish has an attractive, modern silver appearance in addition to being durable and environmentally friendly.

These Kurt Spiral Hose Couplings are available in 550 standard sizes and end configurations including JIC, O-ring, Pipe, Metric, and are designed for non-skive SAE 100 R12, R13, 4SH, and R15 applications.

Providing new European Union export opportunities to OEMMs, these RoHS compliant couplings are another reason Kurt Hydraulics is an ideal alternative source for hydraulic couplings and hose. Kurt offers 95 percent out-of-stock fill rates, competitive pricing and fast delivery. All Kurt products are backed by a strong warrantee against defects in materials and workmanship.

For fast referencing and ordering, all couplings and hose products are indexed at www.kurthydraulics.com by part number and recommended application.

For Kurtts FREE Hydraulic Catalog, call 866-257-7995. The catalog provides all key features, product specifications and ratings, including easy-to-understand drawings and specifications.

See the catalog and download it online at www.kurthydraulics.com Or write to Kurt Hydraulics, 302 Jeffers Street, Lyman, Nebraska 69352. Fax: 308-787-1281.
---
We Call It a Lift Valve You Can Call It a Real Convenience!...>>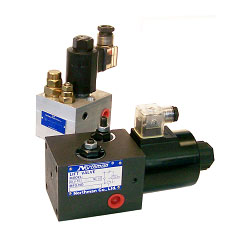 What It Is . . .

This Lift Valve combines four functions in one body.

Itts a Relief Valve, a Check Valve, a Flow Control Valve, and a Solenoid Directional Control Valve all integrated into a complete circuit!

Builders of Lift Machinery or machinery otherwise operating a Single-Acting Cylinder find this valve particularly useful.

How It Works . . .

Pressurized oil will flow directly to the cylinder in the Normally Closed version to extend it. (The relief valve protects the system from over-pressurization.) When the solenoid is actuated, oil from the pump and cylinder is routed to tank, allowing the single-acting cylinder to retract at the speed set by the meter-out flow control valve. De-activating the solenoid will again extend the cylinder.

The Normally Open circuit works in reverse, with the cylinder extending when the solenoid is actuated, and retracting when de-actuated.

Specifications . . .

This useful valve handles flows to 5.3 GPM and pressures to 3,000 PSI. Check out the rest of the features on the catalog page: http://www.northmanfp.com/pdf/LiftValve.pdf

739 Kimberly Drive, Carol Stream, IL 60188
Ph: 630-588-8488 Fx: 630-588-8487
inquiry@northmanfp.com
www.northmanfp.com
---
Eatons Hydraulics Operations' Re-Designed 420 Series Pumps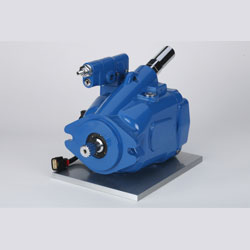 Eatons Hydraulics Operations' Re-Designed 420 Series Pumps Feature Hydro-Mechanical Torque Control And Low-Noise Operation

EDEN PRAIRIE, Minn. Diversified industrial manufacturer Eaton Corporation has added a hydro-mechanical torque control option and several performance upgrades to its successful 420 Series product line. The new 420 HM pumps with hydro-mechanical torque control are intended for moderate-flow, high-pressure mobile applications on vehicles such as compact wheel loaders, telehandlers, rough terrain forklifts, telescopic booms, sweepers, backhoe
loaders, and garbage trucks.

With a maximum pressure rating of 280 bar, 420 Series pumps offer outstanding power density delivering up to 118 hp at 3,000 rpm. Standard control options include pressure
compensation and load sensing pressure and flow compensation.

The new power/torque control works in parallel with the standard compensator using a
special mechanism to replace the control piston. The effect is to limit power consumption by
the pump while providing maximum flow at a pressure equal to the desired power level. The
system provides maximum pressure at reduced flow, and avoids a corner horsepower point.

420 Series pumps have been extensively re-engineered to reduce noise levels (76 dBA at
1,800 rpm and 207 bar) while improving reliability and operating efficiency. The compensator
has been changed to reduce an infrequent system-induced noise.

The housing has been extensively re-designed to decrease airborne noise while allowing
more options than the previous configuration. A case to inlet check valve has been added to
improve cold weather operation and limit case pressure spikes to protect seals and the
rotating group. As a result, 420 Series pumps have fewer parts, fewer bolts, and fewer leak
joints than previous models, and use highly reliable O-ring seals throughout.

Eatonns Hydraulics Operations is a business segment of Eatonns Fluid Power Group. The
business is a worldwide leader in the design, manufacture and marketing of a comprehensive
line of reliable, high-efficiency hydraulic systems and components for use in mobile and
industrial applications. Mobile and industrial markets include agriculture, construction,
mining, forestry, utility, material handling, earthmoving, truck and bus, machine tools,
molding, primary metals, automotive, power generation, port machinery and entertainment.
Eatonns Hydraulics Operations provides customer-driven solutions under brand names such
as Aeroquipp, Bostonn, Char-Lynnn, Eatonn, Hydro-Linee, Vickerss and Weatherheadd.
For more information, visit www.hydraulics.eaton.com.
---
New Parker Push-Lok Plus Hose Redefines Multipurpose Hose Capabilities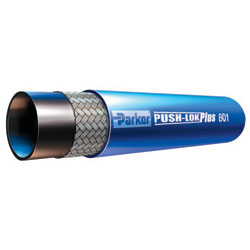 New Parker Push-Lok Plus Hose Redefines Multipurpose Hose Capabilities with Highest Ratings in Multiple Performance Categories

New Push-Lok Plus hose from Parker, the global leader in
motion and control technologies, received the highest ratings in multiple categories, including the highest working pressure and highest temperature, in lab tests comparing several
competitive general-purpose hose products.

The Push-Lok Plus hose is now approved with HY series steel and stainless steel crimp fittings and 82 Series field attachable fittings, making it compatible with the widest range of end connections in the industry. Its crimp fittings approval also makes it possible to be used with diesel fuel.


The overall versatility of the Push-Lok Plus hose makes it the Swiss Army knife of hoses,,
said Mike Matthews of Parker Hose Products Division. The Push-Lok Plus hose can help
simplify stocking inventory by reducing the number of different styles of general-purpose
hoses needed to satisfy various applications much like carrying a single Swiss Army knife
for solving multiple problems..

The features of the Push-Lok Plus hose line include:


Size The broadest range available (-4 through 16)


Temperature A temperature rating approved at 2577 F


Application Push-Lok Plus now handles the most applications where low pressure media
is used


Media Approved for use with diesel fuel, air, petroleum-base hydraulic fluid, lubricating oils
and antifreeze solutions


Pressure Now approved for higher working pressures in all sizes, compared to existing
general-purpose hoses.

For a copy of Bulletin 4480-B137-US featuring Parkerrs Push-Lok Plus, contact Parker
Catalog Services, 8940 Tyler Blvd., Mentor, Ohio 44060, call 1-800-C-PARKER, or view it on
the Web at www.parkerhose.com.
---
Introducing Tuthills on-demand, front-wheel drive system.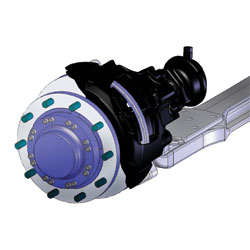 Get control over the toughest terrain.

Now, with Tuthills EZ TracTM hydraulic drive, any specialty vehicle like delivery trucks, cement mixers, utility trucks and emergency vehicles can have the control and traction they
need to go from highway to hardwayy with the flick of a switch. Vehicles which need to go off-road or travel in bad weather to do their jobs, can... with increased driveability, range and safety for the driver and load.

EZ Trac not only gives you control over your vehicle, but control over your productivity, your business terrain and your bottom line. You can do more and go more places with your
vehicle, with less wear and tear.

Features/benefits

Less weight equals lower fuel consumption. (est. 10% savings)

Lower vehicle center of gravity, thereby less likely to overturn on hill sides.

Ability to engage/disengage on the go.

Can automatically disengage above 20mph and engage when rear wheels
lose traction.

Maintains ride quality and turning radius.

Improved clearance for load or truck mounted cranes and equipment.

Maintains ground clearance.

Maintains cab & bed height.
(no need to raise for drive axle clearance)


Tuthill Drive Systems
9098 West 800 South
P.O. Box 600
Brookston, Indiana USA 47923
(800) 348-2474 or (219) 279-2801
Fax: (219) 279-2390
Web: drive.tuthill.com

---
MICO Packages Accumulator Charge Valve with Gear Pump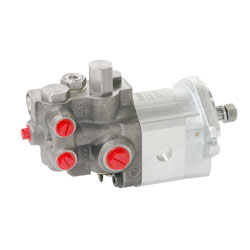 NORTH MANKATO, Minn. MICO, Incorporated announces collaboration with Haldex Hydraulics Corporation to offer an Integrated Accumulator Charge Valve and Gear Pump Package. The integrated package reduces the amount of plumbing and mounting hardware needed, resulting in a less complex, more durable and efficient design. This product is designed for vehicles that use a full power hydraulic brake system and requires power-off braking by storing energy in accumulators.

Contributing to the packagees long-lasting design is the Haldex gear pump, which operates at more than 90 percent overall efficiency across pressure and speed ranges. Known for its reliability and durability, the gear pumpps simple design also makes it a more cost-effective solution than alternative pump designs.

The package greatly reduces the potential for leak paths by decreasing plumbing, which also makes the system easier and less time-intensive to incorporate into an overall design. Additional efficiency comes from the packagees design feature that provides excess flow from the charge valve to operate steering, cooling or implement functions.

The Integrated Accumulator Charge Valve and Gear Pump Package comes with the option of single or dual accumulator ports with four charging rate options between 0.5 gallons per minute (gpm) and 5 gpm. The unit displaces up to 1.4 cubic inches with system pressures up to 3,000 psi maximum continuous.

Headquartered in Stockholm, Sweden, Haldex provides proprietary and innovative solutions to the global vehicle industry, with a focus on products in vehicles that enhance safety, the environment and vehicle dynamics. Haldex, which employs 4,900 people, is listed on the Stockholm Stock Exchange and has annual sales of nearly $1.2 billion. For more information, go to www.haldex.com.

MICO, Incorporated designs, manufactures and markets brake systems, hydraulic components and controls, primarily for off-road applications. For more information, contact MICO, Incorporated, 1911 Lee Boulevard, North Mankato, MN 56003, call 507-625-6426, fax 507-625-3212, send an e-mail to micomail@mico.com or visit the companyys Web site at www.mico.com.

---
INSERTA LockstackTM D03 Retaining System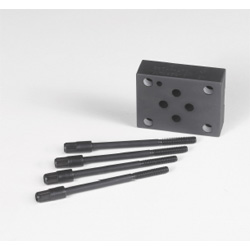 The LockstackTM D03 retaining system includes stacking fasteners that eliminate the need to size and cut thread stock for D03 sandwich stack assemblies. The system also includes a novel isolation retainer that engages the fastener heads to resist loosening during disassembly of the directional control valve or other stack component(s) above. Use the LockstackTM system to reduce labor costs
and sandwich assembly headaches, while adding value and integrity to your sandwich assembly.




Adaconnn Products | 538 Township Line Rd, Blue Bell, PA. 19422 | (215) 643-1900
Insertaa Products | 538 Township Line Rd, Blue Bell, PA. 19422 | (215) 643-0192
---
Convenient visualization and control from Hirschmann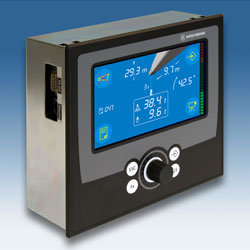 New consoles iSCOUT expert compact and iSCOUT scalable mobile from Hirschmann

Hirschmann Automation and Control is presenting the new iSCOUT expert compact and iSCOUT scalable mobile consoles. While the iSCOUT expert compact is a stand-alone display, the consoles of the Scalable Mobile family (available in basic, professional, and high-end versions) can also takeover control functions. Both consoles are designed for a temperature range of -40 to +85 degrees Celsius and support CANopen as a sensor/actuator interface and Ethernet as a data bus. They are very suitable as visualization systems or for complex control in addition to other mobile applications such as teleloaders, wheel loaders, and lifting work platforms.

The iSCOUT expert compact console has a 6.5 inch color display with up to 256 colors and a resolution of 400 x 200 pixels. The communication via Ethernet ensures fast data transfer and also enables easy wiring. Operation is by means of a menu which can be controlled by a rotary selection knob.

The consoles of the Scalable Mobile Family can be operated either by keys, a touch screen or a rotary selection wheel. According to the requirements of the application, the consoles have different sized displays (QVGA, VGA, SVGA) as well as different CPUs. The CPUs are adapted to the respective number of I/Os and interfaces as well as the respective operating concept. The visualization and control functions are supported by the application platform CoDeSys from 3S and by special Hirschmann software.

Hirschmann Automation and Control, Inc.
Phone: 717-217-2216
Fax: 717-263-7845

---