Press Releases

NEW PRODUCTS
Eaton Silicone Hose Developed For High-Temperature, High-Vibration Applications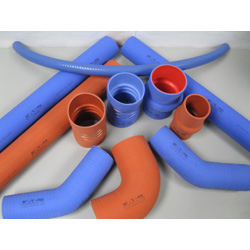 Diversified industrial manufacturer Eaton Corporation today announced a new line of silicone hose products for extreme temperature, high-vibration, and chemically challenging applications. The new silicone hoses are available in sizes and configurations suitable for use on turbo and charge air coolers, heater circuits, and coolant system connections at temperature from -65 F to +500 F (-54 C to +260 C). Silicone provides the mechanical properties and chemical resistance in temperature extremes that traditional elastomers cannot meet.


Eatonns silicone hose products are available today for turbo and charge air coolers in straights as well as formed and humpp hoses not previously available to Eaton customers,, said Eaton Product Manager Donna Giffin. Typical applications include heavy-duty truck engines, buses, and off-highway construction equipment..

Aramid and polyester reinforced silicone hose from Eaton:

Resists cracking, peeling, ozone and aging;

Resists extreme temperature conditions;

Compensates for misalignment; and

Offsets vibration.

One of the new Eaton aramid-reinforced silicone configurations, series FF908035 and FF90836, Giffin said, is designed to resist fatigue in supercharger applications.

Eatonns new silicone hoses are available in straight lengths of three feet, hot and cold hump sections, charge air cooler (CAC), cold and hot couplings, and hot and cold 45-degree and 90-degree elbows.

Many of the products meet SAE J20 R3 and SAE J20 R1 certifications, including:

Series EH225 -Single ply, polyester reinforced silicone heater hose with IDs -04/-16 inch.

Series EH226- Four-ply polyester braid reinforced coolant hose with IDs -05/-96 inch.

Series EH227- Four-ply aramid braid reinforced turbocharger hose with IDs -04/ -80 inch.

Series FF90829- Four-ply aramid braid reinforced hot hump hose with IDs from to 6 inches.

Series FF90830- Four-ply polyester reinforced cold hump hose with IDs from to 6 inches.

Series FF90800- Four-ply CAC cold couplings with integral stainless steel restraining rings with IDs from 2.5 to 5 inches.

Series FF90801- Four-ply CAC hot couplings with integral stainless steel restraining rings with IDs from 2.5 to 5 inches.

Series FF90836 - Four-ply aramid braid reinforced 45 hot elbows with IDs from 3/8 to 4 inches.

Series FF90835 Four-ply aramid braid reinforced 90-degree hot elbows with IDs from 3/8 to 4 inches.

Series FF90803 - Four-ply polyester reinforced 45-degree cold elbows with IDs from 3/8 to 3 inches.

Series FF90802- Four-ply polyester reinforced 90-degree cold elbows with IDs from 3/8 to 4 inches.

Eatonns Hydraulics Business is a segment of the Eaton Fluid Power Group. The business is a worldwide leader in the design, manufacture and marketing of a comprehensive line of reliable, high-efficiency hydraulic systems and components for use in mobile and industrial applications. Mobile and industrial markets include agriculture, construction, mining, forestry, utility, material handling, earthmoving, truck and bus, machine tools, molding, primary metals, automotive, power generation, port machinery and entertainment. Eatonns Hydraulics Business provides customer-driven solutions under product names such as Aeroquipp, Bostonn, Char-Lynnn, Eatonn, Hydro-Linee, Synflexx, Vickerss, Walterscheidd, and Weatherheadd. For more information, visit www.eaton.com/hydraulics.
---
TRD Manufacturing Introduces the HH Series of Heavy-Duty Hydraulic Cylinders for Superior Performance in Demanding Applications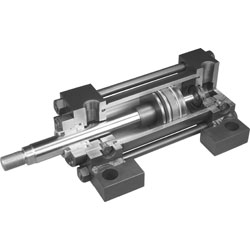 TRD Manufacturing, a Bimba Company, today announced the introduction of their new HH Series Cylinders, which feature an innovative design to deliver more reliability in heavy-duty industrial hydraulic operations.

All HH Series models come in bore sizes 1.500, 22, 2.500, 3.255, 44, 55, 66 and 88. Requests are made-to-order, with standard and custom options available. Cylinders usually ship in two to three days and most requests are answered the day they are received.

As part of the HH series, TRD offers a complete line of hydraulic Rod Locks. Cutting-edge floating rod bushing technology ensures that these rod locks achieve their high rated holding force and stay correctly aligned. This reduces cylinder drag, wear and erratic operation, thereby ultimately improving performance, consistency and results.

Each rod lock model is available in three different holding forces, depending on the release pressure. And, with the ability to handle up to 3,000 PSI, these precision-machined cylinders can be used on most heavy-duty applications.

Other standard features include a heavy-duty rod wiper, seals, wear band, chrome plated I.D tube and more. Rod locks, stop tubes, center supports, stainless steel piston rods and high impact pistons are also available as performance options. Accessories include clevis, pins, mounts and alignment couplers up to a 55 thread size.

For detailed performance, selection, and ordering information, consult the TRD HH Series catalog, call 815.654.7775 or email sales@trdmfg.com.

About TRD Manufacturing:
TRD Manufacturing combines 27 years of precision machining and engineering with an unmatched selection of options and modifications to deliver the highest quality customizable NFPA cylinders on the market. At TRD Manufacturing, your specials are our specialty.
For more information, visit trdmfg.com.

About Bimba:
Bimba Manufacturing is a forward-thinking innovator of actuation technology, specializing in providing cutting-edge solutions to engineering challenges. Its capabilities include an extensive line of industry-leading air cylinders, rotary actuators, linear thrusters, rodless cylinders, flow controls and position-sensing cylinders. In addition to its broad line of standard catalog products, nearly half of the companyys business consists of custom and semi-custom products designed for specific customers and applications. These products, used in machinery and automation, are sold to original equipment manufacturers and end-users throughout the world in an expanding variety of industries. For more information, visit bimba.com.
---
Clean, DRY Oil for Lubrication and Hydraulic Systems Now a Reality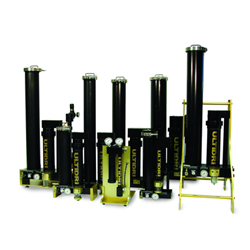 Clean, DRY Oil for Lubrication and Hydraulic Systems Now a Reality

While it has largely been understood that clean, dry oil is desirable for lubrication and hydraulic fluids, attaining it has not been practical or cost effective for most users. The high cost of conventional oil purifiers usually mandates that they are dedicated only to fairly large and/or expensive systems, or that they be used periodically among several applications. However, periodic conditioning does not ensure continuous water removal for each system. These challenges have prevented most lubrication and hydraulic systems from being able to benefit from the use of advanced water removal technology.

UltiDrii changes that. The patented UltiDri oil dehydrator was designed to offer Porous Mediaas advanced water removal technology in a cost effective, compact size and format which can be used as a permanent installation on individual reservoirs or systems. UltiDri removes all free, emulsified and dissolved water down to 25 ppm or lower.

UltiDri dehydrators have been designed with ease-of-use in mind. Operation is simple, requiring no routine operator intervention. There are no valves or controls to adjust. No liquid level gauges to monitor. No drains to deal with. Simply turn on the switch and the UltiDri does the rest. Continuously. Reliably.

Part of the reason for this is that, with the exception of an oil pump, there are no moving parts. As oil flows through the UltiDri, it passes through an internal membrane which distributes the oil into a relatively thin film over a large contactor area. The system's integral air dryer provides the extremely dry air used to create a driving force for mass transfer of the water from the oil. The removed moisture is exhausted to atmosphere in the form of harmless water vapor. This internal advanced separation system prevents oil and oil vapor from being expelled into the surrounding environment.

All UltiDri dehydrators come with Porous Mediaas high-performance GENESISS coreless filters. The GENESIS technology ensures high fluid quality while simultaneously lowering overall operating costs and reducing waste.

There is an UltiDri for virtually any application, available in flow rates from less than 1 gpm to 32 gpm or larger. Systems are optimized based on a multitude of factors (oil type, oil viscosity, reservoir size, typical water content, etc.), and may be customized for OEMMs and packagers.

UltiDri dehydrators significantly reduce the cost of oil dehydration, by 50 - 75% as compared with conventional oil purifiers! This finally makes the concept of dryy in Clean, Dry Oil a reality for virtually any application or reservoir size on a continuous basis.
Please contact Porous Mediaas Lubrication & Hydraulics Technologies Group for additional information.


Porous Media Corp
Lubrication & Hydraulics Group
Tel: 651-653-2000
LHTech@porous.com
---
Eaton Launches Vickers NZ NFPA High Pressure Hydraulic Cylinder Line; Features Solid Base Design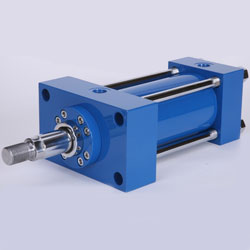 EDEN PRAIRIE, Minn. Diversified industrial manufacturer Eaton Corporation has announced the release of its new line of robust NFPA small and medium bore tie rod hydraulic cylinders designed for a broad range of industrial applications

The new Vickerss NZ cylinder demonstrates Eatonns focus on continually enhancing and broadening its industrial cylinder product offering. A key benefit of the Vickers NZ line is that it is a solid base design featuring the Sure Seal sealing system, special rod and piston wear band, optional captured cushion, and an easy-to-service unitized rod cartridge. This new high-performance cylinder line also features hardened piston rods, high yield strength tubes and pistons, and steel heads/caps. The resulting benefit is long life for machine tool, plastics and rubber, wind turbine, primary metals, testing and simulation, and marine equipment.

The NZ cylinder has a comprehensive range of standard options for ultimate customizability; with standard bore sizes from 1.5 to 8 inches, and virtually unlimited stroke lengths. In addition to the broad standard offering, Eatonns design team also offers custom NZ cylinders with specifications that far exceed the standard catalog offering for almost any heavy-duty industrial application.

Eatonns Hydraulics Business is a segment of the Eaton Fluid Power Group. The business is a worldwide leader in the design, manufacture and marketing of a comprehensive line of reliable, high-efficiency hydraulic systems and components for use in mobile and industrial applications. Mobile and industrial markets include agriculture, construction, mining, forestry, utility, material handling, earthmoving, truck and bus, machine tools, molding, primary metals, automotive, power generation, port machinery and entertainment. Eatonns Hydraulics Business provides customer-driven solutions under brand names such as Aeroquipp, Bostonn, Char-Lynnn, Eatonn, Hydro-Linee, Synflexx, Vickerss, Walterscheidd, and Weatherheadd. For more information, visit www.hydraulics.eaton.com.
---
NACHI SK-G01 SERIES WET TYPE SOLENOID OPERATED DIRECTIONAL CONTROL VALVE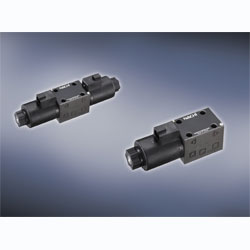 Macomb, MI Nachi America Inc..s SK-G01 Series Wet Type Solenoid Operated Directional Control Valves are suited for outdoor hydraulic equipment applications. Featuring high dust and water resistance (JIS C 0920 IP67), as well as vibration proof performance (JIS D 1601 3 D Grade 90 Division 400), the SK-G01 withstands environmental elements for long-term reliability.

Nachiis SK-G01 is designed to include a Deutsch connector. The valve offers large capacity and high pressure with minimal pressure loss and low switching noise. These competitively priced valves are also available in shockless types and with diode built in coils.

Maximum flow rates range from 50.0 to 100.0 L/min for standard types and from 40.0 to 50.0 L/min for shockless types. Maximum working pressure is 35 MPa for standard types and 25 MPa for shockless types.
For more information, contact Nachi America Inc., 17500 Twenty-three Mile Road, Macomb, MI 48044, Phone (800) 622-4410, Fax: (586) 226-5289, E-mail: hydraulics@nachiamerica.com, or visit: www.nachihydraulics.com.
---
New Sauer-Danfoss H1 bent axis motors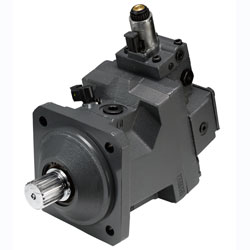 New Sauer-Danfoss H1 bent axis motors join the successful H1 family, providing further improvements in efficiency, reliability, and flexibility.

NEUMMNSTER, GERMANY SAUER-DANFOSS INC. (NYSE:SHS) Sauer-Danfoss has released its new H1 80cm3 and 110cm3 bent axis motors, the first sizes in a new series of motors designed to complement the growing family of H1 axial piston pumps. With the introduction of the H1 bent axis motors, Sauer-Danfoss is now able to provide a complete H1 transmission system, optimized around electrical control. The H1 motors not only provide OEMs with improvements in reliability and flexibility, but also provide higher overall efficiency, resulting in lower fuel consumption and reduced life cycle costs.

The new H1 bent axis variable displacement motors have been designed to ensure outstanding reliability and high quality. Optimized for electrical control, they are fully PLUS+1TM Compliant, enabling seamless integration with Sauer-Danfosss electronic machine control architecture - Plug and Performm. And with an IP 69 rating, the electrical controls are able to withstand the harshest working environments.


We are pleased to introduce the H1 bent axis motors, which perfectly complement the successful H1 pump familyy says Hans-Peter Nissen, Product Portfolio Manager, With proven 32 degree bent axis technology, zero degree capability and higher overall efficiency, our new motors offer OEMs a number of significant advantages. The H1 propel system provides improved horsepower management, and enables advanced anti-slip or wheel-assist control functions..

High Efficiency
An extensive simulation and testing program for the H1 bent axis motors has resulted in significant improvements in overall efficiency and an extremely low pressure drop in the galleries. This helps improve fuel economy and frees power for other vehicle functions, enhancing operating performance and increasing productivity. Tier 4 and Euro IIIb emission standards will require intelligent utilization of engine power,, says Nissen, and this will be strongly supported by our new H1 family of products..

Zero Degree Capability
A key feature of the new H1 motors is their zero degree capability. The ability to seamlessly reduce the angle to zero degrees means there is no torque interruption, or sudden change in speed when switching from, for example, work range to travel range. This enhanced control is not only more precise, but also improves the feel of the system during operation. Zero degree capability enables OEMs to provide additional features,, says Nissen, including accurate anti-slip and torque control functions, which increase vehicle productivity and optimize power utilizationn The zero degree capability also enables a wheel assist solution without the need for additional technology. Even true two-speed applications, for example a crop sprayer, can be supported by this great feature,, states Nissen.

Optimized for Electrical Control
Electronic engine management and electrical vehicle control is the future of mobile machinery. As such, H1 motors have been designed around advanced electrical controls, which allow a range of vehicle control concepts to be produced using the same motor hardware. By adjusting the software parameter settings, the system can be optimized to match the requirements of specific vehicle functions.

Designed for Quality and Reliability
H1 motors have been developed around a common design concept, in order to ensure outstanding motor performance. This design commonality provides improvements in quality and reliability at the factory level and leads to benefits of uniformity and familiarity at the OEM level, supporting standardized machine design.

The H1 motors have the shortest length of any motor available on the market today, and at least one clean sidee, increasing vehicle design flexibility and facilitating installation. The higher speed capability of the motors also results in a high corner power and power density. This provides more power without increasing the size of the motors, which not only saves additional space, but also enables OEMs to design more compact system solutions.

Sauer-Danfoss Inc. is a worldwide leader in the design, manufacture and sale of engineered hydraulic, electric and electronic systems and components, for use primarily in applications of mobile equipment. Sauer-Danfoss, with 9,800 employees worldwide and revenue of approximately $2.0 billion, has sales, manufacturing and engineering capabilities in Europe, the Americas and the Asia-Pacific region. The Companyys executive offices are located near Chicago in Lincolnshire, Illinois. More details online at www.sauer-danfoss.com.

---
HAWE HYDRAULICS COMPACT PUMP IDEAL FOR WIND POWER PLANTS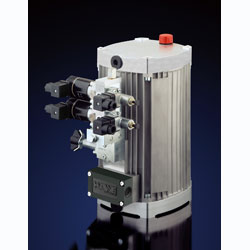 Hydraulic brake control increases service life, saves space and weight

HAWE Hydraulics, a leading supplier of sophisticated controls to the mobile and industrial markets, announces the type KA power unit, the latest model in the HAWE Hydraulics product line. The compact power unit type KA increases the service life of costly components such as gearboxes, rotor blades, tower and foundations by hydraulically controlling yaw and rotor blades, thus reducing wear and tear on the braking function. These compact power units mount next to an actuator making them an excellent fit for localized installations.

The hydraulic power unit consists of a tank with an integrated submerged motor, a radial piston or gear pump that is directly attached to the motor shaft (without a coupling) and a connection block. The modules are mounted directly onto the connection block. In the event of a disruption to the braking module that may cause interference, the disruption can be identified and the module easily exchanged with no need to remove any hoses connected to the consumers.

All components are made of steel and therefore, capable of withstanding extremely high pressure. The radial piston pumps can supply pressurized oil up to 10,000 psi, while the valves are designed for pressures in excess of 5,800 psi. The pressure level of wind power plants is below 3,600 psi, so the extremely durable pumps and valves are ideal for use in these installations. Because of their compact build, they can be transported without a crane.

For safety reasons, the brakes of a wind power plant must be reliable at all times therefore; HAWE Hydraulics uses leak-free directional seated valves. These valves have a considerably higher switching reliability than the directional spool valves, as dirt particles are flushed out when the valve is open. This type of design prevents silting that can occur and cause spool valves to stick.

The type KA compact power unit has been designed for maximum efficiency with minimal weight and space requirements and can be used either vertically or horizontally. Three tank extensions allow for differing oil volume requirements. Depending on the tank extension the usage volume can be increased from a minimum of two liters to a maximum of ten liters. The power unit can be operated with all voltages, including 690V and is also available in a Cold Climatee version.

HAWE offers active and passive brake control, with or without a flushing function for the brakes and brake lines. Additional modules are available for adjusting the pitch, roof openers for the turbine pod, rotor lock, and control of on-board handling cranes.

HAWE Hydraulics
9009-K Perimeter Woods Drive
Charlotte, NC 28216
Main phone: (704) 509-1599
Fax: (704) 509-6302
www.hawehydraulics.com
sales@hawehydraulics.com
---
NOSHOKs 850 Series Electronic Temperature Switch/Transmitter utilizes PT100 technology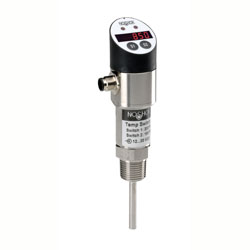 Designed for ultimate precision control in crucial temperature requirement applications, NOSHOKKs 850 Series Electronic Temperature Switch/Transmitter utilizes PT100 technology
to provide continuous temperature monitoring, electronic temperature switching, and transmission of analog output of 4-20 mA while providing local digital indication.

Two buttons on top allow simple adjustment of the temperature set points, reset points, switching functions and the measuring range of the optional analog output. These extensive features and wide measuring range (between -3000F and 11000F/ -2000C and 6000C) cover the majority of temperature measuring and switching tasks.

A variety of stem lengths, which are also available with adjustable insertion lengths, add to the versatility of the NOSHOK 850 Series. All wetted parts as well as the housing
are made of stainless steel for corrosion protection and durability.

The NOSHOK 850 Temperature Switch/Transmitter is a durable, cost-effective and easy-to-integrate product, ideal for applications such as Industrial Automation & Power
Generation, HVAC, Air Conditioning Technology, Industrial Manufacturing, Environmental Technology, Transportation and Marine.
---
PRESSURE SWITCH WITH 316 STAINLESS STEEL FLANGE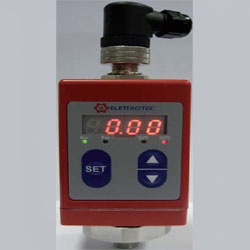 PRESSURE SWITCH WITH 316 STAINLESS STEEL FLANGE SUITABLE FOR CORROSIVE FLUIDS

The new Elettrotec EPXA-01 pressure switch with a 316 stainless steel flange is now suitable for use with highly corrosive fluids. The flange's new design allows for significant space and weight reduction without sacrificing performance.

The new EPXA-01 model integrates a transducer, a digital indicator and an optimization circuit. It has no moving elements and thus is suitable for a variety of applications, from conventional pressure controlled functions to more sophisticated process and measurement controls. It is equipped with two independent outputs in either bar or psi, a four digit red display which ensures optimum visibility even in dim-lit environments (7 LED segments) and with either digital or analogue output (0-5 V or 0-10V voltage; 4-20 mA or 0-20 mA electrical current).
Parameters such as SP (set point),
RP (restore points), delay times, and profiles are all easily accessible and definable through a user-friendly conversational menu. Finally, a user-set password protects the device from unwanted
programming changes. The new EPXA-01 pressure switch is available for pressure ranges from 2 to 400 bar.

Elettrotec S.r.l. - Via Jean Jaures, 12 - 20125 Milano - Italy
Phone: +39 02 28851811
Fax: +39 02 28851854
marketing@elettrotec.it
---
DONALDSON OFFERS SUPERIOR ENGINE LIQUID FILTRATION SYSTEMS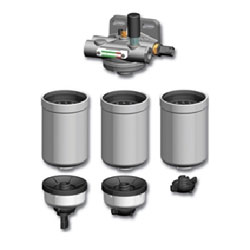 DONALDSON OFFERS SUPERIOR ENGINE LIQUID FILTRATION SYSTEMS WITH MODULAR FEATURES

Filtration technology allows interchangeable components

Donaldson Company Inc. (NYSE: DCI), a leading, worldwide manufacturer of filtration systems and parts, offers a variety of Liquid Filtration Systems with modular features. For example, the Modular Fuel System is designed to be a cost-effective, bolt-on replacement to existing medium-flow filters. Donaldson Engine Systems & Parts will showcase the Modular Fuel System and other liquid filtration technologies at the 2008 ConExpo-Con/Agg Show in Las Vegas in March.

The modular filter offers a flexible design allowing the filter to satisfy a variety of cost needs and performance specifications. A single-base head assembly is used with the modular components, which include a water sensor, electrical heater, visual water bowl, manual priming pump, and life indicator (electronic or visual). Additionally, the filter can feature a Donaldson Twist&Drainn valve, interchangeable between the clear plastic bowl and the spin-on, to reduce maintenance costs. The mix and match components of this product allow customers to easily build individualized filters. Going forward, Donaldson is expanding its offering of modular features for engine liquid filtration. This provides greater flexibility in providing customized OEM solutions.

Donaldson's modular featured filters are able to utilize different fuel media technologies. Depending on customer requirements, the filter can use traditional silicone treated cellulose or synthetic media, featuring Synteqq. Synteq is one of Donaldson's newest filter media technologies, which removes contaminants and emulsified water from the fuel stream with a multiple-layered media technology, providing engine fuel pumps and injectors the highest level of protection.

For more information, visit www.donaldson.com/conexpo or contact Donaldson toll free at (866) 484-8329.

---