Press Releases

NEW PRODUCTS
TRD Manufacturing Introduces the MH Series and TAS Cylinders for Superior Performance in Demanding Applications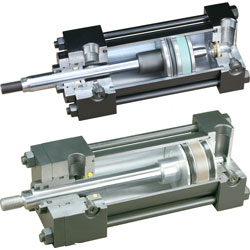 Machesney Park, IL TRD Manufacturing, a Bimba Company, announced the introduction of the new MH Series and TAS Series Cylinders designed to deliver more reliability in heavy-duty industrial operations.

The MH Series are medium pressure hydraulic cylinders rated for 675 to 1500 psi (depending on bore size). The TAS Series Steel Pneumatic Cylinders are rated for 250 psi air and 400 psi hydraulic (with TH option). Both models are available in bore sizes 1.500, 22, 2.500, 3.255, 44, 55, 66 and 88.

Standard features include a heavy-duty rod wiper, seals, wear band, chrome plated I.D. tube and more. Rod locks, stop tubes, center supports, stainless steel piston rods and high impact pistons are also available as performance options. Accessories include clevis, pins, mounts and alignment couplers, with up to a 55 thread size.

All requests are made-to-order, with standard and custom options available. Cylinders ship in two to three days, with most requests answered the day they are received.

For detailed performance, selection, and ordering information, consult the TRD MH-TAS Series catalog on trdmfg.com, call 815.654.7775 or email sales@trdmfg.com.

About TRD Manufacturing:
TRD Manufacturing combines 28 years of precision machining and engineering with an unmatched selection of options and modifications to deliver the highest quality customizable NFPA cylinders on the market. TRD is also well-known for industry leading published delivery schedulesswhich do not vary no matter what the market conditions are. For more information, visit trdmfg.com.

About Bimba:
Bimba Manufacturing is a forward-thinking innovator of actuation technology, specializing in providing cutting-edge solutions to engineering challenges. Its capabilities include an extensive line of industry-leading air cylinders, rotary actuators, linear thrusters, rodless cylinders, flow controls and position-sensing cylinders. In addition to its broad line of standard catalog products, nearly half of the companyys business consists of custom and semi-custom products designed for specific customers and applications. These products, used in machinery and automation, are sold to original equipment manufacturers and end-users throughout the world in an expanding variety of industries. For more information, visit bimba.com.
---
Build Your Own Custom Hydraulic Test Kit.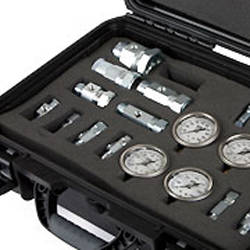 Introducing the Tompkins Custom Hydraulic Test Kit. Created for those who work in the field, maintaining hydraulic equipment and dealing with on-the-spot emergencies.

Create your own kit, by adding just the fittings, gauges, hose assemblies and accessories you need for your equipment. Every kit includes a sturdy carrying case, with custom foam inserts matched to your exact specifications and kit contents.

Choose from light duty or extreme duty kits.
Select the test points, fittings, and other accessories you need.
Add pressure gauges and hose assemblies to connect to your system.
Tompkins will build your custom kit for delivery in just a few days.
Easy. Efficient. Affordable.

Sturdy, convenient, and close-at-hand, your custom Tompkins Hydraulic Test Kit will save you time and money. No more having to purchase a generic kit with lots of items you don't need, or lugging boxes of various parts around.

Maximize up-time with easy maintenance. Minimize down-time when an emergency happens.

Start Building Your Custom Test Kit!

Have Questions?
Contact Tompkins for assistance with product or application questions, account set-up, and quantity pricing options. Find your closest Tompkins branch, or call us at 800-255-1008.
---
MICO Introduces Hydraulic Apply Caliper Disc Brake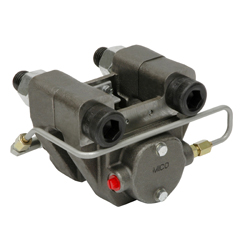 NORTH MANKATO, Minn. MICO Incorporated introduces the new 520 Series hydraulic apply caliper disc brake for on and off-highway service braking applications. The new fixed caliper type brake uses a modulated hydraulic pressure source, such as a master cylinder, to control brake torque. It can be mounted in a vertical or horizontal position and linings can be replaced without removing the brake.

The brake includes two ductile iron caliper halves that are pressurized by a single inlet port cross-over tube feature, which allows hydraulic pressure to actuate the 2.25-inch diameter piston in each half. The unit provides for continuous duty pressure of 1,000 PSI and intermittent duty pressure of 1,500 PSI. Weighing approximately 17 pounds, the brake requires a minimum disc diameter of 15 inches.

To reduce unnecessary lining wear, the caliper disc brake features a spring-operated lining retractor mechanism that maintains a constant lining-to-rotor disc clearance distance whenever the brake is not applied. The total lining contact area is 12.4 square inches, with a usable lining thickness of 0.32 inches on each side. Linings can be replaced without disassembling or removing the brake, allowing for reduced maintenance time and costs.

Installation of the caliper disc brake is made simple due to the brakees flexibility to be mounted in either a horizontal or vertical position. The unit can be attached directly to a threaded hanger or clamp.

MICO, Incorporated designs, manufactures and markets brake systems, hydraulic components and controls, primarily for off-road markets. For more information, contact MICO, Incorporated, 1911 Lee Boulevard, North Mankato, MN 56003, call 507-625-6426, fax 507-625-3212, send an e-mail to micomail@mico.com or visit the companyys Web site at www.mico.com.
---
NEW SPF6 SKIVING MACHINE FROM OP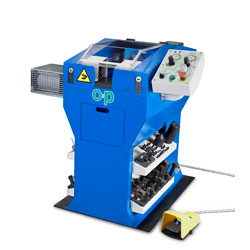 OP is proud to introduce the new SPF6 skiving machine which shall soon replace the SPF4 and SPF3 models which are no longer manufactured.
SPF6 was specifically conceived to meet the need to combine the main characteristics of these two models of skiving machines hence obtaining a complete and functional equipment capable of simultaneously or separately skiving the interior and exterior surface of flexible hydraulic hoses as well as obtaining perfect preassembly of the fittings thanks to the insertion function it is provided with.

MAIN TECHNICAL FEATURES OF SPF6:

- Simultaneous skiving function (interior and exterior) for hoses measuring up to 22
- Interior and exterior skiving function (not simultaneous) for hoses measuring up to 33
- Fittings insertion function for hoses measuring up to 33;
- Self-centring pneumatic clamp
- Device for centring the return stroke of the piston which allows accelerating the skiving and insertion function
- Safety device which prevents the actuation of the machine when the safety casing is open.

Our Sales Department is at your disposal for further information: Email: sales@op-srl.it


OP Srl - Hydraulic Hose & Tubing Processing Equipment
Via Serpente, 97 - 25131 Brescia - Italy
Phone: +39 030 3580401
Fax: +39 030 3580838
http://www.op-srl.it
---
Piranhaflex 100R8 Hydraulic Hoses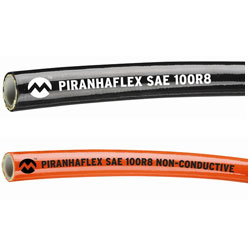 NEW Piranhaflex Hydraulic Hoses

Piranhaflex 100R8 hydraulic hoses are ideal for high pressure hydraulic applications involving hydraulic tools, lubrication lines and man lifts. Series PF628 has a seamless polyester inner tube and a black abrasion resistant polyurethane pin-pricked cover. Series PF628NC has a seamless polyester inner tube and an orange non-conductive, non-pin pricked abrasion resistant polyurethane cover.


Kuriyama of America, Inc.
360 E. State Parkway
Schaumburg, IL 60173
(847) 755-0360
Fax: (847) 885-0996
sales@kuriyama.com
www.kuriyama.com
---
Renewable-sustainable honing oil offers extended service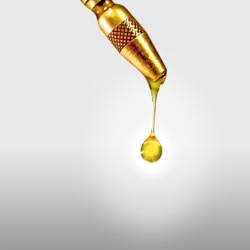 Petroleum-free, vegetable-based cutting oil is additive-free, ideal for general use.

June 2010 Sunnen meets contemporary needs for planet friendly industrial consumables with the introduction of SHO-500, a long-lived general-purpose honing fluid based on a renewable vegetable formulation that makes sustainable metalworking affordable and practical. Offering a breakthrough in oxidation stability, SHO-500 is formulated without additives that many find objectionable, such as sulfur, chorine and fluorine. It is an ideal solution in honing applications where additives cannot be used, such as nuclear and some aerospace parts, or where company policies discourage use of fluids with such additives. SHO-500 is acceptable in all parts of the world and to all religions and cultures. It is suitable for use with conventional vitrified honing abrasives and metal-bond superabrasives. SHO-500 joins Sunnen's two other planet friendly oils, MAN-863 and KG3X, which are listed as BioPreferredd products by the U.S. Department of Agriculture. The new oil is available in 5-gallon (18.9 l) pails, 55-gallon (208.2 l) drums and 330-gallon (1,249 l) totes.

For additional information on SHO-500, contact: Sunnen Products Company, 7910 Manchester Rd., St. Louis, MO 63143. Tel: 1-800-325-3670; fax: 314-781-2268 or email sales@sunnen.com.
---
New Aluminum Tube Fittings from Parker are 65% Lighter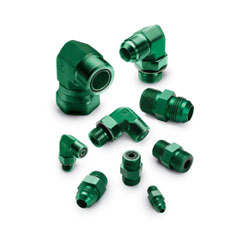 COLUMBUS, OH - Parker Hannifin Corporation, the global leader in motion and control technologies, has introduced a new line of SAE aluminum tube fittings that are approximately 65% lighter than equivalent steel and stainless steel fittings to deliver customer value in terms of reduced transportation expense and more convenient hydraulic system conversion.

Specifying lightweight aluminum fittings from Parker can provide immediate fuel, freight and vehicle-transfer cost savings. The expense of converting a system from steel or stainless steel can also be minimized because no component redesign is necessary when performing a changeover - the fittings are manufactured to SAE J514 dimensions for 377 flare fittings and SAE J1453 dimensions for O-ring face seal fittings.

New aluminum connectors from Parker's Tube Fittings Division are particularly suited for applications where weight reduction and/or corrosion resistance are essential, such as military, marine, mining, transportation and aerial lift trucks. The maximum working pressure rating for the fittings is approximately 50% of equivalent steel fittings while the temperature rating ranges from -400F to 4000F depending on the seal material.

Parker's aluminum O-ring Face Seal (ORFS) tube fittings feature patented Trap-Seal technology whereby a trapezoidal-shape seal provides superior retention in the O-ring face seal groove to prevent "pop out" associated with round-shape O-rings. This further reduces the risk of seal damage and leakage.

Another Parker-patented innovation - Robust Port Stud - offers superior seal reliability of adjustable SAE aluminum connector port ends. With no exposed threads between the locknut and backup washer, the potential for washer damage - and resulting leaks - is eliminated.

For more information, contact Parker's Tube Fittings Division at 614.279.7070 or visit www.parker.com/tfd.
---
Zero-Max ServoClass Couplings Provide High Torsional Stiffness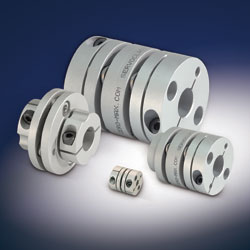 Backlash And Low Hysteresis Ensures Repeatable Precise Positioning See At www.zero-max.com

Plymouth, Minnesota: ServoClass Couplings from
Zero-Max are ideal for the precision positioning requirements and high reverse load
characteristics of todayys challenging AC and DC servomotor applications.

Providing high torsional stiffness for precision positioning, they have zero-backlash and
low hysteresis ensuring repeatable precise positioning. They are ideal for applications requiring
high speed reversing loads and accurate positioning repeatability. These applications include
automation, packaging, semi-conductor assembly and virtually any system using ball screws
and servo motors.

A RELEASE FOR:

Three new sizes have been added to the Zero-Max ServoClass coupling line. They
handle bore diameters from 0.875 in (20mm) to 1.378 in. (35mm) and operating torque from
3937 to 9843 in. lbs (100 to 250 Nm). Many additional sizes are available starting with the
smallest bore size 0.157 in (4 mm) and larger.

All ServoClass couplings are manufactured of RoHS* compliant materials. They are
lightweight and are designed with 304 stainless steel disc packs and 7075-T6 aluminum hubs
and center members. They are available in single and double flex models in inch and metric
sizes. All models and sizes feature clamp style hubs with corrosion resistant socket head cap
screws.


Zero-Max ServoClass couplings provide a superior option compared to beam or bellow
style couplings,, reports Robert Mainz, Zero-Max sales manager. As the cycle becomes faster,
they outperform beam couplings, which experience harmful windup. Zero-Max couplings also
have a robust design so they outperform the fragile design of bellows couplings..

Zero-Max, Inc.
13200 6th Avenue North
Plymouth, Minnesota 55441
1-800-533-1731 Fax: 763-546-8260
Website: www.zero-max.com
Email: sales@zero-max.com
---
Sauer-Danfoss new Automotive Control solution.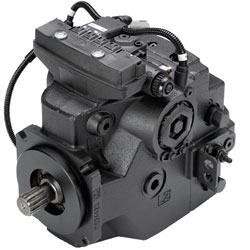 Sauer-Danfoss Launches SIL 2 Certified Automotive Control

New Automotive Control solution provides consistent and reliable vehicle
performance, with improvements in efficiency, productivity and operator
comfort.

Sauer-Danfosss new Automotive Control (AC) solution offers OEMs a complete SIL 2 (Safety
Integrity Level 2 according to IEC 61508) certified transmission system that significantly reduces
OEM vehicle development, qualification expenses and new product time to market. The
PLUS+11 Compliant system incorporates an H1 variable piston pump with embedded
electronic control, H1 bent axis variable piston motor, sensors and associated Human Machine
Interface (HMI) devices. Combined with intelligent software, AC provides an automotive style
automatic transmission driving experience that allows operators to adjust hydrostatic
transmission characteristics to suit specific operating requirements. Combining state-of-the-art
H1 technology and 25 years of electronic automotive control development, AC not only helps
increase vehicle performance and overall efficiency, but also provides improvements in
productivity and comfort.

Functional Safety and Easy Installation

The H1 embedded controller (H1 AC), features robust electronics mounted directly on the H1
pump. All electrical connections are conveniently located for easy OEM vehicle installation and
complete semi-automatic sensor calibration for PLUS+1 Compliant drive and inching foot
pedals, for example. The embedded controller also features additional watch dogg circuitry,
which provides real time fault monitoring of the electronic hardware. Combined with optional
software to monitor redundant HMI input channels, H1 AC provides single fault tolerance for
AC vehicle transmission systems, SIL 2 certified by TTV (Technischer berwachungsverein).
This helps vehicle manufacturers meet European Machinery Directive 2006/42/EC and related
safety standard (ISO 13849-1:2006), and also reduces OEM cost and time required for system
qualification and vehicle certification.


Our H1 Automotive Control is the first solution on the market to offer the precision and
consistent performance of intelligent electronics, combined with complete drive system
functionality, system qualification and SIL 2 certification.. said Joseph P. Maher, System
Portfolio Manager. OEMs will be able to reduce time to market for new vehicles and model
variants while still customizing vehicle behavior and providing differentiation for their products..
The H1 AC software is easily configured to OEM requirements, and is also designed to SIL 2
IEC 61508 standard. Features include engine anti-stall and protection against engine over-speed,
extreme high and low hydraulic oil temperature conditions, and hydraulic motor over-speed. In
addition, variations in hydraulic oil viscosity affecting control performance are compensated for
automatically. The result is consistent, predictable vehicle performance irrespective of operating
temperature.


Complete Vehicle Propel Functionality and Customization
The H1 AC is customizable via the PLUS+1 Service Tool between four operator selectable
system modes that can be programmed according to three main propel methods or mode types.

Automotive Mode:
Hydrostatic pump and motor displacement are controlled automatically according to an OEM
configured automotive curve as a function of engine rpm. Typically used for vehicle transport or
to provide engine anti-stall functionality during heavy load conditions common on wheel loaders,
telehandlers, or site dumpers.

Non-automotive Mode:
Hydrostatic pump displacement is controlled directly through a foot pedal or joystick input from
the operator and is independent of engine rpm. Typically used during vehicle work requiring a
specific engine speed setting for work functions common on sweepers, snow blowers, or
mowers.

Creep-automotive Mode:
The creep-automotive mode provides pump control via an algorithm that combines both the
engine rpm and the foot pedal or joystick inputs.

Additional benefits include the ability to further customize hydraulic pump and motor
displacement control profile and ramp times, provide constant speed drive functionality,
interface to vehicle systems via CAN, and easy-to-use diagnostics.

Using the PLUS+1 Service Tool AC software service screens, the OEM can configure up to 4
different operator-selectable system modes with varying vehicle drive behaviors to meet a variety
of application requirements. The system modes are selected through switch settings on the
vehicle, and allow OEMs to configure working and driving modes, tailor driving behavior to suit
specific working conditions or even the skill levels of operators. This enables the OEM to use
the same hardware for a range of vehicles with different software settings, significantly improving
vehicle manufacturing flexibility. The software set-up service screens provide OEMs with a step
reduction in both development time and expense for highly differentiated new vehicle designs.

About Sauer-Danfoss
Sauer-Danfoss Inc. is a worldwide leader in the design, manufacture, and sale of engineered
hydraulic, electric and electronic systems and components for use primarily in applications of
mobile equipment. Sauer-Danfoss, with 2009 revenues of approximately $1.2 billion, has sales,
manufacturing, and engineering capabilities in Europe, the Americas, and the Asia-Pacific region.
More details online at www.sauer-danfoss.com/acsolutions
---
New expander plug assembly from Engineered Inserts & Systems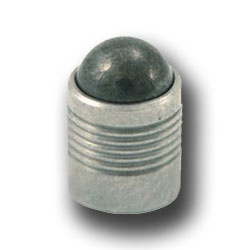 Engineered Inserts & Systems, Inc. manufactures a very unique all metal EXPANDER PLUG assembly designed to economically and permanently plug auxiliary construction holes in pneumatic and hydraulic components and systems. Standard or custom, it would be our pleasure to review your application. We sell quality and service at competitive prices.

Please visit us at www.eisinserts.com

Engineered Inserts & Systems, Inc
25 Callendar Rd
PO Box 610
Watertown, CT 06795
203 301-3334 office
203 301-3335 fax

---