Press Releases

NEW PRODUCTS
Valves with Integral Position Sensing from Hydraforce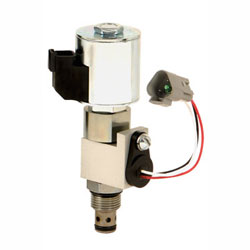 HydraForce has released valves with an integral sensing option capable of transmitting an on or off signal. These valves are designed with parts commonality in mind which allows these sensing options to be easily applied to numerous valves, and keeps the sensing option cost-effective. This new sensing solution was designed for interchangeable use with any existing HydraForce cartridge valve, is compatible with manual override options, and uses an industry standard cavity.

The innovative sensing option design consists of assembling a common solenoid valve pole tube and hydraulic valve assembly on the opposite ends of a coupling tube, which contains an elongated plunger. The new coupling tube, sensor and sensor housing are designed such that they are usable in valves of different types and sizes ranging from 10 to 16 sizes. These new components are connected to Hall Effect sensor element which monitors and transmits the appropriate voltage signal when the valve is actuated or in the neutral position. The sensing element chosen was a Hall Effect sensor which is known for its proven reliability in the field.

HYDRAFORCE INC
500 Barclay Blvd.
Lincolnshire, IL 60069 USA
Phone: 847 793 2300
Fax: 847 793 0086
---
Simrits Nanotechnology Surface Process Improves Seal Longevity, Abrasion Resistance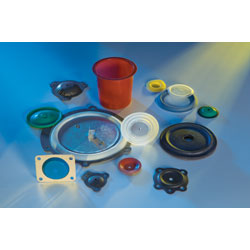 To better meet customer needs for more robust seals, Simrit has developed an advanced surface treatment process to improve seal function and service life. Simritts Reduced Friction by Nanotechnology (RFN) method is one of the newest tools available for enhancing seal performance.
Sealing components made of elastomeric materials have inherently high surface energies (tackiness) and a high coefficient of friction (COF). Therefore, when an elastomeric seal makes contact with the mating component, the interface of the two surfaces can produce a stictionn effect, which is detrimental when the contact is intermittent. For example, stiction has a significant impact on applications like bicycle shock absorbers, which need to have a low breakaway force for smooth shock function.

To prevent stiction, Simrit created the RFN process, which consists of applying its proprietary surface modification to rubber components to reduce COF. The transformed surface offers high abrasion resistance, low COF, resistance to aggressive fluids and improved long-term service. The RFN treatment is odorless, translucent in color and compatible with applications that require purity. Applications that require low stiction and long service life, such as valve sealing components and diaphragms, can greatly benefit from Simritts RFN treatment.

With nearly 100 years of sealing experience, developing technologies and processes that provide increased consistency and reliability for our customers is a top priority for Simrit,, said David R. Monaco, president, Simrit. Our pioneering RFN surface treatment has the ability to dramatically improve the longevity and function of elastomeric seals in a variety of applications, including designs that operate in extreme conditions..

RFN treated surfaces have consistently shown a 70 percent reduction in static COF, aggressive media resistance and lower torque and loading properties. Additionally, long-term exposure to fuel, ozone and wear have shown no increase in COF in treated surfaces, while non-treated surfaces exhibit an 80 to 100 percent increase in COF over time. Further, the RFN process doesnnt alter the physical properties of the elastomer and enables the seal to remain flexible to withstand extremely low temperatures, as well as high forces, without cracking.

Simrit is part of the Freudenberg and NOK Group Companies, which have total annual sales of more than $7 billion. The global Freudenberg and NOK Group offers an extensive portfolio of precision-manufactured products for the aerospace, appliance, automotive, marine, medical, off-highway equipment, recreational vehicle and renewable energy markets. For more information, visit the Simrit website at www.simrit.com.
---
The Liquid Wrench Powered by EnviroLogic line features Penetrating Oil, Jack Oil, Aerial Lift Fluid, and Mobile Equipment Hydraulic Fluid.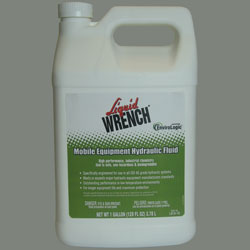 These new, non-hazardous formulas are the companys first products to market since launching in 2010 as a biobased platform of Radiator Specialty Company (RSC), the 86-year-old company that houses the Liquid Wrench and Gunk brands under its RSC Chemical Solutions division.

RSC Bio Solutions is committed to producing biobased cleaners, degreasers and lubricants that provide non-hazardous alternatives for applications where both high performance and safety are essential, said Mike Guggenheimer, Vice President of Business Development for RSC Bio Solutions. These new products increase safety and efficiency for our customers because if there is an accidental spill in the workplace, no harm will be done to their employees or to the environment.

The new product line was created through RSC Bio Solutions partnerships with Gemtek Products LLC and Terresolve Technologies Ltd., two leaders in the biobased market. RSC Bio Solutions premiere products include:

Jack Oil

The Liquid Wrench Powered by EnviroLogic Jack Oil provides high antiwear and corrosion protection, and is formulated to reduce sling off, which offers superior lubrication. The biobased ISO 46 grade jack fluid meets all requirements of major hydraulic jack OEMs and component suppliers, and delivers premium performance when compared to petroleum-based jack oils. The Jack Oil is available in 1-gallon, 5-gallon, and 55-gallon containers.

Aerial Lift Fluid

The Liquid Wrench Powered by EnviroLogic Aerial Lift Fluid offers a premium performance when compared to petroleum-based aerial lift fluids. The formula is readily biodegradable and safe for use in all aerial lift hydraulic systems. The non-hazardous technology is designed to meet or exceed the requirements of most major hydraulic equipment manufacturers and has outstanding performance in low temperature environments. The Aerial Lift Fluid is available in 1-gallon, 5-gallon, and 55-gallon containers.

Mobile Equipment Hydraulic Fluid

The Liquid Wrench Powered by EnviroLogic Mobile Equipment Hydraulic Fluid is readily biodegradable and safe for use in all ISO 46 grade hydraulic systems. This biobased hydraulic fluid is designed to meet or exceed the requirements of most major hydraulic equipment manufacturers and has outstanding performance in low temperature environments. The Mobile Equipment Hydraulic Fluid is available in 1-gallon and 5-gallon containers.

For more information or to purchase these products, please visit: www.rscbio.com.
---
Brennan Industries Introduces New Brennan Black Coating For the Most Advanced Protection Against Red Rust Corrosion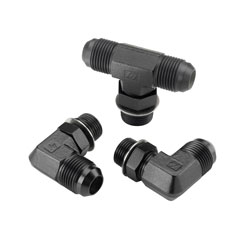 Brennan Industries Inc., a leading international supplier of hydraulic fittings and adapters, has introduced its new Brennan Black coating, the most advanced protection against rust and corrosion.

This proprietary Bi-LENE coating is a blend of fluoropolymer, engineered plastics and selected corrosion inhibitors that is tailored to provide specific properties for particular applications unlike conventional fluoropolymer coatings. The properties consist of low friction, strong adhesion, resistance to wear and abrasion, excellent resistant to corrosion, chipping and elements such as weather, sunlight and salt water. Field and lab tests show the coating resists corrosion past 1,600 hours of exposure making it at least 300 percent more resistant to corrosion than competitorrs advanced plating. It works in a wide range of temperatures from negative 420 degrees Fahrenheit to 500 degrees Fahrenheit.


The Brennan Black coating is the most advanced corrosion resistant coating available,, said David M. Carr, president, Brennan Industries. The Brennan Black coating offers the highest industry standard and is the answer for protecting systems and ensuring longevity in the most corrosive and harsh environments enabling customers to save money by protecting operations and reducing replacement costs..

The Brennan Black coating is best demonstrated on steel hydraulic adapters, where it provides unparalleled performance in resistance to corrosion. The Brennan Black coating is also available throughout five additional Brennan Industries product classes. Test results are available upon request.

For more information, contact: Brennan Industries Inc.,
6701 Cochran Road, Cleveland, OH 44139.
Phone: (440) 248-1880.
Toll-free: (888) 331-1523.
Fax: (440) 248-7282.
E-mail: sales@brennaninc.com.
www.brennaninc.com.
---
Eaton Introduces Next Generation Proportional Directional Valves Designed To Support Sophisticated Electro-hydraulic Axis Controls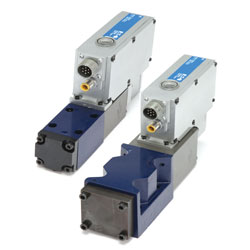 EDEN PRAIRIE, Minn. Diversified industrial manufacturer Eaton Corporation today announced the introduction of its line of next generation proportional directional valves designed to provide integrated programmable control capabilities in sophisticated electro-hydraulic applications. Eatonns new KBS series valves are designed to support both centralized and distributed axis control architectures in high-performance applications including test simulation, blow molding, wind turbine control, metal forming, pulp and paper machinery, and primary metals production.

Eatonns KBS series valves feature programmable onboard electronics and integral spool Linear Voltage Differential Transformer (LVDT) sensors to provide precise, accurate, responsive axis control capabilities. The initial products are offered in ISO-3 and ISO-5 sizes with rated flows of 40 LPM and 100 LPM (10.6 and 26.4 gpm), and maximum flows of 75 lpm and 180 lpm (19.8 and 47.6 gpm) respectively. Dynamic bandwidth for the ISO-3 valves is 150 Hz and 100Hz for the larger ISO-5 models. Both have 350 Bar (5,075 psi) rated A- and B-ports and 250 Bar (3,625 psi) rated T-ports.


These valves represent the next generation of electro-hydraulic sophistication,, said Colin Cooper, product manager, industrial controls. They provide four levels of control capability in a modular design, from an entry level valve that is quick and easy to configure, right through to a valve that can be uniquely customized by uploading application code created using Eaton Control F(x) software based on the IEC-61131-3 programming standard. Additionally the valves can be selected with CanOpen field bus communication and control capability, a range of optional sensor inputs, along with embedded on-board sensor capability and easy-to-read LED status indicators.


We have optimized the KBS series valves for performance, flexibility, reliability and easy diagnostics. These valves offer customers truly differentiated machine and application performance benefits which translate into significant improvements in efficiency, productivity and repeatability for numerous industrial applications,, Cooper added. Additionally, they also have best-in-class IP65 and IP67 protection against dirt and moisture ingression, and best-in-class 85? C ambient temperature ratings..

The KBS Valve specifications, pricing and lead times will be available through Eaton and its global channel partners.

Eatonns Hydraulics Group is a segment of the companyys Industrial Sector. The business is a worldwide leader in the design, manufacture and marketing of a comprehensive line of reliable, high-efficiency hydraulic systems and components for use in mobile and stationary applications. Mobile and stationary markets include agriculture, alternative energy, construction, forestry, manufacturing, material handling, mining, oil and gas, processing, transportation and utility equipment. Eatonns Hydraulics Group provides customer-driven solutions under product names such as Aeroquip, Boston, Char-Lynn, Eaton, Hydrokraft, Hydrowa, Hydro-Line, Integrated Hydraulics, Synflex, Vickers, Walterscheid, and Weatherhead. For more information, visit www.eaton.com/hydraulics.

Eaton Corporation is a diversified power management company with 2010 sales of $13.7 billion. Celebrating its 100th anniversary in 2011, Eaton is a global technology leader in electrical components and systems for power quality, distribution and control; hydraulics components, systems and services for industrial and mobile equipment; aerospace fuel, hydraulics and pneumatic systems for commercial and military use; and truck and automotive drivetrain and powertrain systems for performance, fuel economy and safety. Eaton has approximately 70,000 employees and sells products to customers in more than 150 countries. For more information, visit www.eaton.com.
---
Comatrol introduces EasyValve 2.0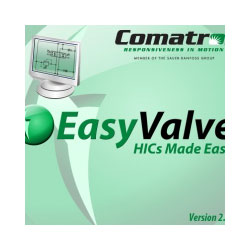 Comatrol has invested in expert tools to streamline the design process, lowering turn-around
time and improving product specification quality. Comatrolls suite of HIC design and
prototyping tools, including our free design software EasyValve, takes custom hydraulic
integrated control solutions to the next level, allowing you to get involved at the very
beginning of the design stage all the way through to installation.

The intuitive user interface of EasyValve allows the engineer to efficiently create hydraulic
circuit schematics by simply dragging and dropping from Comatrolls complete digital library
of cartridge valves, Cetop valves and accessories. Engineers can capture their technical,
commercial and application requirements to accurately document and communicate their
custom HIC needs - allowing them to get exactly what they want from the first drawing,
reducing the prototype cycle time by 50 percent.

About Comatrol
Comatrol, a member of the Sauer-Danfoss (NYSE: SHS) Group, is the most responsive source
for Cartridge Valves and Hydraulic Integrated Circuit (HIC) solution needs. Comatrol works
with customers and suppliers around the world to manufacture high performance machine
control solutions for mobile, on-highway, energy and industrial equipment markets.
Additional information is available at www.comatrol.com or follow us on Facebookk at
www.facebook.com/comatrol.
---
Gates hydraulic hose apps optimize performance, minimize downtime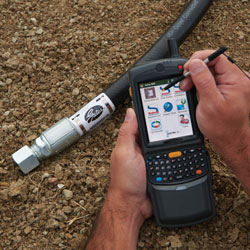 Two, new Gates hydraulic apps optimize system performance and minimize downtime by monitoring hose service life, and identifying replacement hose specifications.

Gates Sentry IQ Service is a predictive maintenance app that monitors pressure and temperature of a hydraulic assembly to gauge remaining hose life. The app is designed for equipment and processes in applications where unexpected hose failures can cause expensive downtime, compromise safety, and require costly repair and clean-up.

Gates Sentry IQ Service is suited for both new equipment designs and aftermarket oil production applications.
Gates other proactive maintenance app, Sentry ID Service, is a high-radio frequency tagging system that identifies and tracks specific hydraulic hose assemblies operating worldwide.

Gates Sentry ID Service allows maintenance technicians to electronically read and identify hose assembly specifications including hose type, size, length, end fittings and orientation.

A replacement hose can easily be fabricated at the installation or ordered from a Gates distributor, thereby minimizing downtime of the oil production equipment.

For information, go to www.gates.com/sentry.
---
MTS SENSORS INTRODUCES NEW SENSOR FOR HYDRAULIC CYLINDERS USED IN STEERING OFF- ROAD EQUIPMENT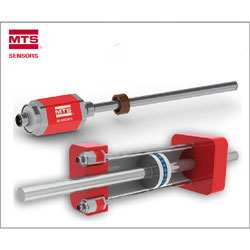 MTS has extended its product portfolio of magnetostrictive position sensors for mobile hydraulics with the new Temposonicss Model MB stainless steel sensor. The unit has been developed specially for external attachment to a hydraulic cylinder, and can be used in applications such as steer-by-wire. With its compact dimension and an M14 x 1.5 thread, the sensor is suitable for mounting on double-acting steering cylinders. The magnet is integrated into the piston and transmits the position through a non-ferrous cylinder wall to the sensor. By using two externally mounted sensors, they can function in a redundant capacity to meet stringent safety requirements.

Apart from easy external mounting on the double rod cylinder, the Model MB sensor is also suitable for direct thread-in installation in differential cylinders. In this type of installation, a ring magnet mounted on the piston slides over the sensor rod and marks the position. Thus, the Model MB sensor offers the flexibility to either thread the sensor into the cylinder, or to attach it on the outside. Additional M-Series sensor models are available that allow the sensor to be embedded in the hydraulic cylinder, permitting complete cylinder integration.

The Temposonicss MB position sensor is available with 12 V supply for a measuring range of 72 - 250 mm and designed for large-scale integration in the mobile hydraulics industry. Its compact size makes it easy to install and the sensorrs absolute, non-contact position measurement ensures a long service life. By utilizing a direct, analog voltage output, the sensor is able to provide a high-accuracy position feedback with a linearity and hysteresis of < 0.25 mm and a resolution of 0.25 mm. The sensor also has a high-survivability rating with a 100 g single shock rating, as well as a vibration profile that meets the ISO 16750-3 specification. Furthermore, the protection type IP 69K ensures that the electrical connection is absolutely dust and watertight.

For more information on MTS Sensors, please contact: Hub vom Berg, MTS Sensors Division, 3001 Sheldon Drive, Cary, NC 27513. Phone: (919) 677-2370. E-mail hub.vomberg@mts.com or visit http://www.mtssensors.com.

MTS Sensors, a division of MTS Systems Corp., is the global leader in the development and production of magnetostrictive linear-position and liquid-level sensors. The Sensors Division is continually developing new ways to apply magnetostrictive sensing technology to solve critical applications in a variety of markets around the world. With facilities in the U.S., Germany, Japan and China, MTS Sensors Division is an ISO 9001 certified supplier committed to providing worldwide innovative sensing solutions.
---
Manuli Q-Safe offers a wide range of hydraulic couplings that meet and exceed the industry standards for double shut-off applications.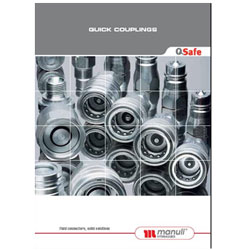 The Q-Safe products are manufactured to many of the industry standards such as ISO 7241-A, ISO-B,ISO 16028, ISO 15171-1, ISO 5676 and ISO 7241-2.

Manuli Q-Safe range offers hydraulic solutions for markets such as Construction, Agriculture, Forestry, Mining, Utility Vehicles, Transportation and general Industrial.

Product ranges from to 11 Body sizes and up to 10,150 psi working pressures and 1,000,000 impulse cycles.

All series are provided with an environmental friendly Cr3+ (Trivalent Chrome) surface coating for an excellent resistance to corrosion, exceeding the ISO 4520 requirements (salt spray resistance: 240 hours for white corrosion and 400 hours for red corrosion).

Manuli also offers a range of Check Valves, caps/plugs and replacement spare parts.

All Q-Safe products are 100% visually, functionally and air sealing tested and available in our Warrendale, PA facility.

Manuli Hydraulics
Warrendale,PA
Phone: 724-778-3380
Fax: 724-778-3381
---
RAISING THE BAR ON CLEANLINESS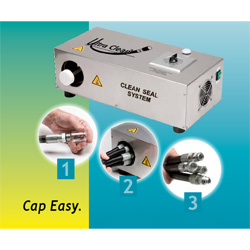 Ultra Clean is the leader in contamination control with its unmatched hose and tube cleaning systems. With the introduction of the Clean Seal System, we once again raise the bar on cleanliness.

How to use Clean Seal Capsules
The Clean Seal process utilizes heat shrink technology to encapsulate the end of a hose or tube assembly with a Clean Seal Capsule. This eliminates possible re-contamination that is problematic with traditional capping and plugging methods. Re-contamination occurs when ill-fitting caps and plugs are forced onto assemblies, causing plastic particles to shear off into the hose or tube. Clean Seal Capsules leave your assemblies 100% contamination free - and that's not just clean, it's Ultra Clean.

ULTRA CLEAN TECHNOLOGIES CORP
746 SHILOH PIKE, BRIDGETON, NJ 08302 U.S.A. TOLL-FREE: 800-791-9111 , 865-451-2176 , INT'L: +1 856-391-3262 Email: sales@ultracleantech.com , www.ultracleantech.com

---